As mentioned in the previous volume, this series follows Netflix's Love, Death & Robots. Feel free to skip this paragraph if you read any others. Tim Miller developed the series and incorporated the talents of several studios. As each episode is independent, there isn't a need to watch them in any order. These reviews will cover the current order for Volume 2 in 2022. Love, Death & Robots targets a mature audience, so some episodes have mature language, nudity, and adult subjects. This review will cover "The Tall Grass" and "All Through the House."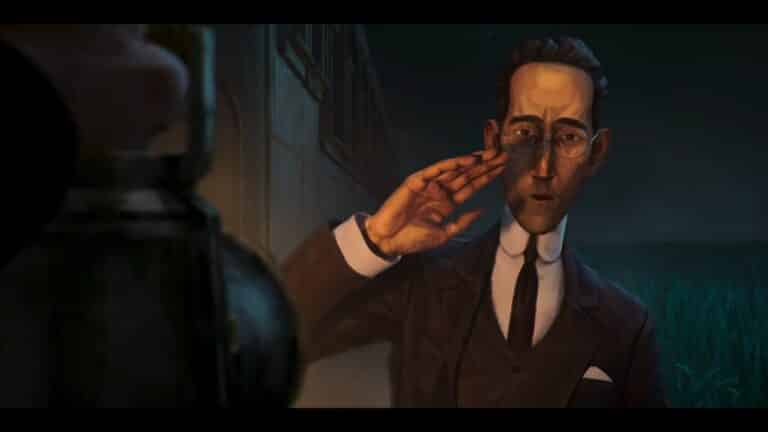 The Tall Grass
Based on Joe Lansdale's short story and animated by Axis Studios, "The Tall Grass" is a horror thriller with some folklore undertones. When his train suddenly stops between an endless sea of tall grass, one passenger decides to smoke. However, something seems to be lurking in the fields.
With a run time of 11 minutes and a 2-person cast, Joe Dempsie and Steven Pacey, "The Tall Grass" invests wisely. The visuals are less focused on realism but aren't entirely stylistic. As a horror, the creatures are effective but vaguely familiar. "The Tall Grass" is not exactly scary but a welcomed dark pleasure.

(3 / 5)
All Through the House
Based on Joachim Heijndermans' short story and animated by Blink Industries, "All Through the House" is a Christmas horror tale. When two children hear Santa landing on the roof, they go to investigate. But Santa's only happy to see good children.
The short 7-minute video effectively uses its time with a talented cast that includes Divi Mittal, Sami Amber, Fred Tatasciore and Brynley North. From a style reminiscent of old Christmas movies to the creature, "All Through the House" knows exactly what it wants to be. If the premise is interesting and you like your horror bouncing off nostalgia, give it a view. I won't say it's terrifying, but it's charming.
(3.5 / 5)