Fans of ol' Uncle Lloydie are going to be very happy to learn that Troma NOW! the streaming service of Troma Entertainment, Inc. is now available on most major app stores with more on the way.
Troma NOW is a streaming service that catalogs 47 years of Troma's impressive output. The service will run subscribers $4.99 a month in the US, while other regions can get the content for $5.25. Troma NOW also offers a free month trial to new subscribers, making this a very affordable plunge into the seedy underbelly of independent film – the Troma way.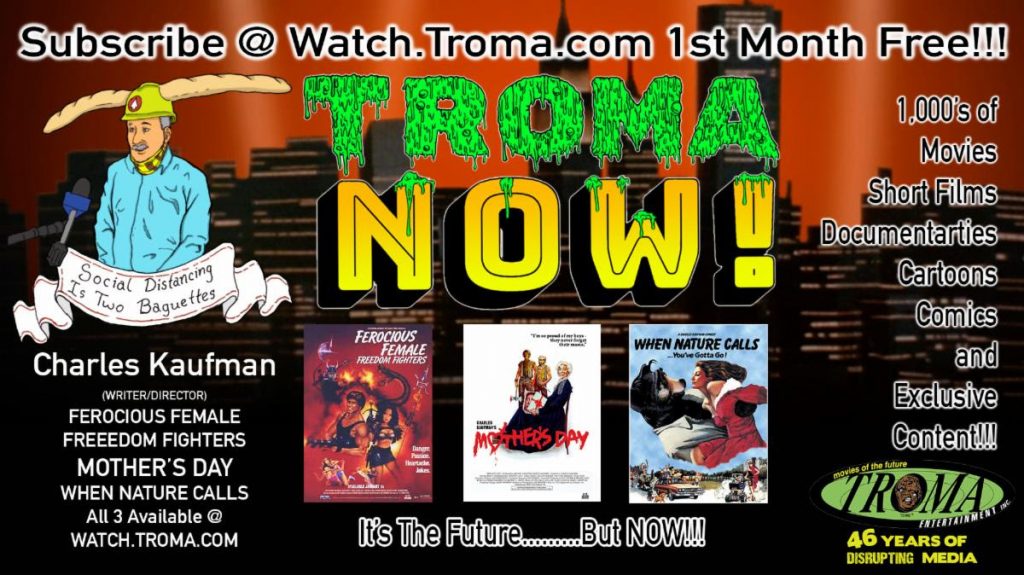 The full press release follows, in all it's Tromatic glory:
TROMA NOW! IS NOW AVAILABLE ON Apple App Store, Google Play & Amazon! with Roku Coming VERY SOON!

Still at the #TROMAZING Price of ONLY $4.99 a Month!

NO EXTRA CHARGE TO OUR ALREADY LOYAL SUBSCRIBERS!

That's 5 Great Ways to Watch at 1 Great Price!

Troma Entertainment's Major Announcement That's Sure to Disrupt The Multinational Conglomerate Monopolies of Streaming Entertainment!

Lloyd Kaufman, Michael Herz, Toxie & The Troma Team have listened to your suggestions! We are now proud to announce the forthcoming release of NEWEST & MOST EXCITING piece of news to hit the world of Independent Film & streaming…

TROMA NOW is now 100% Available, Uncensored & Troma-Certified on: APPLE, AMAZON FIRE TV & GOOGLE PLAY
… at Absolutely NO EXTRA CHARGE! … and, rest assured, ROKU is COMING VERY SOON!

TROMA NOW! It's the Future….. but NOW!

As always, TROMA NOW will gift members with the FIRST MONTH FREE & be available for the#TROMAzing price of ONLY $4.99 (USA)($5.25 Internationally, Due to New Tax Laws)

That's Troma's Entire 47-year Library, easily accessible & meticulously curated…featuring as many subtitles & special features as inhumanly possible.

The TROMA NOW App will also feature #FanTOXIC categories, such as:

UNCLE LLOYDIE'S PICK OF THE MONTH! Lloyd Kaufman (President of Troma Entertainment & Creator of(THE TOXIC AVENGER) makes his favorite film of the month!

TOXIC TITLE OF THE MONTH!The highlighted title of the month, handpicked by TOXIE & THE TROMA TEAM!

FROM THE BASEMENT OF TROMAVILLE!A deep dive into Troma's 47-year history, featuring fan-favorite selections from the '70s, 80's & 90s!

Members will also be able to contribute feedback, ask questions, make suggestions & partake in some serious conversations on TROMA NOW's EXCLUSIVE Message Board, TOXIC TALK!

At last, a permanent archival home & one-stop movie shop for the studio that nurtures Independent thought, creativity & irreverent entertainment. Troma NOW is a love letter to the millions of fans who have kept Troma Entertainment alive & kicking for over 4 decades! The chance to bring Troma Now into a new digital age of presentations is ONLY possible because of YOU, our #TROMAzing fans.

Thank You Very Much, Lloyd, Michael, Toxie & The Troma Team
So, if you are looking for a lot of great film, much of it horror-adjacent, Troma NOW is a streaming service that might scratch that itch.
Just don't scratch too hard. Something might ooze.