Welcome back to Graphic Content. There was a mix-up in numbering last time, but I can assure you that this is #5. But hey, enough about my failures. Let's talk comics, including the return of Killadelphia.
John Constantine: Hellblazer #7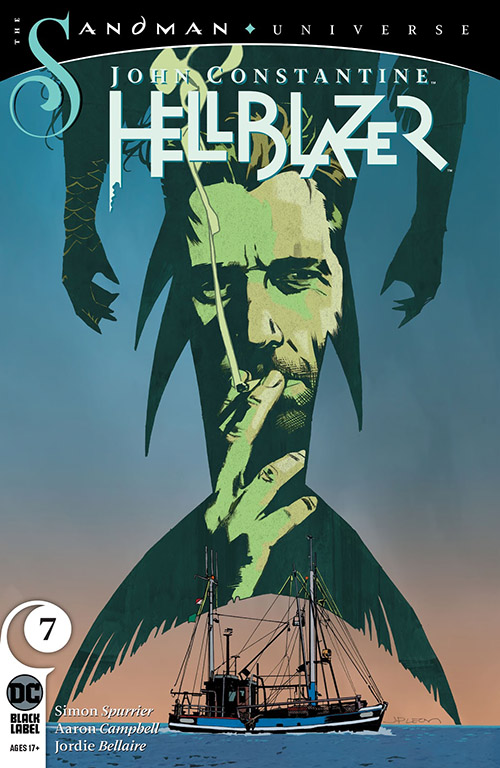 Man, when Hellblazer goes dark, it goes dark. Issue #7, or "Britannia, Rule the Waves, Part One," deals with nationalism, fishing, mermaids, and exploitation in a relationship. It's all very good, plus we get a bit more of Old Man Constantine, who seems to be leaving a cheeky trail across the map of London in the shape of, what else? A dick.
Most of the issue's narration comes from the unnamed mermaid character who recounts, fairly glowingly, about the plight and motivations of her fisherman boyfriend. It is not until that last third of the issue that we come to see the truth of the situation and that is when the real horror comes in. A mermaid killing people is creepy and all, but what happens to her is so much worse. Spurrier's writing is solid, and perhaps some of the best of this run, particularly with how the story tackles generational differences and expectations as they relate to modern London and British identity. That and it will make you rethink sashimi.
Campbell's art in this issue is probably the best meshing of his style with content yet. The dockside, the fish markets, it all is rendered quite well and Campbell's heavily inked and scratchy style just screams "grime" in the best way possible, fitting the story.

(5 / 5)
John Constantine: Hellblazer #7 was written by Simon Spurrier, illustrated by Aaron Campbell, and colored by Jordie Bellaire.
Sink #4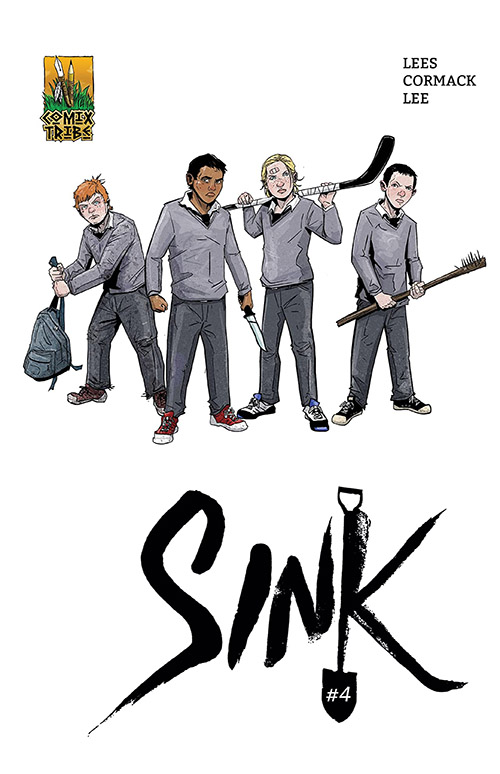 Issue #4, or "Young Team," follows a local group of Sinkhill kids who are on a mission to track down the van of clowns that is rumored to be snatching up kids in the area. We also see Mr. Dig again, the fox-mask-wearing vigilante of Sinkhill. As a series, Sink is no stranger to violence, but this could be the most shocking issue in the run with a prolonged and bloody sequence of strangulation and beating, all involving children. Sink doesn't necessarily go to the child's death well it could have possibly gone (a rare bit of restraint in a series of excess) but it doesn't exactly end entirely positively, either. Lives are irreversibly shattered and the roaming gang of clowns is still out there, based on the ending. Regardless, it was a fun story that while still anthologized does carry some connections to other stories. It's been an interesting approach so far.
The art is pretty solid, with a particular highlight being a Lovecraftian dream sequence involving a clown construct. In the bloodiest sequence of the story, however, things get a little muddled, and the presence of gobs of blood on all parties obscure forms and makes everything a bloody red lump for several panels. There may be such a thing as too much blood and Sink got pretty close to that here.
(4 / 5)
Sink #4 was written by John Lees and illustrated and colored by Alex Cormack.
Killadelphia #7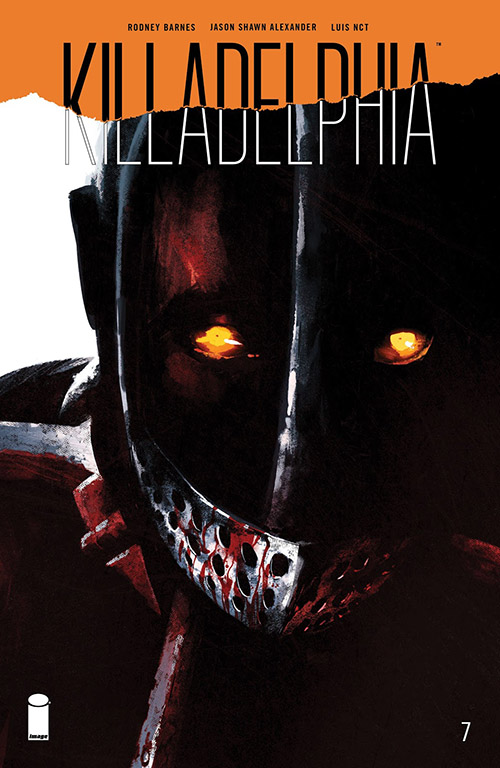 Killadelphia is back with a new story arc. This one, entitled "Burn Baby Burn" opens with issue #7, titled "Part 1, Jupiter Rising." This storyline picks up after the near-apocalyptic events of the previous arc and we find ourselves in a new normal: vampires exist in Philadelphia. This is such a game-changer for the city that James Sangster Jr. now operates as an expect who must look at crime scenes and determine if there is vampiric activity. It is a fantastic note that makes the world really evolve in the comic and just part of why this series has been so successful.
This story revolves around Abigail Adams, newly ascendant as the leader of vampires since the death of John, who recounts a story about a slave named Jupiter. Jupiter is "freed" by Abigail back in the past and has been waiting on the sidelines until, as part of her own campaign of terror, he is unleashed on Philadelphia. It's all very brutal and Jupiter's look and "mask" is very striking.
This issue also addresses, to a degree, one of my concerns about the series. I did not really get behind to romance between James and ??? as it felt sudden, but this is addressed to a degree with a discussion between the two about the nature of their relationship. Suddenly it all feels a lot more grounded. I understand the irony of this given this is a comic about a vampiric invasion in the United States, but the romance as initially presented struck me as sloppy and impulsive. it turns out that this was the case for the characters and the reality of this, and how to navigate it, suddenly makes it a lot more tolerable for me.
The series also introduces a new backup feature named "Elysium Gardens," set during the Watts Uprising and features a werewolf. This feature is, of course, drawn by Jason Shawn Alexander who is the regular artist of Killadelphia. However, this backup is presented in very stark black and white. It makes you wonder how Killadelphia would look in grayscale, and I do wonder if there are any plans to release the first volume in such a manner. It all evokes work from Creepy and other such horror magazines.

(4.5 / 5)
Killadelphia #7 was written by Rodney Barnes, illustrated by Jason Shawn Alexander, and colored by Luis Nct.
---
I am personally aiming to do more than one of these columns a month, but I could use some comics to read. Please feel free to send me suggestions of horror and horror-adjacent series you think I should cover.
See you next time.
Brutality, Motherhood, and Art: Nightbitch Review
"In the distance, she heard her husband in the backyard call for her , but she was not that woman anymore, that mother and wife. She was Nightbitch, and she was fucking amazing. It seemed she had been waiting for this for a very, very long time." -pg 89, Nightbitch by Rachel Yoder
Nightbitch is the debut novel of Rachel Yoder about a stay-at-home mother coming to terms with the loneliness and brutality of motherhood. The main character, only referred to as The Mother, begins to undergo a frightening change as she sinks deeper into a depressive state. She transforms into Nightbitch, an animalistic creature full of anger, bloodlust, and freedom. The Mother must utilize the help of a strange book and a group of multi-level marketing mommies to harness her newfound strength before she loses herself or her family.
The novel is a stunning commentary on the everyday violence of motherhood centered within the context of werewolf and mystical woman mythos. The Mother spends much of the book contemplating her future and the abandonment of her dreams. Specifically, she grapples with the loss of her ability to create art, her longtime passion. On a larger scale, Nightbitch examines how many women are asked to stop being individuals after having children and only become mothers–existing only in the presence of their child. The message is clear, poignant, dark, and at times, hilarious. The prose and structure of the book are abnormal, however, it works with the overall messaging and plot.
As far as negatives go, Nightbitch was pretty ambiguous. This was by design, and created an aura of magical mysticism around many of the characters and events. The Mother is the definition of an unreliable narrator. However, towards the end of the book, I would have liked a little more clarity in what certain characters knew.
Nightbitch is a must read for any parent. As a non-parent, I highly recommend it for those interested in feminist horror or more avant-garde approaches to horror narratives. Those who don't like books with heavy introspection or ambiguous storytelling may enjoy something else, however I still think it is an interesting read nonetheless.
(4.4 / 5)
Gothic, Ghosts, and Tlachiqueros: The Hacienda Review
"Dread washed over me. Had she been sitting there, watching me sleep, the whole night? Her skin gleamed like candle wax in the light; then she grinned and whatever color her eyes had been before, now they turned red. In an instant, her skin transformed, dried and desiccated into leather, and her teeth grew long and needle sharp." -pg 214, The Hacienda by Isabel Cañas
The Hacienda is a gothic horror novel by Isabel Cañas set in the wake of Mexico's War for Independence. The debut novel by Cañas, it delivers a classic haunted house tale with a twist of Mexican high society. Recently made homeless by the execution of her father, Beatriz marries Don Solórzano to escape her cruel treatment by her relatives. However, once she joins him on his estate, she finds that the promise of a new life holds dark secrets and darker spirits. She enlists the help of a priest, Andrés, to uncover both. Together, they find the home has more dangers than they bargained for. And more threats both supernatural and far too material await every corner.
I adored The Hacienda from start to finish. Cañas's prose was accessible but full of deep imagery. While told from the perspective of both Beatriz and Andrés, neither outweighed the other. The perspectives were interesting and the transition between the two was well executed throughout the novel. I usually don't seek out romantic books, but I loved the romantic and sexual tension between the two main characters. Specifically since the romantic tension developed within both perspectives, the relationship's "will-they-won't-they" felt both plausible and full of stakes. And of course, The Hacienda was spooky! I loved the way the spirits manifested and the impact that had on the characters.
My only minor criticisms would be the resolution was fairly quick and mostly offscreen. Though maybe I'm just saying that because I wanted to keep reading, even after the book ended! I also found myself slightly annoyed at the characters for not picking up on some of the more obvious clues to what had happened in the house.
A thoroughly enjoyable gothic (and dare I say, romantic) novel that kept me on the edge of my seat, I highly recommend The Hacienda. If you enjoy haunted house tales, you will enjoy this book.
(4.8 / 5)

Preorder Isabel Cañas's new book Vampires of El Norte now!
"The Family Game" Glimpses Into The 1%
Are their traditions innocent or are they darker than they seem?
The Plot
Harry, short for Harriet, is a British writer gaining popularity after the publishing of her first novel. She meets Edward, a member of the widely known Holbeck family, and the two strike up a relationship. The Holbecks are high powered executives, running family businesses that bring in massive amounts of wealth. When Harry learns she is pregnant, the couple decide that it is finally time for her to meet the family.
During her first meeting with the family, Edward's father, Robert gives Harry a vintage tape that he says holds a story that he'd like her to listen to. As Harry listens to the tape, she begins to believe that the Holbecks have done some very bad things.
As she continues visiting the family, their strange traditions are revealed to her. The games that they play traditionally involve darkness and fear. Can Harriet find out the truth about the mysterious Holbecks?
The Verdict
Catherine Steadman outdoes herself in The Family Game. She creates such a mysterious family in the Holbecks and their dynamics are intriguing. Readers will follow Harry as she tries to determine the truth about Robert's misdoings. The cast of family characters are a wonder to watch. We've all always wondered what the extremely rich live like. Harry shows us their virtues and misdeeds.
The novel really remarks on the power of wealth and the wealthy's ability to commit audacious crimes and pay for them to go away. Robert, as the patriarch of the family, is a prime example of such. As Harry begins to discover that Robert may be confessing to a series of murders on the cassette tape, she must decide how to proceed. She knows that the power that Robert holds cannot be taken lightly.
As Harry navigates potentially deadly Christmas traditions, she races for the truth, unable to forget once she finds it. Harry is such a compelling character – a developing mother willing to risk life and limb to protect her unborn baby. Harry is brave and unapologetic and is a true testament on how to write a female main character.
It was very difficult for me to decide between 4 and 5 Cthulus, so we will call it 4.5. This is a novel I highly recommend thriller lovers check out.

(4.5 / 5)