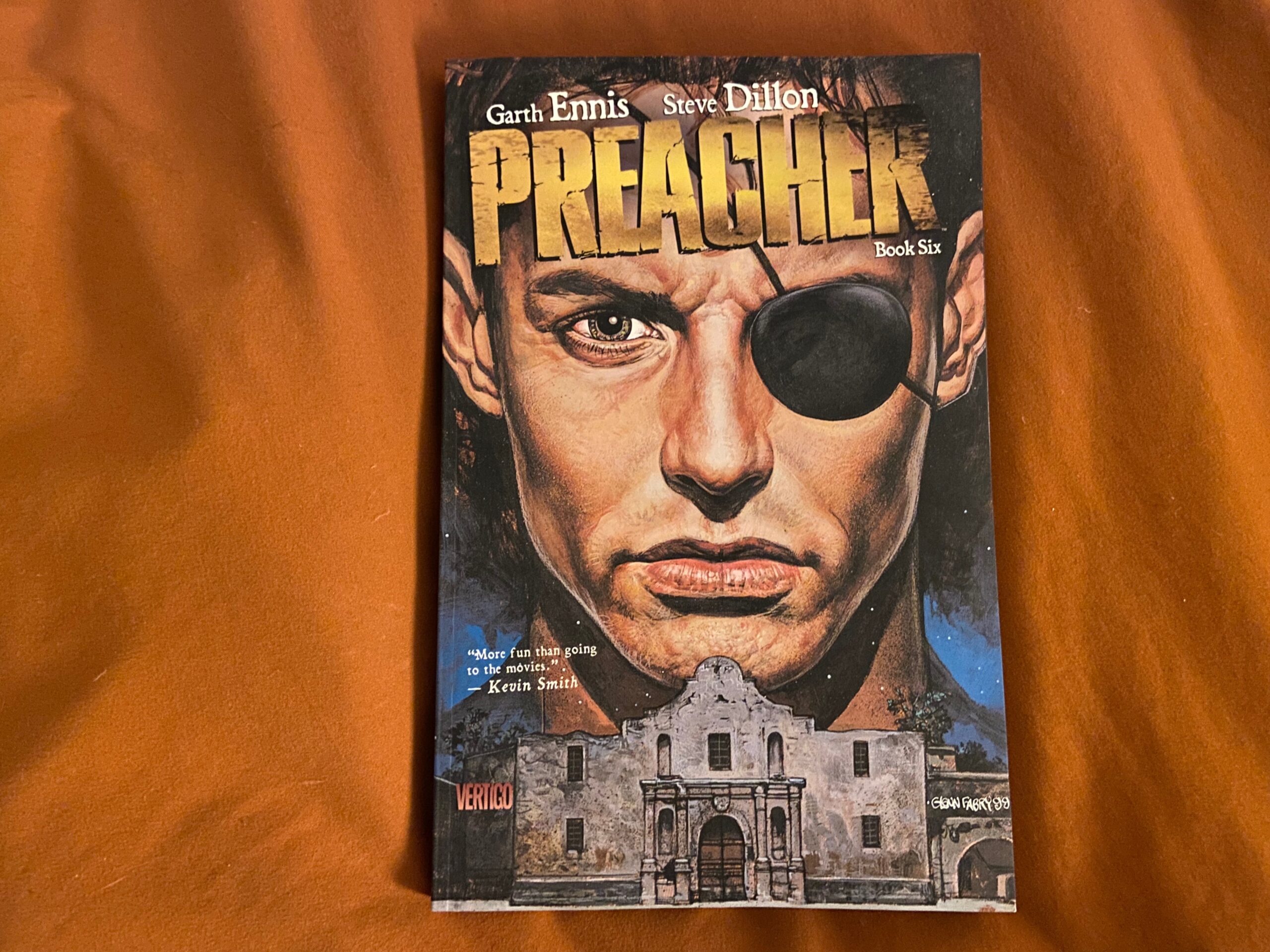 Preacher Book Six: It Ends Here
This is it, the conclusion to Garth Ennis and Steve Dillon's Preacher.
This is it, the conclusion to Garth Ennis and Steve Dillon's Preacher. Everything comes full circle for our cast of beloved characters. Allfather Starr has a sudden change of heart in his mission to make Jesse Custer the world's messiah. Tulip makes a last stand, Cassidy finally gets a little taste of what he deserves, and Jesse finally knows how to find God.
"It All Ends Here"
Out of all the books for Preacher, Book Six has the best pacing between subplots and intertwining stories. In the earliest issues, if a character had a long story to tell, there would be pages and pages of that story. This is fine to a point; however, several panels and pages later, it would begin to feel like information vomit. Garth Ennis' depiction of events in Book Six is parsed out much more smoothly.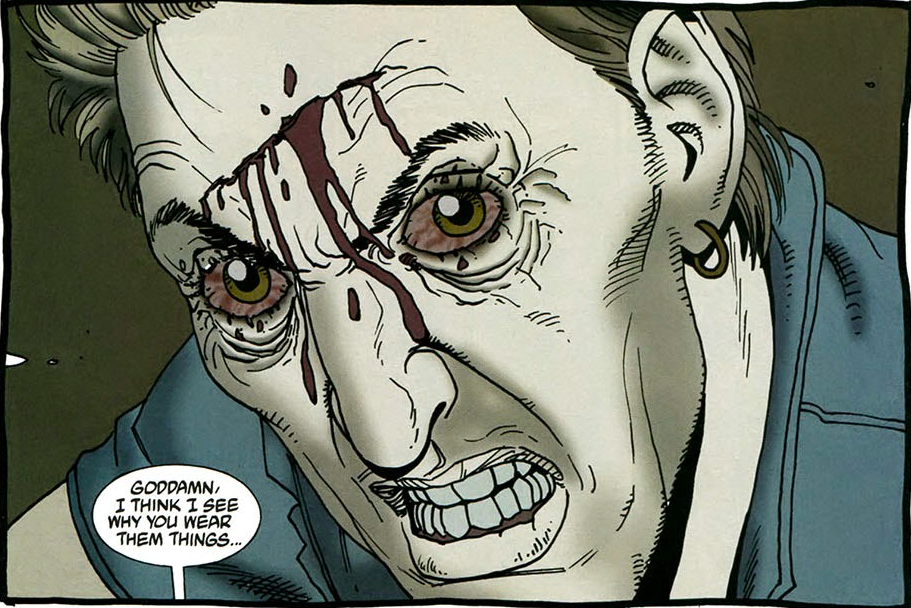 For example, Jesse's conversation with Cassidy's old friend Sally in the beginning of the book. There is a lot of information about Cassidy that the reader has to learn about. However, this information is nicely supported by the subplot of Allfather Starr and Featherstone, who have reunited with a malnourished, traumatized Agent Hoover (the character in Book Two whom Jesse condemned to count 3 million grains of sand) and come face-to-face with a terrifyingly powerful man. The transitions between the plots add tension that improves the book's pacing momentously, and this story-telling style continues throughout the book.
"It Ends in the Place that the Legend Began"
Book Six nicely ties loose ends together. The story never feels rushed, the tension and excitement grows as the conclusion draws near. It has, by far, one of the most satisfying endings, which I will not reveal. The climax has a beautiful transition that feels exactly like watching an old western movie. Note the picture below. Turning from page 349 to pages 350 and 351 feels like walking out of a dark tunnel into broad sunlight.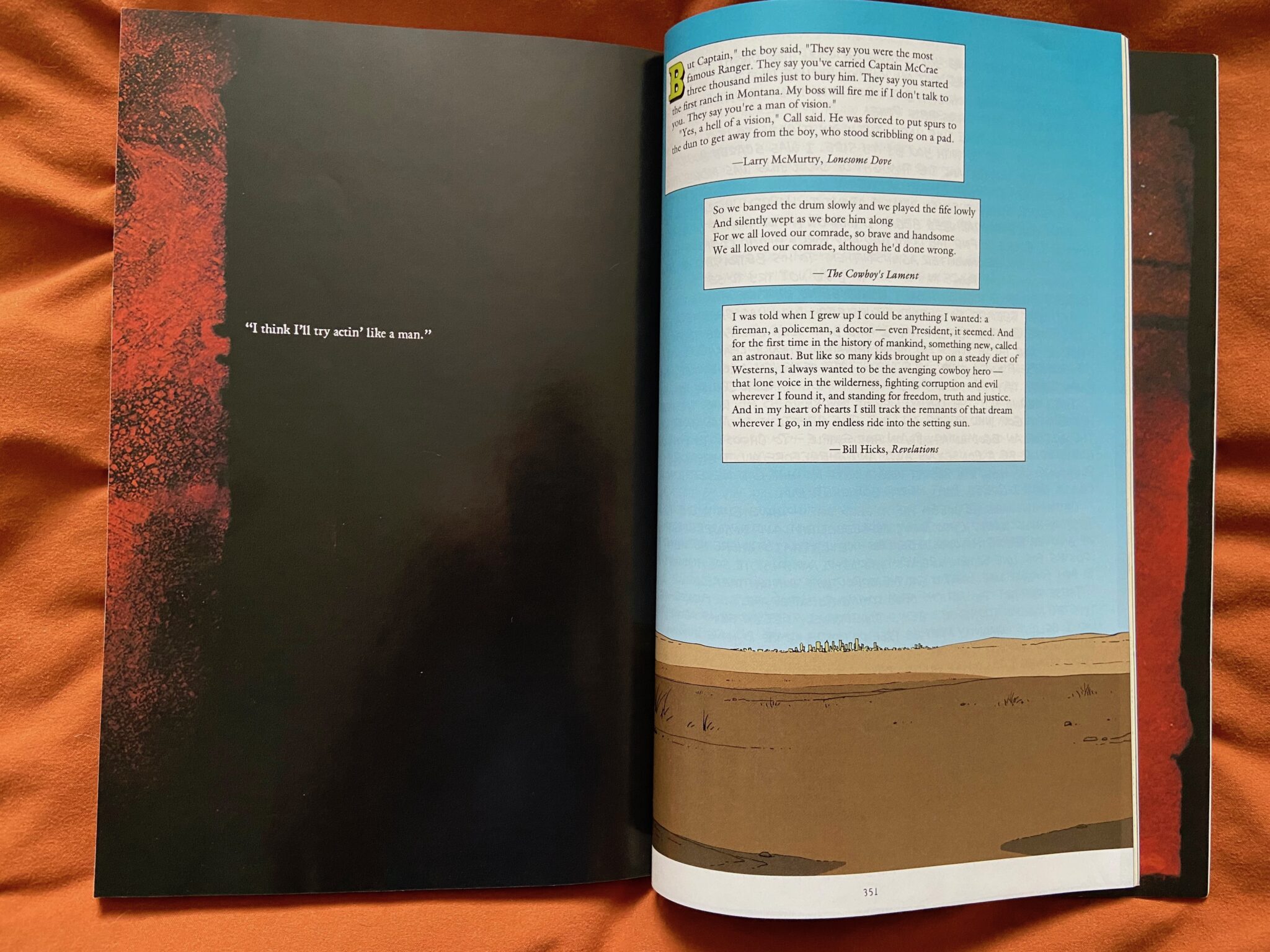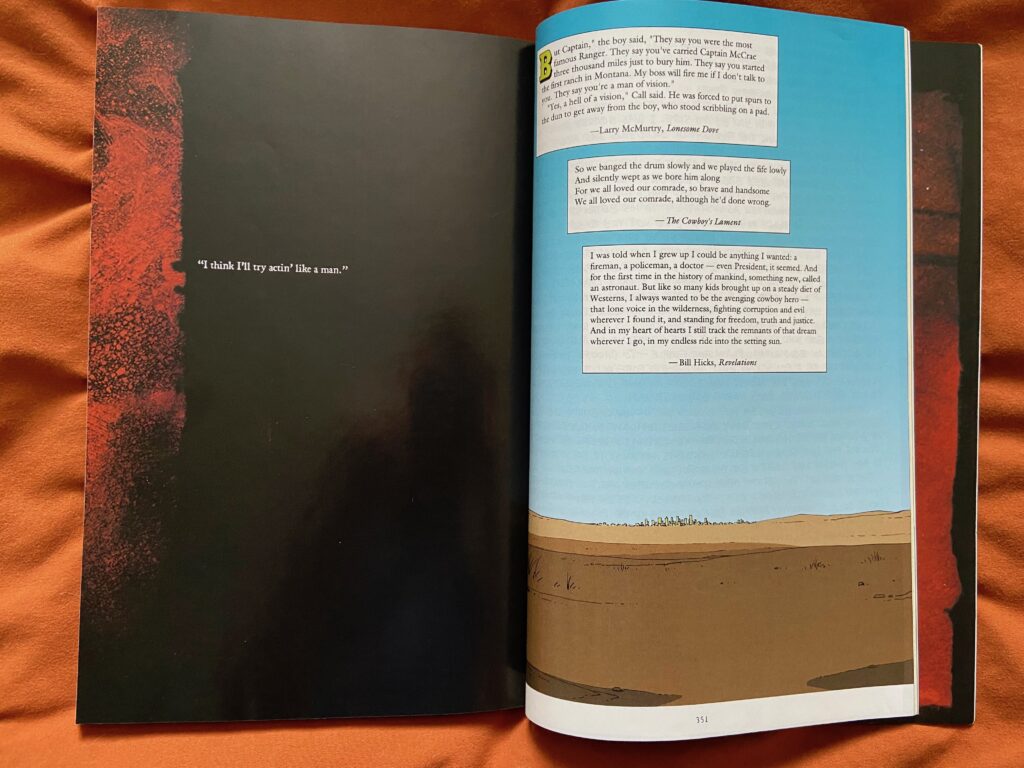 We are left wondering what the hell just happened? And at first it seems as though Ennis left the final action off-panel; fortunately, that is not the case. Of course we get to see all the gruesome, gory action; it wouldn't be Preacher if we didn't.
The Verdict
Every single book and issue of Preacher holds a special place in my heart. But Preacher Book Six has to be my favorite. It is evident that Garth Ennis, Steve Dillon and all the other co-creators of the series mastered their craft by the end. Take a look at this beautiful, detailed double-page spread below.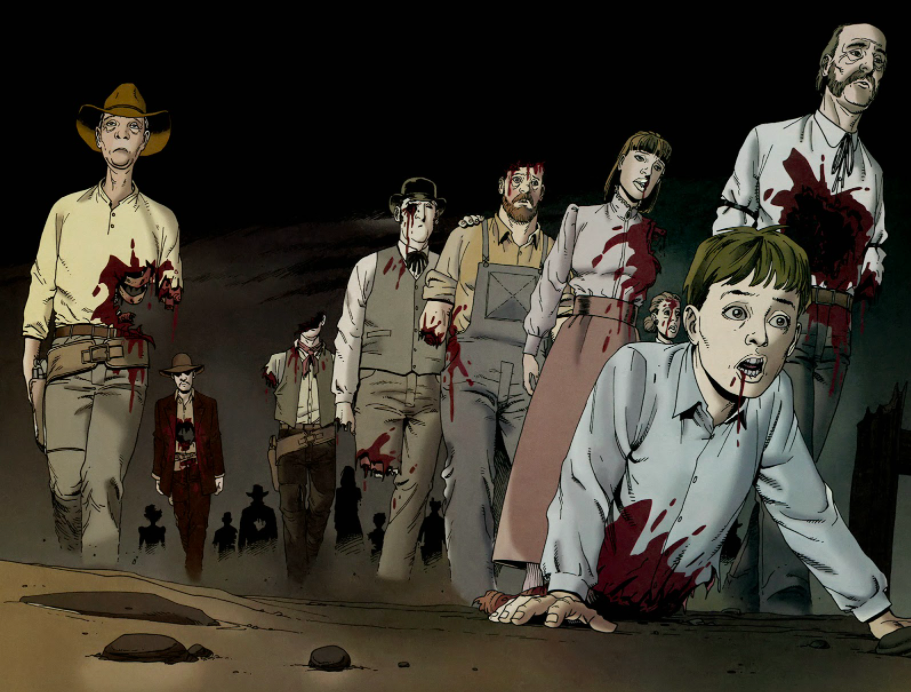 Like any other graphic novel, Preacher has its flaws. There are several parts that could've been changed to improve the story and overall comic book experience (I discuss these in my previous reviews). But these flaws are also part of the things that make this series so excellent. It is honest, gross, gory, romantic, terrifying, hilarious. The risks Ennis and Dillon took in religious, post-peak Satanic Panic America are unmatched with many other graphic novels of the time. It is a damn cool series worth rereading over and over again.

(5 / 5)
Dear readers, thank you for joining me in rereading one of my favorite graphic novel series ever. If you have never read Preacher, there is no time like the present to start now! Check the series out at your local library, book shop, or click the link below if you want to own a digital copy:
A Murder in Reverse: "Wrong Place Wrong Time"
The Plot
"A brilliantly genre-bending, mind-twisting answer to the question How far would you go to save your child?"  — Ruth Ware, #1 New York Times bestselling author
Jen watches her son murder a stranger. Stab him to death. She and her husband, Kelly, watch as their son Todd is taken into custody.
The next morning, Jen wakes up and it's yesterday. Jen knows that at the end of the night, her son kills someone. She is determined to stop it.
Jen goes further and further back in time trying to discover why Todd murdered a stranger and how to stop it.
The Verdict
This book is twisty. Right when you think you know the ending, something else is there to prove that the story is more multifaceted than that. While the premise of the novel is simple, Gillian McAllister elevates a simple concept with deep, dark twists.
It is best that you don't know too much going into this one. For fans of Blake Crouch, this is such a good thriller with time travelling vibes.
(4 / 5)
Woom: An Extreme Horror Novel
"That doesn't invalidate it," Angel said. "There's no statute of limitations on pain."
The Plot
Angel is a man who knows pain: physical, mental, sexual. The story begins with Angel visiting Room 6 at the Lonely Motel and ordering a plus-size sex worker to his room. What comes next is Angel's retellings of painful stories while performing sexual acts on the sex worker, Shyla.
The novel reads as a book of short stories, as Angel relays stories to Shyla and she tells him stories back. This is a novel of pain and disgust. Angel's stories are so dark and traumatic that Shyla can't believe they are true. As Angel bares his soul, we see a side of him that is melancholy and unable to process hurt in a natural way.
The Verdict
This novel is full of disgusting visuals and isn't afraid to get dirty. This truly is an extreme horror novel. As a warning, there is discussion of feces, blood, rape, sex, and body horror. This novel is not for the faint of heart. You'll close this short novel feeling dirty. Angel is a character that begs for sympathy while his stories narrate that he may not be as innocent as he perceives.
When the subtitle says this novel is extreme horror, believe it. Only the strong will survive Duncan Ralston's Woom. It is more splatterpunk than anything, but true literary quality lies beneath the filth.
(4 / 5)
Read it yourself by clicking below!
Did She Do It? Stacy Willingham's "All the Dangerous Things" Asks Us Just This
One year ago, Isabelle's life crumbled when her baby was abducted from her home. Her marriage to her husband, Ben, is destroyed as they try to navigate the fallout.
The Plot
Even one year after the abduction, Isabelle seeks answers. She is still doing appearances at true crime expos to get information on the attendees, thinking the abductor will be there one day. Abductors usually revisit their crime and Isabelle swaps her appearances for the event guest list, never taking any money for her talks.
Some think that Isabelle killed her own baby as evidence from the case says the perpetrator came from inside the house. Isabelle hasn't slept – not fully – since Mason was abducted. Her therapist is worried that she may be having hallucinations. Is Isabelle the killer or is she on a quest for true justice?
The Verdict
I absolutely loved the complication of not knowing whether Isabelle was a reliable or unreliable narrator. This was my favorite aspect of the novel. It made me question everything that Isabelle had to say and the actions she executed.
Isabelle is a character that, as a mother, I really felt for. I wanted to believe that Isabelle was innocent, but I was hanging on the edge of my seat waiting to find out. Stacy Willingham is the master of a story that winds all around, waiting for you to find the truth.
If you are interested in reading Willingham's first novel, A Flicker in the Dark, check out my review here.

(4.5 / 5)