This is it, the conclusion to Garth Ennis and Steve Dillon's Preacher. Everything comes full circle for our cast of beloved characters. Allfather Starr has a sudden change of heart in his mission to make Jesse Custer the world's messiah. Tulip makes a last stand, Cassidy finally gets a little taste of what he deserves, and Jesse finally knows how to find God.
"It All Ends Here"
Out of all the books for Preacher, Book Six has the best pacing between subplots and intertwining stories. In the earliest issues, if a character had a long story to tell, there would be pages and pages of that story. This is fine to a point; however, several panels and pages later, it would begin to feel like information vomit. Garth Ennis' depiction of events in Book Six is parsed out much more smoothly.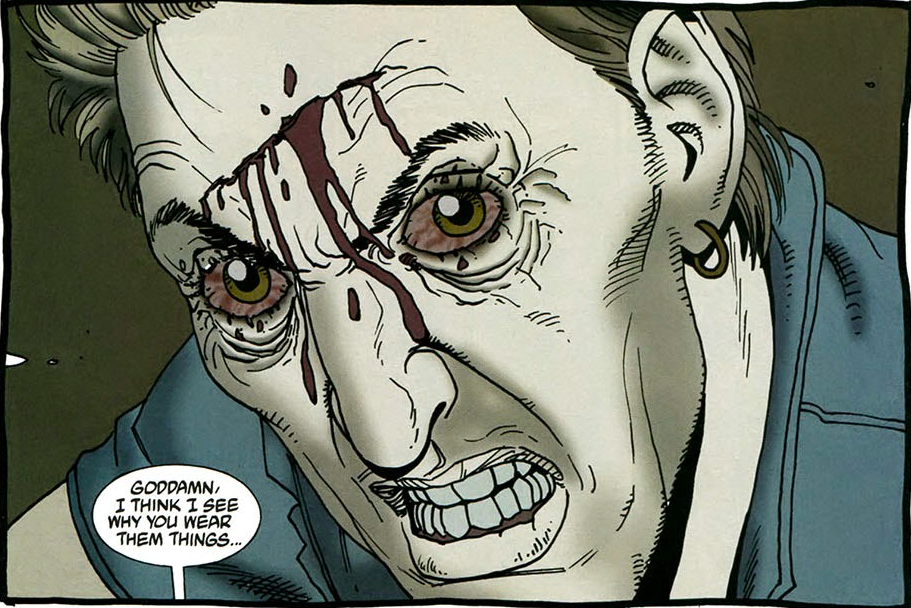 For example, Jesse's conversation with Cassidy's old friend Sally in the beginning of the book. There is a lot of information about Cassidy that the reader has to learn about. However, this information is nicely supported by the subplot of Allfather Starr and Featherstone, who have reunited with a malnourished, traumatized Agent Hoover (the character in Book Two whom Jesse condemned to count 3 million grains of sand) and come face-to-face with a terrifyingly powerful man. The transitions between the plots add tension that improves the book's pacing momentously, and this story-telling style continues throughout the book.
"It Ends in the Place that the Legend Began"
Book Six nicely ties loose ends together. The story never feels rushed, the tension and excitement grows as the conclusion draws near. It has, by far, one of the most satisfying endings, which I will not reveal. The climax has a beautiful transition that feels exactly like watching an old western movie. Note the picture below. Turning from page 349 to pages 350 and 351 feels like walking out of a dark tunnel into broad sunlight.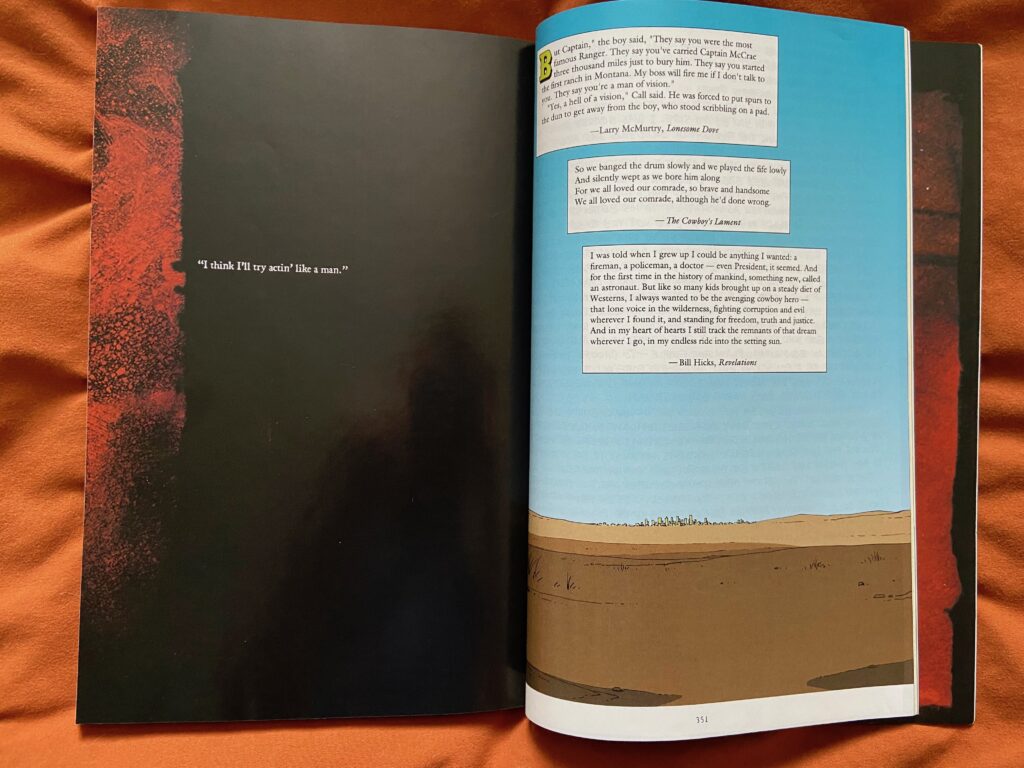 We are left wondering what the hell just happened? And at first it seems as though Ennis left the final action off-panel; fortunately, that is not the case. Of course we get to see all the gruesome, gory action; it wouldn't be Preacher if we didn't.
The Verdict
Every single book and issue of Preacher holds a special place in my heart. But Preacher Book Six has to be my favorite. It is evident that Garth Ennis, Steve Dillon and all the other co-creators of the series mastered their craft by the end. Take a look at this beautiful, detailed double-page spread below.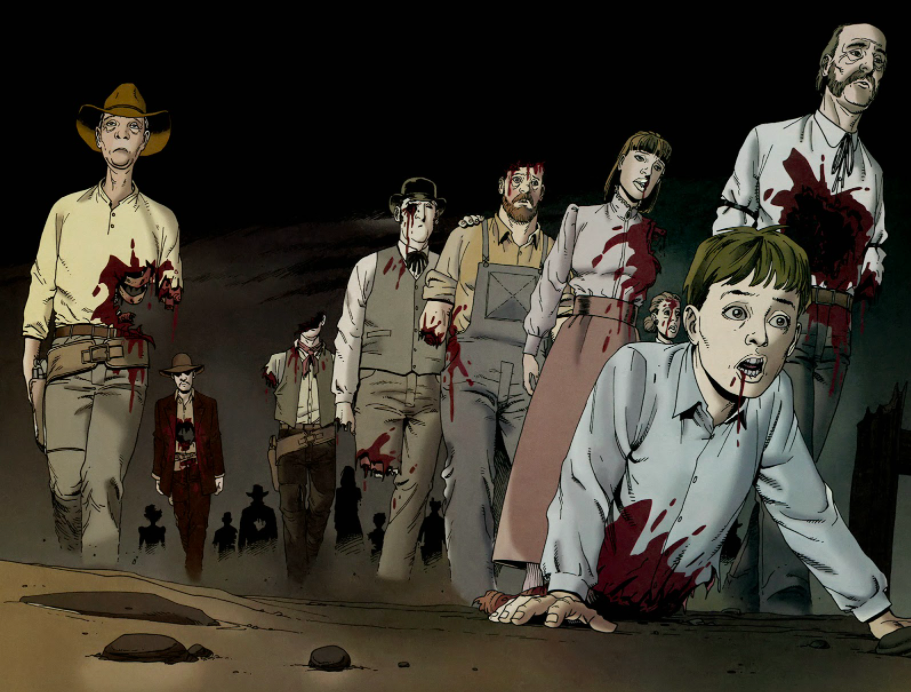 Like any other graphic novel, Preacher has its flaws. There are several parts that could've been changed to improve the story and overall comic book experience (I discuss these in my previous reviews). But these flaws are also part of the things that make this series so excellent. It is honest, gross, gory, romantic, terrifying, hilarious. The risks Ennis and Dillon took in religious, post-peak Satanic Panic America are unmatched with many other graphic novels of the time. It is a damn cool series worth rereading over and over again.

(5 / 5)
Dear readers, thank you for joining me in rereading one of my favorite graphic novel series ever. If you have never read Preacher, there is no time like the present to start now! Check the series out at your local library, book shop, or click the link below if you want to own a digital copy: