Oh my, what doesn't happen in Garth Ennis and Steve Dillon's Preacher Book Four? We learn the backstories of major characters, Arizona witnesses a nuclear fallout, legs get eaten, eyes get lost. It's a bumpy ride from start to finish and no one comes out the other side unscathed.
ALERT: post contains some gentle spoilers. Heed this warning how you will. (Check out my other posts on the series if you haven't already. If you wanna read the comics, you can find links to purchase them on my posts, too.)
Preacher Learns His Lessons the Hard Way
"I know somethin's comin'."
Jesse, Tulip and Cassidy make their way to Monument Valley, where they find the Saint of Killers. Unfortunately, they are interrupted by a U.S. military invasion, the leader of which is none other than Starr himself. It is an abysmal attempt to abduct Jesse and make him the new messiah for the cult the Grail. But when Starr orders a fighter pilot to unleash a nuclear bomb in the Arizona desert, everyone involved – including our main cast – is separated, gains permanent body damage, and/or dies.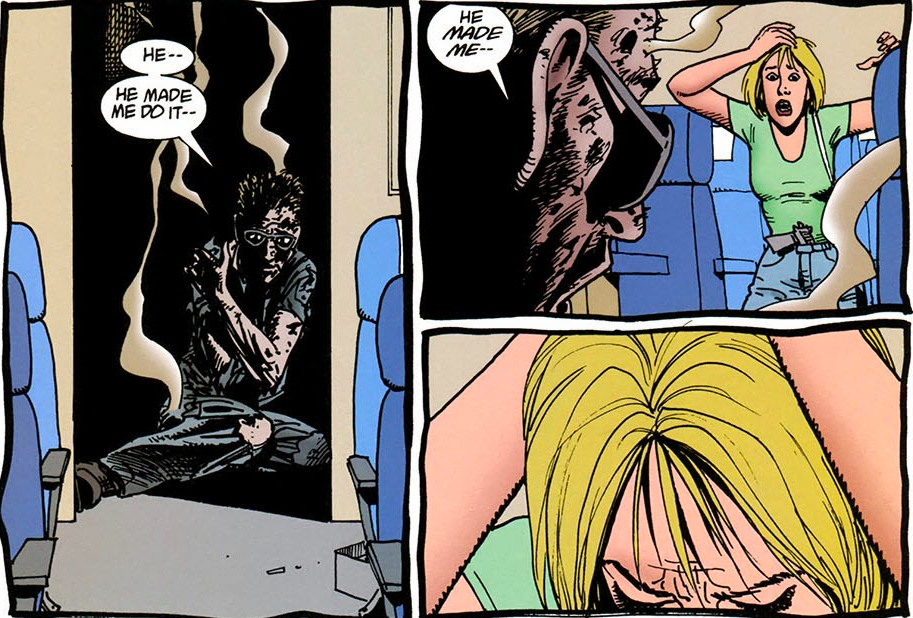 The rest of Book Four details the aftermath of the bombing. Indigenous communities are facing the consequences of Starr's choices, but the media cares more about the latest happenings of the newly famous singer Arseface. Tulip believes Jesse is dead and Cassidy takes advantage of her grief, while Jesse is just trying his hardest to figure out what the hell happened to him. (It turns out that falling out of a plane in the midst of a nuclear bomb can mess with a person's head.) But since all of the Grail believe Jesse is dead, they now have to find a new Messiah. This job proves to be rather difficult without the guidance from Starr, who's been abducted by hungry, desert dwelling cannibals.
Three Backstories
Allfather Starr
Preacher Book Four also includes three backstories, the first of which is Starr. Always a stone cold man, he once was a masochist German military officer. When another soldier recruits Starr to a cult called the Grail, Starr works his way up the ladder and quickly becomes the Sacred Executioner. We then witness the decades long journey that got him where he is today: naked in a cave with an eaten leg.
Arseface
Next up: the one and only Arseface. Given his name and face, it's evident that he's had a bit of a rough go in life. He is first introduced in Book One as the son of Officer Hugo Root, a racist, violent sheriff of a small Texan town.
Arseface's real name is unknown, not just by Preacher readers, but by his classmates, too. He was an unpopular 17 year old who was the constant victim of Stephen King-crazy bullies. Arseface's only friend was a 16 year old with a drug problem named Pube.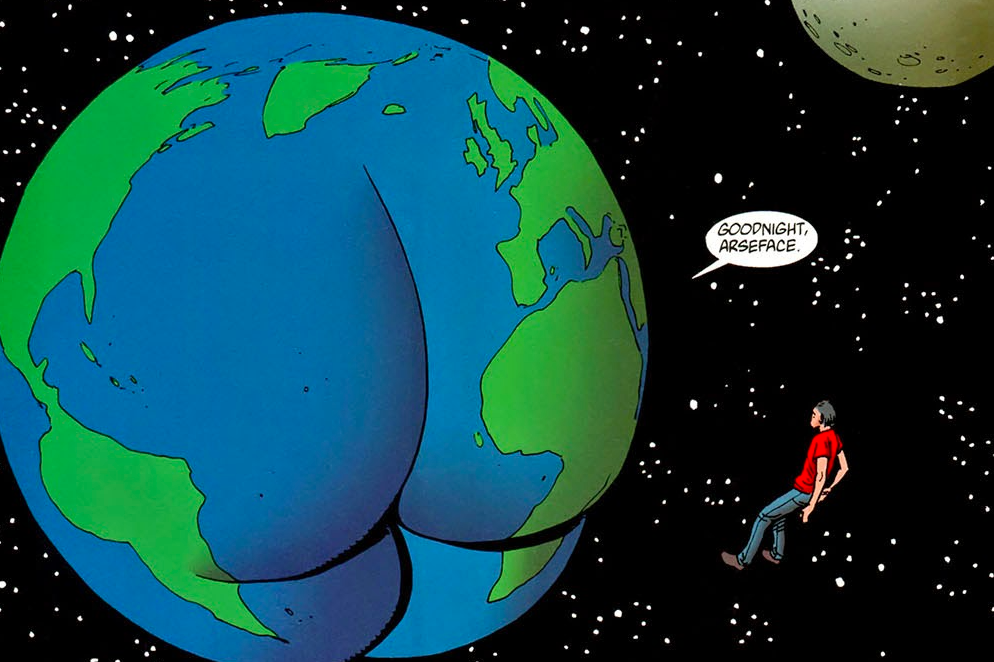 Together, the boys went to rock concerts and jammed to grunge bands, their favorite of which being Nirvana. The music provided an escape for Arseface, whose father beat him verbally and physically while his mother got drunk in another room.
Young Arseface and Pube became depressed. They struggled to find anything worth living for in their young lives. When their idol Kurt Cobain killed himself, the two decided to replicate his death. Pube died instantly, but Arseface butchered his suicide attempt. After copious amounts of facial reconstructive surgery, he gained a new, positive perspective on life and exudes kindness to everyone he meets. He still maintains that side of him, even to those who deserve it the least.
Jody and T.C.
Before Jesse killed them, there is a short story about Jody and T.C. fighting gorillas and guerillas in the Texan swamps. These men made a living fighting animals and people, always finding new ways to use the marshes to their advantage and stay at the top their town's food chain. They are scoundrels through and through.
The Verdict
Preacher Book Four continues to succeed in balancing its neowestern and horror elements with gross comedy and gory artwork. There are substantial shifts in character arcs as everyone's priorities rearrange. Jesse's mission to find God is at a standstill while he recovers from the nuclear blast and unexpected heartbreak. Meanwhile, Tulip and Cassidy's dynamic takes a 180, the Saint of Killers struggles with his past, and Starr has a whole load of shit to deal with.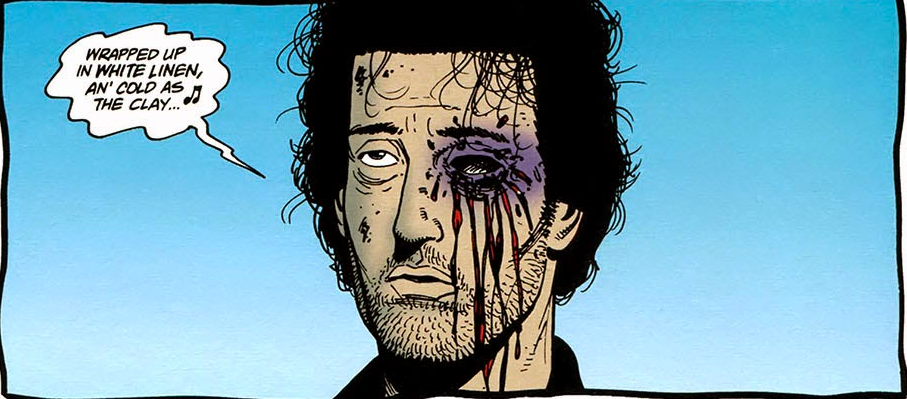 My favorite part about Book Four is how unpredictable the story continues to be. It is impossible to know what will happen next. There are moments when the pacing is slow and the dialogue is a little excessive. However, is still an exciting story filled with inescapably devastating and emotional moments.
(4 / 5)
There are some mighty big changes coming our way for Book Five. Until next time, check out what else we're reading here at Haunted MTL.
And while you're at it, snag a copy of Preacher Book Four by clicking this link below!
Brutality, Motherhood, and Art: Nightbitch Review
"In the distance, she heard her husband in the backyard call for her , but she was not that woman anymore, that mother and wife. She was Nightbitch, and she was fucking amazing. It seemed she had been waiting for this for a very, very long time." -pg 89, Nightbitch by Rachel Yoder
Nightbitch is the debut novel of Rachel Yoder about a stay-at-home mother coming to terms with the loneliness and brutality of motherhood. The main character, only referred to as The Mother, begins to undergo a frightening change as she sinks deeper into a depressive state. She transforms into Nightbitch, an animalistic creature full of anger, bloodlust, and freedom. The Mother must utilize the help of a strange book and a group of multi-level marketing mommies to harness her newfound strength before she loses herself or her family.
The novel is a stunning commentary on the everyday violence of motherhood centered within the context of werewolf and mystical woman mythos. The Mother spends much of the book contemplating her future and the abandonment of her dreams. Specifically, she grapples with the loss of her ability to create art, her longtime passion. On a larger scale, Nightbitch examines how many women are asked to stop being individuals after having children and only become mothers–existing only in the presence of their child. The message is clear, poignant, dark, and at times, hilarious. The prose and structure of the book are abnormal, however, it works with the overall messaging and plot.
As far as negatives go, Nightbitch was pretty ambiguous. This was by design, and created an aura of magical mysticism around many of the characters and events. The Mother is the definition of an unreliable narrator. However, towards the end of the book, I would have liked a little more clarity in what certain characters knew.
Nightbitch is a must read for any parent. As a non-parent, I highly recommend it for those interested in feminist horror or more avant-garde approaches to horror narratives. Those who don't like books with heavy introspection or ambiguous storytelling may enjoy something else, however I still think it is an interesting read nonetheless.
(4.4 / 5)
Gothic, Ghosts, and Tlachiqueros: The Hacienda Review
"Dread washed over me. Had she been sitting there, watching me sleep, the whole night? Her skin gleamed like candle wax in the light; then she grinned and whatever color her eyes had been before, now they turned red. In an instant, her skin transformed, dried and desiccated into leather, and her teeth grew long and needle sharp." -pg 214, The Hacienda by Isabel Cañas
The Hacienda is a gothic horror novel by Isabel Cañas set in the wake of Mexico's War for Independence. The debut novel by Cañas, it delivers a classic haunted house tale with a twist of Mexican high society. Recently made homeless by the execution of her father, Beatriz marries Don Solórzano to escape her cruel treatment by her relatives. However, once she joins him on his estate, she finds that the promise of a new life holds dark secrets and darker spirits. She enlists the help of a priest, Andrés, to uncover both. Together, they find the home has more dangers than they bargained for. And more threats both supernatural and far too material await every corner.
I adored The Hacienda from start to finish. Cañas's prose was accessible but full of deep imagery. While told from the perspective of both Beatriz and Andrés, neither outweighed the other. The perspectives were interesting and the transition between the two was well executed throughout the novel. I usually don't seek out romantic books, but I loved the romantic and sexual tension between the two main characters. Specifically since the romantic tension developed within both perspectives, the relationship's "will-they-won't-they" felt both plausible and full of stakes. And of course, The Hacienda was spooky! I loved the way the spirits manifested and the impact that had on the characters.
My only minor criticisms would be the resolution was fairly quick and mostly offscreen. Though maybe I'm just saying that because I wanted to keep reading, even after the book ended! I also found myself slightly annoyed at the characters for not picking up on some of the more obvious clues to what had happened in the house.
A thoroughly enjoyable gothic (and dare I say, romantic) novel that kept me on the edge of my seat, I highly recommend The Hacienda. If you enjoy haunted house tales, you will enjoy this book.
(4.8 / 5)

Preorder Isabel Cañas's new book Vampires of El Norte now!
"The Family Game" Glimpses Into The 1%
Are their traditions innocent or are they darker than they seem?
The Plot
Harry, short for Harriet, is a British writer gaining popularity after the publishing of her first novel. She meets Edward, a member of the widely known Holbeck family, and the two strike up a relationship. The Holbecks are high powered executives, running family businesses that bring in massive amounts of wealth. When Harry learns she is pregnant, the couple decide that it is finally time for her to meet the family.
During her first meeting with the family, Edward's father, Robert gives Harry a vintage tape that he says holds a story that he'd like her to listen to. As Harry listens to the tape, she begins to believe that the Holbecks have done some very bad things.
As she continues visiting the family, their strange traditions are revealed to her. The games that they play traditionally involve darkness and fear. Can Harriet find out the truth about the mysterious Holbecks?
The Verdict
Catherine Steadman outdoes herself in The Family Game. She creates such a mysterious family in the Holbecks and their dynamics are intriguing. Readers will follow Harry as she tries to determine the truth about Robert's misdoings. The cast of family characters are a wonder to watch. We've all always wondered what the extremely rich live like. Harry shows us their virtues and misdeeds.
The novel really remarks on the power of wealth and the wealthy's ability to commit audacious crimes and pay for them to go away. Robert, as the patriarch of the family, is a prime example of such. As Harry begins to discover that Robert may be confessing to a series of murders on the cassette tape, she must decide how to proceed. She knows that the power that Robert holds cannot be taken lightly.
As Harry navigates potentially deadly Christmas traditions, she races for the truth, unable to forget once she finds it. Harry is such a compelling character – a developing mother willing to risk life and limb to protect her unborn baby. Harry is brave and unapologetic and is a true testament on how to write a female main character.
It was very difficult for me to decide between 4 and 5 Cthulus, so we will call it 4.5. This is a novel I highly recommend thriller lovers check out.

(4.5 / 5)