Rob Zombie's new film 3 From Hell, the sequel to Devil's Rejects, is looking great. The film is slated for release in September of 2019. And we've got an early look at one of the films major characters!
And frankly, I think every movie should have at LEAST one character like this…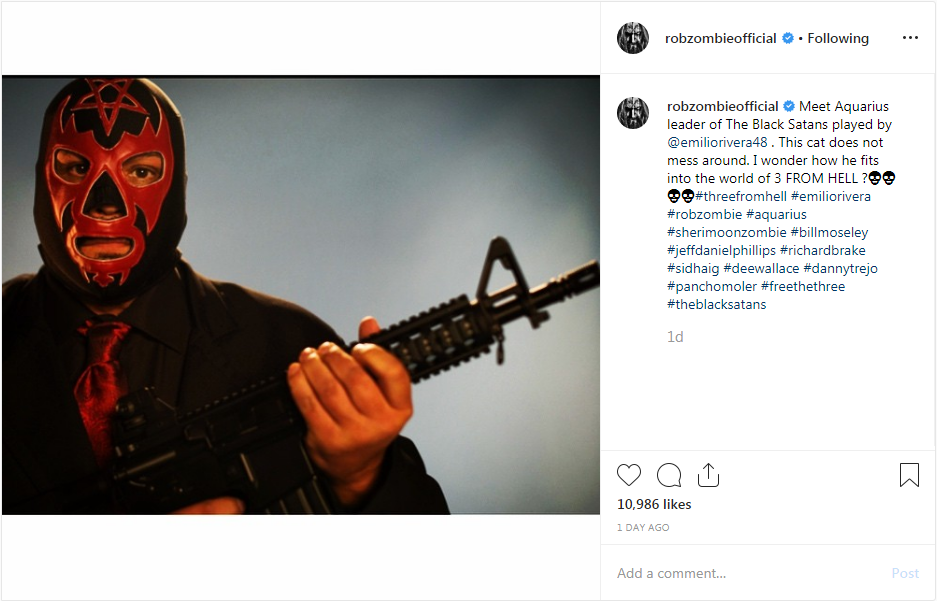 Rob Zombie, Sid Haig and a Satanic luchador? Yes!
We've got the cast you've come to expect, plus a little extra. Sid Haig, Bill Moseley and Sheri Moon Zombie, and of course, Emilio Rivera playing Aquarius (who does not mess around). But writer/director Rob Zombie has also promised cameos that will make you say "Wait, was that…?" including Chaz Bono.
The trailer doesn't give us much in the way of descriptive scenes. But the quick cut images definitely assure us that there is plenty more violent showdowns in store. Not to mention Danny Trejo, which almost guarantees something brutal. If you're a fan of the gorefest we've come to expect from anything with Rob Zombie's name on it, things are shaping up for 3 From Hell.
I've always been a big fan of Rob Zombie's projects art direction. From surreal, Ed Roth-esque cartoons during the White Zombie days to the more recent Americana, classic film inspired promotional images. 3 From Hell follows that artistic trend and this one really jumped out at me. Pop art with a splash of blood that shows the main characters in more than a literal sense.
Excited for the new installment in the series? Tell us what you think in the comments! And be sure to stay tuned for more news and updates on all things Horror here at Haunted MTL!