October promises to be fun across all of Shudder's regions. The US is weeks-deep into the 61 Days of Halloween, but the other regions are not being left out. As we did last time, we're making one spotlight selection per region, and then we'll also share the full schedule of releases for each region.
So, let's dive into the ghoulish glee you can expect this month.
US Selection: Joe Bob's Halloween Hideaway
I am a huge Joe Bob Briggs fan, as is the rest of Haunted MTL, so if Joe Bob gets a special during October then his special becomes the highlight of October. That's how it works. I do not write the rules. So, get ready for more fun at The Last Drive-In with Joe Bob Briggs!
As far as what movies are included for the double feature… that remains a tantalizing mystery. Regardless, we're excited to see Joe Bob, Darcy, and the rest of the trailer park folks later this month.
Of course, that is not all going on for the second half of the 61 Days of Halloween. The US gets an embarrassment of riches this month.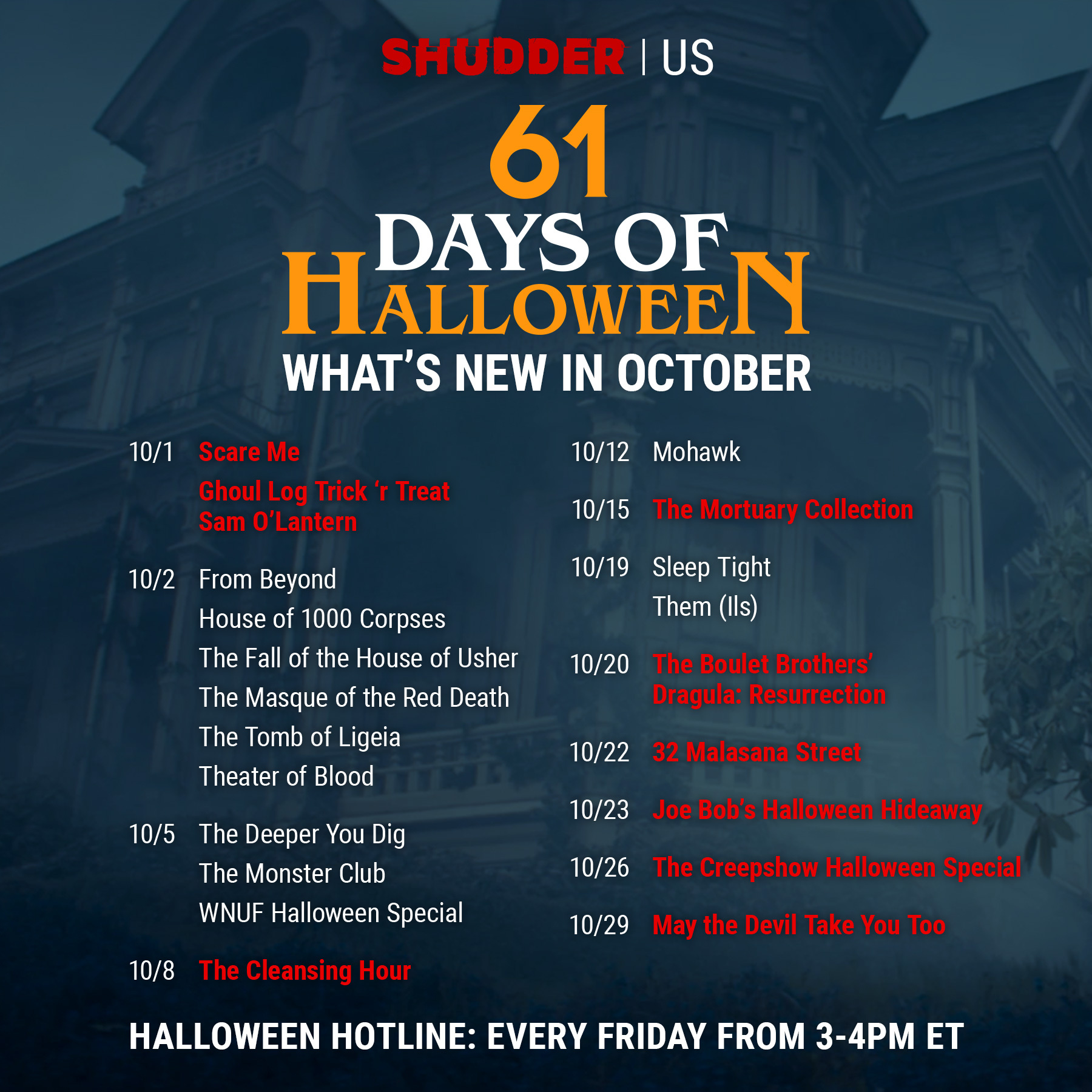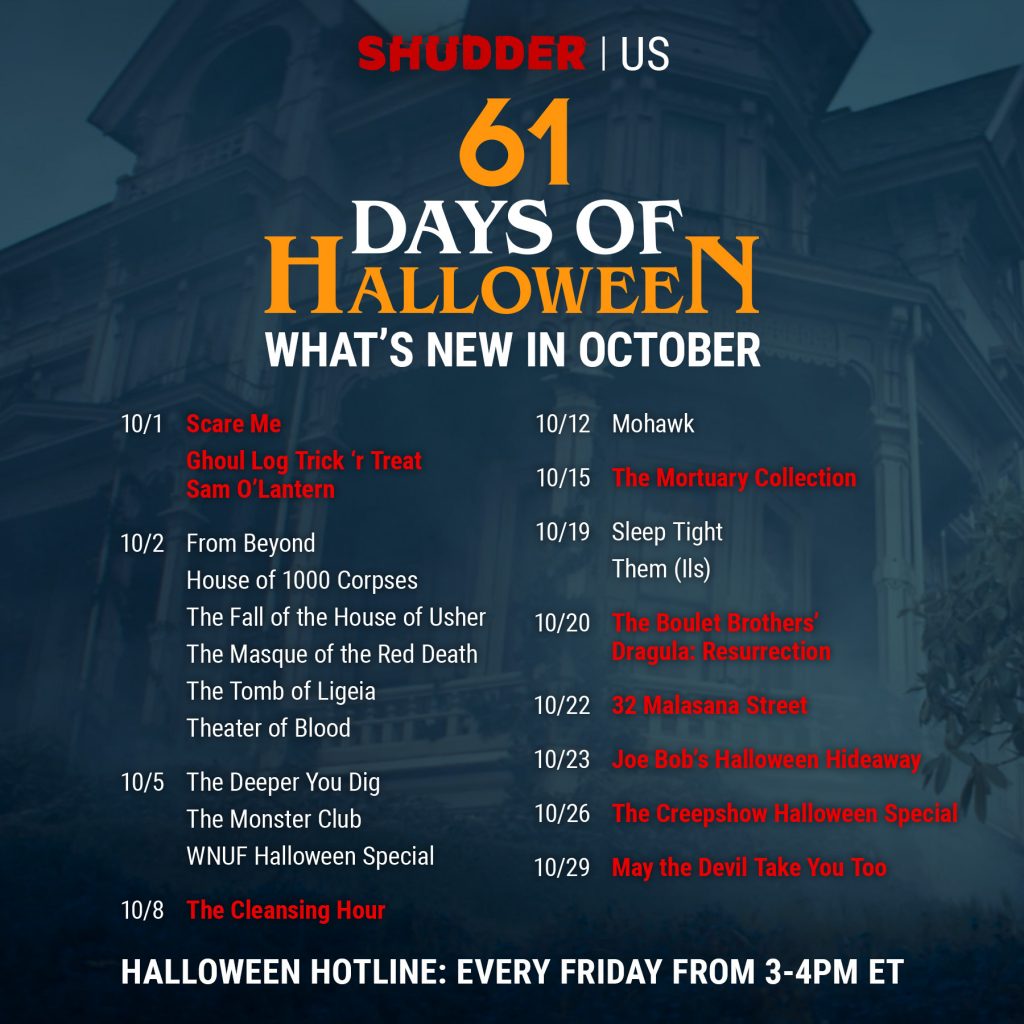 Canada Selection: WNUF Halloween Special
My choice for the Canadian region's selection is WNUF Halloween Special. This 2013 horror-comedy is played off as an off-air recording of a local channel's Halloween special where things escalate. It evokes the BBC classic Ghostwatch in a number of ways. Absolutely dripping a 1980s style, this film comes off as an absurd artifact of the era and should be a great treat for audiences in Canada. Enjoy the collection of fake commercials included as well.
Check out the trailer below.
As for the rest of Canada's offerings?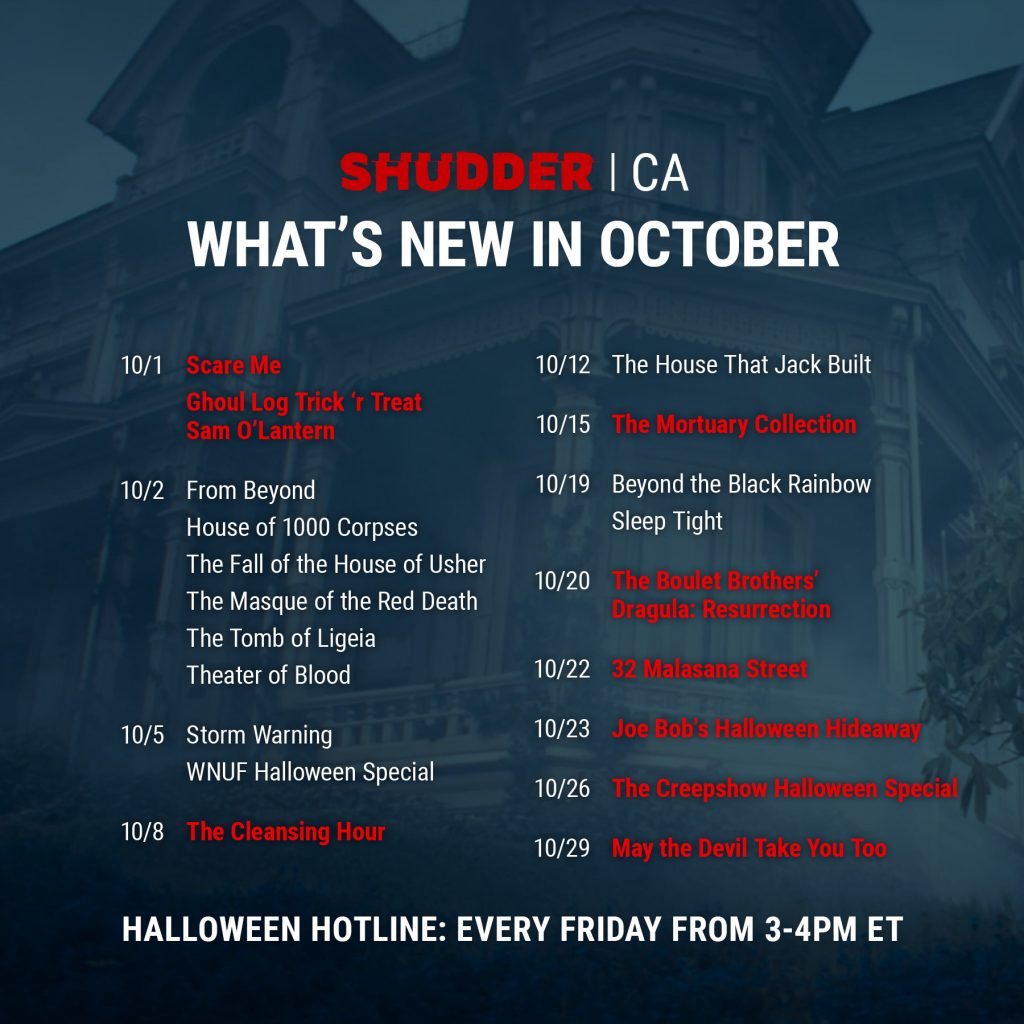 UK Selection: The Cleansing Hour
The UK doesn't get as many treats in their bag like the US or Canada this month, but there is still fun to be had. My selection for this month is a curious exorcism film, and also a Shudder Original called The Cleansing Hour that should make for a nice companion piece to Shudder's Zoom-themed horror Host. The Cleansing Hour follows a staged exorcism streaming online that grows far more interesting when a real demon shows up.
Check out the trailer below.
As for what else is in the UK this month?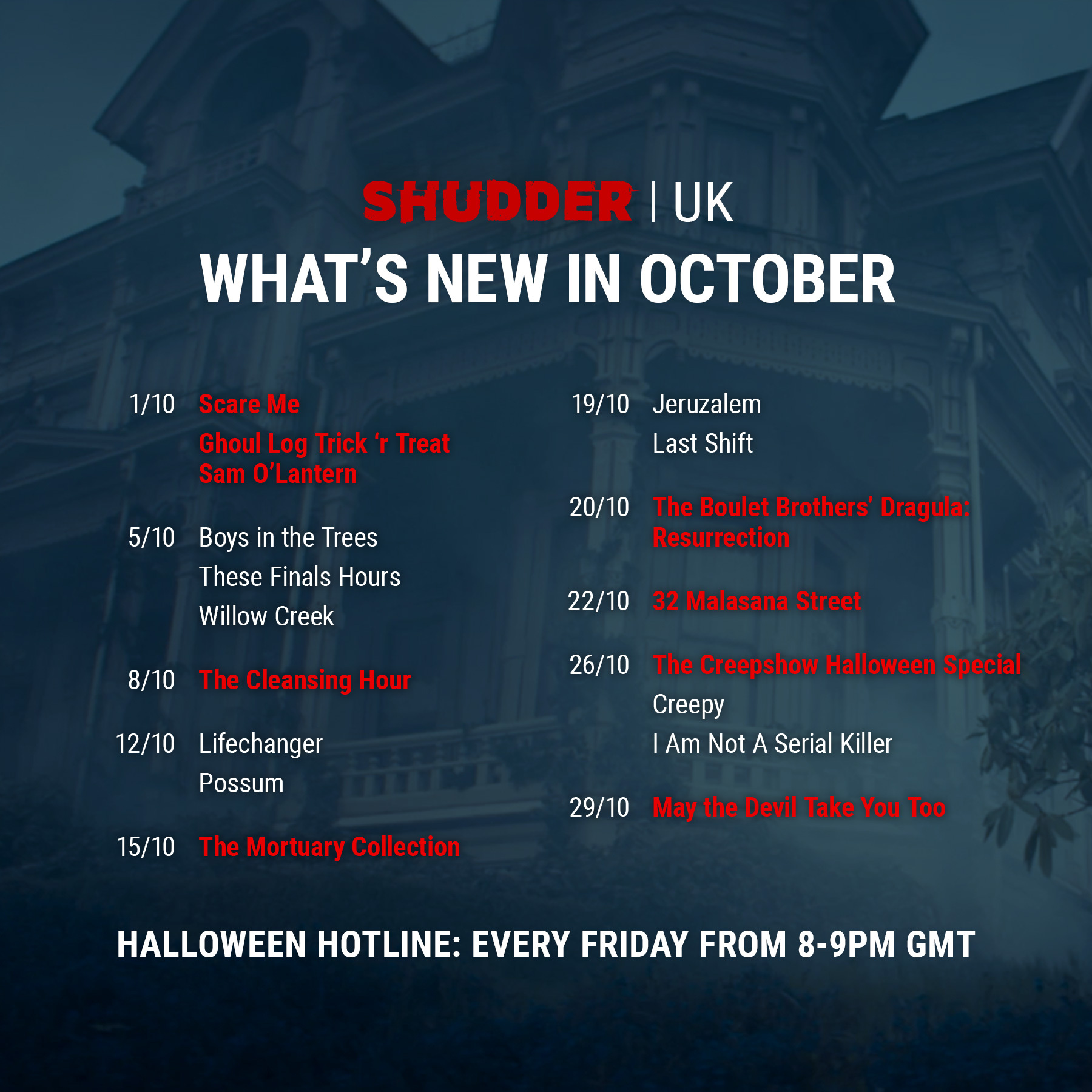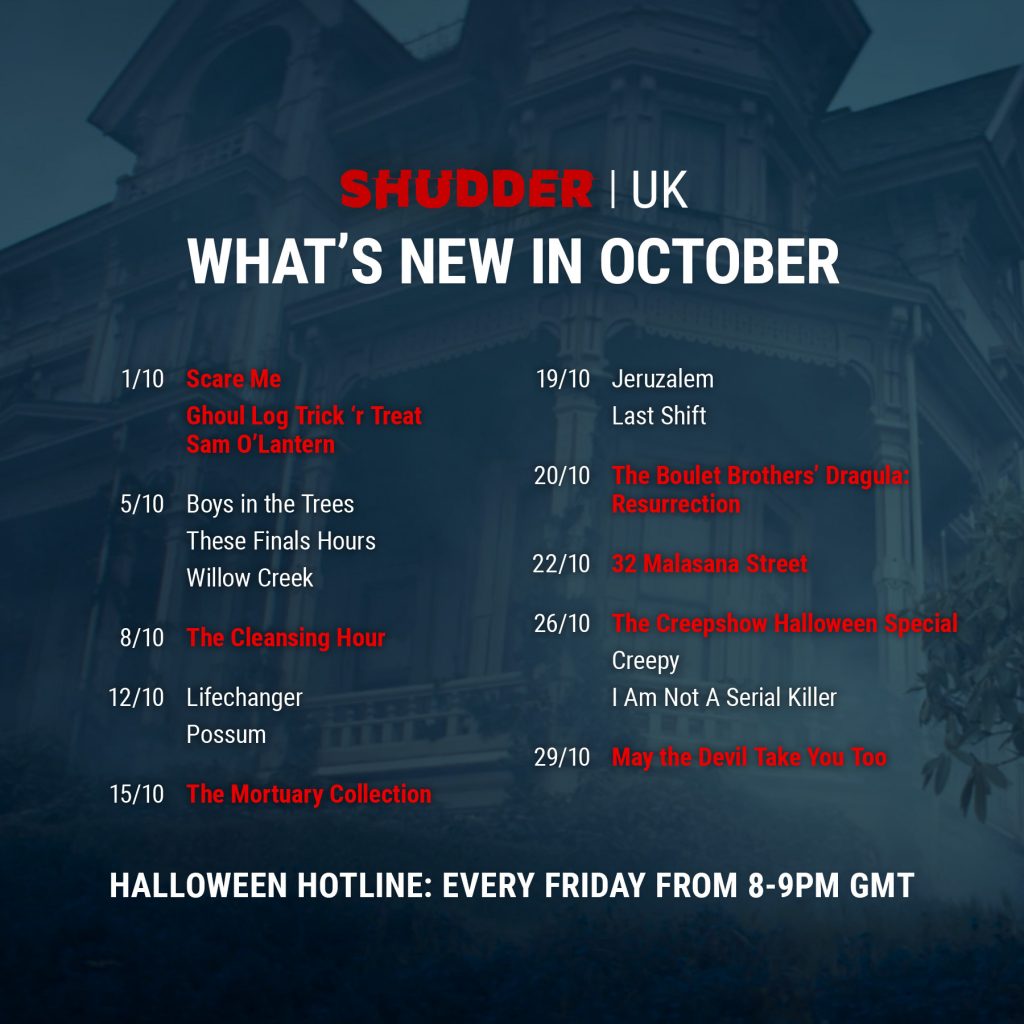 Australia/New Zealand Selection: Suspiria
My selection for Australia/New Zealand doesn't arrive until late in the month, but it is worth the wait: Dario Argento's Suspiria adds a splash of candy-colored horror to any Halloween festivities. It may not be Argento's best film but it is arguably his most iconic. Australia/New Zealand having a chance to enjoy it streaming on Shudder is definitely a highlight.
As for the rest of the films on offer?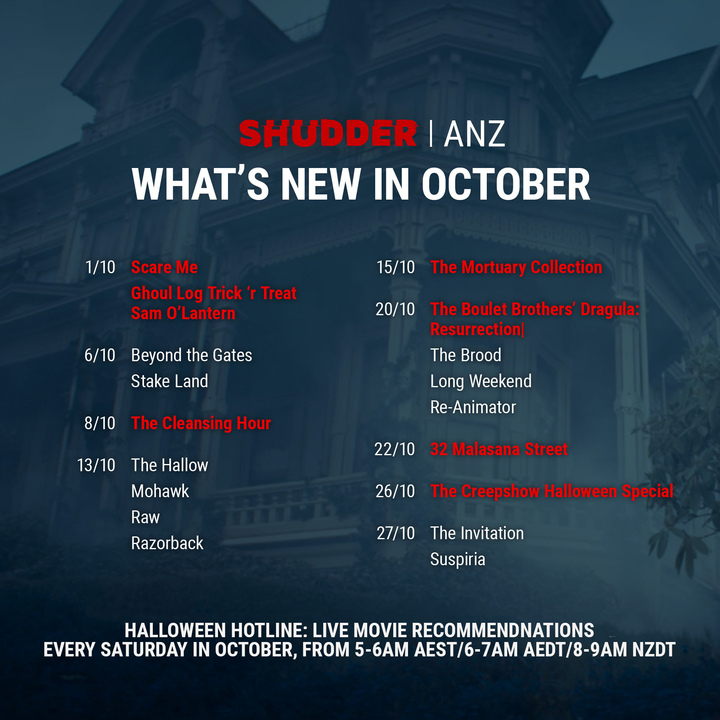 Lastly, all regions get access to this year's Ghoul Log. Here is some information about it from Shudder.
MICHAEL DOUGHERTY'S GHOUL LOG TRICK 'R TREAT SAM O'LANTERN NOW STREAMING ON SHUDDER
Shudder Presents New 24/7 Streaming Jack-O'Lantern Inspired by Dougherty's Iconic Halloween Anthology Film
NEW YORK, NY – October 2, 2020 – Shudder, AMC Networks' premium streaming service for horror, thriller and the supernatural, has debuted this year's "Ghoul Log," a 24/7 streaming jack-o'lantern, created by Trick 'r Treat director Michael Dougherty (Godzilla: King of the Monsters). The Ghoul Log Trick 'r Treat Sam O'Lantern is inspired by his beloved film from Legendary Entertainment and its iconic star, Sam, the mischievous spirit of Halloween who enforces the holiday's ancient traditions. It is available to stream on Shudder now, both on-demand and soon 24/7 via the in-app Shudder TV feed.
Log line: On a dark, autumnal street, the Sam O'Lantern blazes to life. While the pumpkin burns, keep your eyes peeled for the surprises it summons.
"Thanks to the ongoing dumpster fire that is 2020, Halloween is going to be yet another stay-at-home activity for a lot of people, so I hope the Sam O'Lantern brings a bit of light and magick to all those in need of some holiday spirit," said Michael Dougherty
"When we thought about what would get Shudder subscribers most excited for the 2020 version of our annual Ghoul Log, our wish-list idea was to team up with Michael Dougherty for something inspired by his iconic Halloween movie Trick 'r Treat. When we reached out to Mike, we were delighted to find out that he was not only interested in the idea, but he already had an amazing concept in mind," said Craig Engler, Shudder's General Manager.
The Ghoul Log Trick 'r Treat Sam O'Lantern is the third in Shudder's annual Halloween series. The Ghoul Log premiered in 2018, doing for Halloween what the famed Yule Log has long done for Christmas. Its long, unbroken feed of a candle-lit jack-o'lantern accompanied by spooky night sounds was an immediate hit. 2019 saw Return of the Ghoul Log, an animated creation courtesy of famed horror director Larry Fessenden (Depraved) and animator Beck Underwood. This year's Ghoul Log is the first to be directly inspired by an iconic horror film. Trick 'r Treat, released in 2009, has amassed a ravenous cult following and the Sam character has become a perennial Halloween icon inspiring a still growing line of toys, comic books, costumes, holiday décor, and theme park attractions.
The Ghoul Log Trick 'r Treat Sam O'Lantern was conceived, designed and executive produced by Dougherty and directed by Evan Gorski and Michael Babyak. It was produced by Ava Yazdani and features special effects by AtmosFX (AtmosFX.com). Trick 'r Treat © Legendary 2007. All rights reserved.
---
It is great that everyone can partake in the particular joy that is the Ghoul Log this year. Don't forget the Halloween Hotline operating this month as well.
As always, you can follow the individual Twitter accounts for Shudder in various regions for more details. Do you have a favorite selection in your region you think I should have shared? Let me know.