Shudder's biggest two months begin this September as they kick off the 61 Days of Halloween. This yearly celebration spans September and October and features new premieres, Shudder originals, and some fun events. Let's look at some of the overall announcements as well as the scheduled releases across regions for September.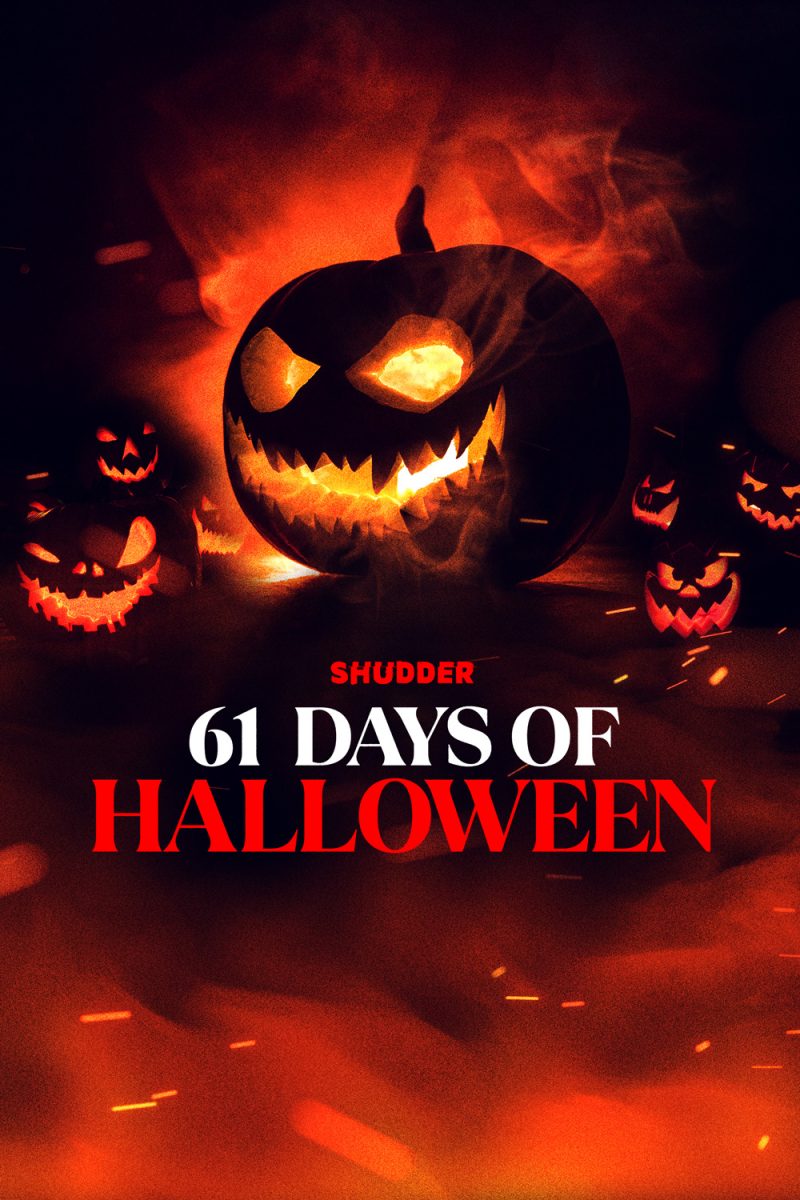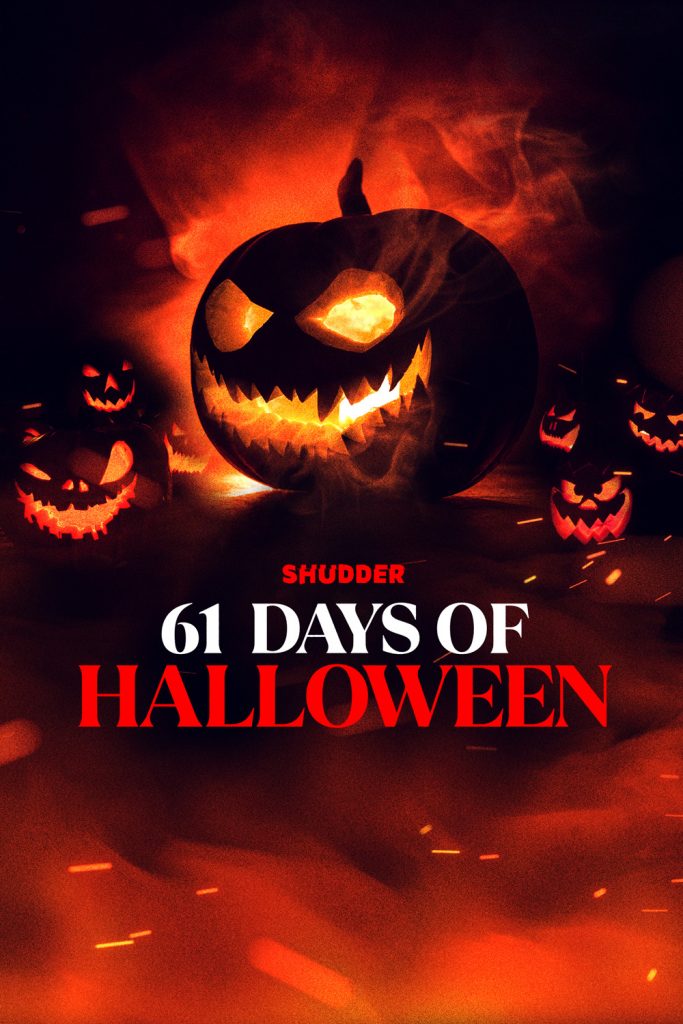 The 61 Days of Halloween
First, direct from Shudder:
NEW YORK – September 1, 2021 – The "most wonderful time of the year" for Shudder kicks off today with its "61 Days of Halloween" annual event, featuring a slate of weekly new movie premieres and original series debuts, a new Halloween special with Joe Bob Briggs (and more specials to be announced), horror film favorite added to the Shudder library from Brian De Palma's Carrie to Tobe Hooper's Poltergeist, a new editionof Shudder's beloved "Ghoul Log," a 24/7 streaming jack-o'-lantern, and the return of Shudder's Halloween Hotline, where members can receive live, personalized movie recommendations from Shudder's head curator Samuel Zimmerman.

"Shudder is the ultimate destination for horror all year long, but every Halloween, we try to outdo ourselves. Last year, we supersized the season, expanding our celebration to 61 days, and this year, we're going even bigger by bringing Shudder members an unbeatable lineup of new original series and exclusive movie premieres every week, along with new specials and timeless horror favorites, starting September 1. Whatever you're in the mood for this Halloween—old or new, creepy fun or truly terrifying—Shudder has you covered," said Shudder General Manager Craig Engler.
Shudder Originals and Exclusives
Here is a list of upcoming Shudder Originals and Exclusives up through October that you have to look forward to.
Superhost – Premieres September 2
(Available on Shudder US, Shudder CA, Shudder UKI and Shudder ANZ)
In Superhost, travel vloggers Teddy (Osric Chau, Supernatural) and Claire (Sara Canning, Nancy Drew) share their experiences in and around vacation homes with their subscribers while maintaining a moderate level of internet fame. When their follower count starts to dwindle, they pivot to creating viral content around their most recent host, Rebecca (Gracie Gillam, Z Nation). With all eyes turned towards their "superhost," Rebecca, they slowly start to realize something isn't right and as they investigate further, they unlock a horrifying truth. Written and directed by Brandon Christensen (Z, Still/Born). Starring Chau, Canning, Gillam, and Barbara Crampton (Jakob's Wife).
Martyrs Lane – Premieres September 9
(Available on Shudder US, Shudder CA, Shudder UKI and Shudder ANZ)
In this unsettling ghost story, Leah, 10, lives in a large, old house with her family but can't quite work out why her mother seems so distant. At night she is visited by a mysterious guest, who might be able to give her some answers. With a new challenge every night, Leah is rewarded with bits of knowledge that, when pieced together, threaten to shine a dangerous light on both the truth in her nightmares and of the world she lives in. Directed by Ruth Platt (The Lesson). Starring Denise Gough (Colette, The Kid Who Would Be King), Steven Cree (Outlaw King, A Discovery of Witches), Kiera Thompson (His Name Was Gerry), and Sienna Sayer (Silent Night).
Seance – Premieres September 29
(Available on Shudder US, Shudder CA, Shudder UKI and Shudder ANZ)
Camille Meadows is the new girl at the prestigious Edelvine Academy for Girls. Soon after her arrival, six girls invite her to join them in a late-night ritual, calling forth the spirit of a dead former student who reportedly haunts their halls. But before morning, one of the girls is dead, leaving the others wondering what they may have awakened. Written and directed by Simon Barrett (You're Next, The Guest). Starring Suki Waterhouse (Assassination Nation, The Divergent Series: Insurgent), Madisen Beaty (Once Upon a Time… In Hollywood, The Curious Case of Benjamin Button), Ella-Rae Smith (Into the Badlands, Fast & Furious Presents: Hobbs & Shaw), Inanna Sarkis (Boo 2! A Madea Halloween, After Franchise),  Seamus Patterson (Channel Zero) and Marina Stephenson-Kerr (Channel Zero).
V/H/S/94 – Premieres October 6
(Available on Shudder US, Shudder CA, Shudder UKI and Shudder ANZ)
A Shudder Original Film, V/H/S/94 is the fourth installment in the hit horror anthology franchise and marks the return of the infamous found footage anthology with segments from franchise alumni Simon Barrett (Séance) and Timo Tjahjanto (May the Devil Take You Too) in addition to acclaimed directors Jennifer Reeder (Knives & Skin), Ryan Prows (Lowlife) and Chloe Okuno (Slut). In V/H/S/94, after the discovery of a mysterious VHS tape, a brutish police swat team launch a high-intensity raid on a remote warehouse, only to discover a sinister cult compound whose collection of pre-recorded material uncovers a nightmarish conspiracy.
The Medium – Premieres October 14
(Available on Shudder US, Shudder CA, Shudder UKI and Shudder ANZ)
A documentary team follows Nim, a shaman based in Northern Thai, the Isan area, and encounters her niece Mink showing strange symptoms that seem to be of inheritance of shamanism. The team decides to follow Mink, hoping to capture the shaman lineage passing on to the next generation, but her bizarre behavior becomes more extreme. From director Banjong Pisanthanakun (Shutter) and producer Na Hong-jin (director of The Wailing). Winner Best Film, Bucheon International Film Festival 2021.
Horror Noire – Premieres Thursday, October 28
(Available on Shudder US, Shudder CA, Shudder UKI and Shudder ANZ)
A new Shudder Original anthology film, Horror Noire is a follow-up to the critically acclaimed 2019 documentary Horror Noire: A History of Black Horror and features new work from both established and emerging talents, showcasing stories of Black horror from Black directors and screenwriters. Anthology writers featured include Tananarive Due, Steven Barnes, Victor LaValle, Shernold Edwards, Al Letson, and Ezra C. Daniels. The cast featured include Lesley-Ann Brandt (Lucifer, Spartacus), Luke James (The Chi, Thoughts of a Colored Man), Erica Ash (Survivor's Remorse, A Black Lady Sketch Show), Brandon Mychal Smith (Four Weddings and a Funeral, You're the Worst), Sean Patrick Thomas (Macbeth, The Curse of La Llorona), Peter Stormare (American Gods, Fargo,) Malcolm Barrett (Genius: Aretha Franklin, Timeless) and Rachel True (The Craft, Half & Half), among others.
Shudder Original Series
Shudder's Original Series offerings for September and October promise some major fun as well. We have the conclusion of Slasher: Flesh & Blood, the return of Creepshow, and the brand new season of Dragula.
Slasher: Flesh & Blood – New Episodes Premiere Every Thursday through September 16
Slasher: Flesh & Blood follows a wealthy, dysfunctional family lead by patriarch Spencer Galloway (David Cronenberg) that gathers for a reunion on a secluded island only to learn they'll be pitted against one another in a cruel game of life and death, all while being stalked by a mysterious masked killer. Nothing is what it seems and no one is safe as the tension – and body count – ratchets up.
Creepshow Season 3 – Premieres September 23
Based on the 1982 horror-comedy classic, the anthology Creepshow returns for a third season and is still the most fun you'll ever have being scared! From showrunner Greg Nicotero (The Walking Dead), a comic book comes to life in a series of vignettes, exploring terrors ranging from murder, creatures, monsters, and delusions to the supernatural and unexplainable. You never know what will be on the next page. Guest stars include Michael Rooker (The Walking Dead), James Remar (Dexter), Johnathon Schaech (Legends of Tomorrow), Reid Scott (Veep), Hannah Fierman (V/H/S), King Bach (When We First Met), and Ethan Embry (Empire Records).
The Boulet Brothers' Dragula Season 4 — Premieres October 19
The groundbreaking Shudder Original series follows ten drag artists from around the world competing for a $100,000 grand prize – the largest in show history. Season four will feature a spectacular lineup of guest judges including Vanessa Hudgens (High School Musical film series), Harvey Guillén (What We Do in the Shadows), Kristian Nairn (Game of Thrones), Misha Osherovich (Freaky), Queer country music icon Orville Peck, pop-metal star Poppy, Ray Santiago (Ash vs. The Evil Dead), Bob the Drag Queen (We're Here), and more, with additional judges to be announced later. Dubbed one of "the 19 best LGBTQ+ shows everyone needs to watch" by Cosmopolitan, The Boulet Brothers' Dragula is
written and produced by the Boulet Brothers with Executive Producer David Sigurani and director Nathan Noyes.
Behind the Monsters — Premieres October 27
The new original docu-series Behind the Monsters takes a deep dive into cinematic horror icons, including Freddy Krueger, Jason Voorhees, Michael Myers, Candyman, Chucky, and Pinhead, and features interviews with horror experts and the writers, directors, and actors from the original films that made each character the stuff of genre legends. Written and directed by Gabrielle Binkley and Anthony Uro and produced by Stage 3 Productions, Behind the Monsters is executive produced by Phil Nobile Jr., Kelly Ryan, and Mark Shostrom.
Shudder Specials
"The 61 Days of Halloween" also presents a number of fun specials, all of which are staples to the season on Shudder at this point.
Joe Bob's Halloween Hoedown — October 8 at 9 pm ET on Shudder TV
In what has become an annual tradition, iconic horror host and foremost drive-in movie critic Joe Bob Briggs returns with a special The Last Drive-In double feature just in time for Halloween, premiering live on the Shudder TV feed. You'll have to tune in to find out what movies Joe Bob has selected, but you can count on something scary and perfect for the season, with special guests to be announced. (Also available on-demand beginning October 10.)
The Ghoul Log – 2021 Edition
The "Ghoul Log" is Halloween's answer to the Christmas Yule Log: a 24/7 streaming jack-o'-lantern providing the perfect ambiance for all your Halloween festivities. Fan favorites The Ghoul Log and Return of the Ghoul Log are back, along with a spooky new edition for 2021 premiering October 1.
Shudder's Halloween Hotline – 2021 Edition
Every Friday in October from 3-4 pm ET, members are invited to call Samuel Zimmerman, Shudder's head of programming, to discuss all things horror: from their favorite genre films of all time to the most highly-anticipated horror releases of the year. From those conversations, Sam will then use his horror expertise to offer customized viewing recommendations from Shudder's expansive film collection.
Fans can call Sam at 914-481-2239 during Hotline Hours. (No calls will go through outside those hours.)
**While recommendations are provided for free, please note that normal phone and long-distance charges may apply. Call volume is expected to be high, so please keep trying if a busy signal is received. There are no guarantees that every call will be answered, but Sam will get through as many as he can within the hour.**
Leaving Shudder
As far as what is leaving Shudder in September we only have two that we know. UK subscribers will need to catch Intruder and M.F.A. while they still can before September 8th.
Coming to Shudder CA in September
A lot arrives in September for Canadian streamers, but the highlight is a mostly complete collection of the Phantasm movies, including the original, three, four, and the most recent chapter, Ravager.
Originals and exclusives will be marked with bold text. All dates are presented regionally.
9/1
Carrie
Invasion of the Body Snatchers
Lifeforce
9/2
Superhost
9/6
Resolution
9/7
Jug Face
They Look Like People
9/9
Martyrs Lane
9/13
The Guest
#Like
Ms. 45
Silent Hill
9/14
The Columnist
The House of The Devil
Kriya
The Stuff
Woe
9/20
The Devil's Rain
Extraordinary Tales
Pan's Labyrinth
Snowpiercer
9/21
13 Cameras
Creepshow 2
Stitches
9/23
Creepshow Ep. 301
9/27
Phantasm
Phantasm III
Phantasm IV
Phantasm Ravager
9/29
Seance
9/30
Creepshow Ep. 302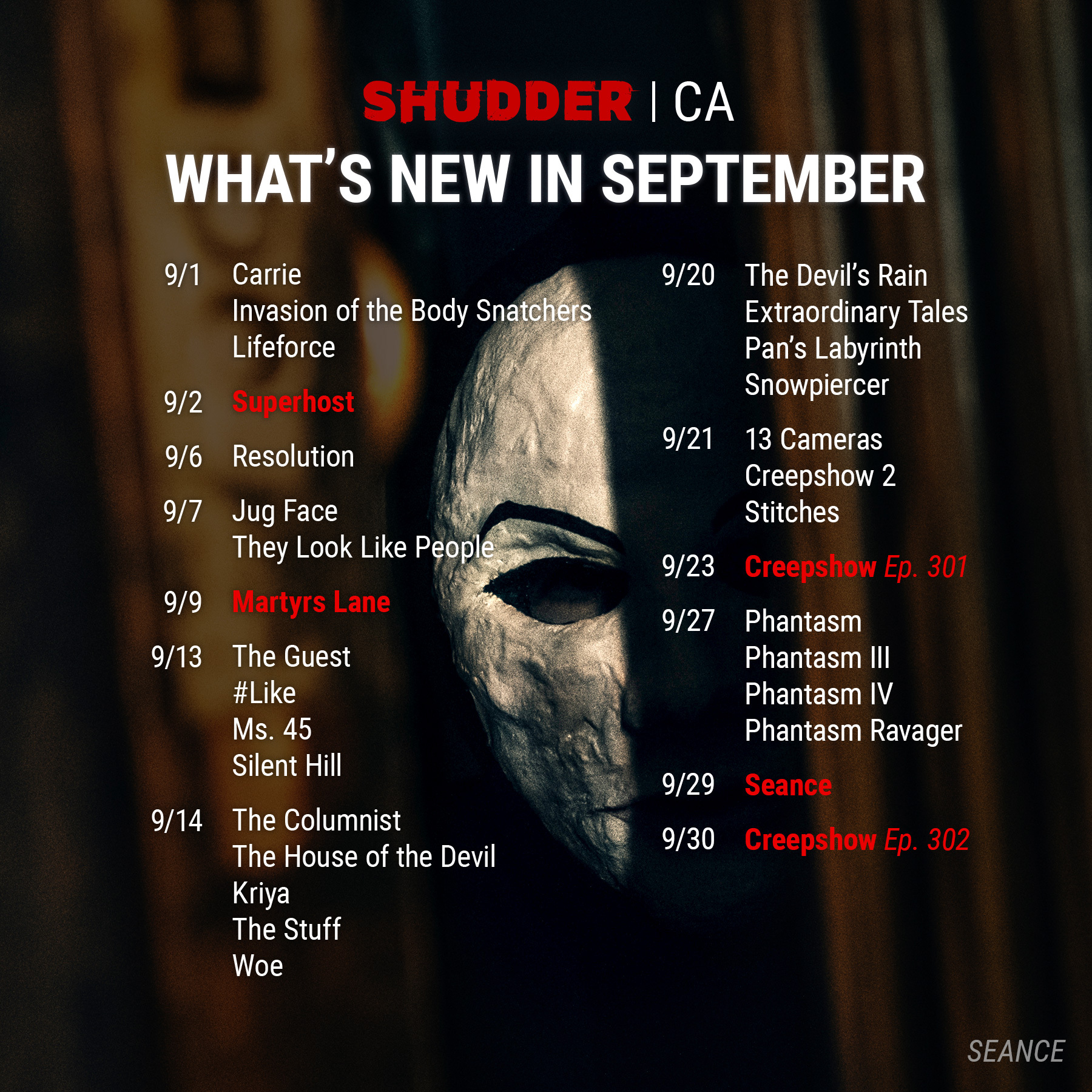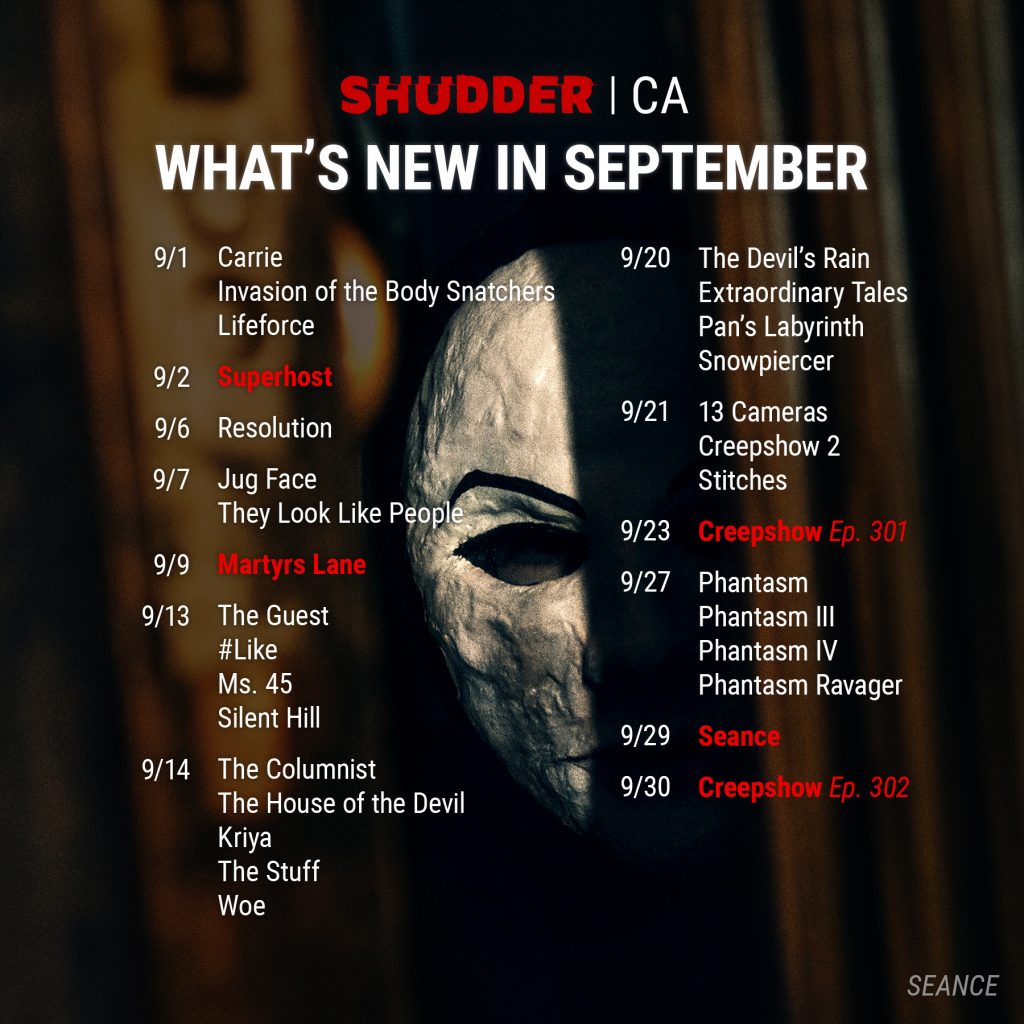 Coming to Shudder US in September
The US is fortunate enough to enjoy the Hammer House of Horror this month. It is a classic anthology series of British horror and well worth spending a few hours on.
Originals and exclusives will be marked with bold text. All dates are presented regionally.
9/1
Carrie
Invasion of the Body Snatchers
Lifeforce
The Haunting
Poltergeist
9/2
Superhost
Slasher: Flesh & Blood Ep. 5
9/6
Grave Encounters
Grave Encounters 2
Resolution
9/7
Jug Face
They Look Like People
9/9
Martyrs Lane
Slasher: Flesh & Blood Ep. 6
9/13
#Like
Ms. 45
9/14
The Columnist
The House of The Devil
Kriya
The Stuff
Woe
9/16
Slasher: Flesh & Blood Eps. 7 & 8
9/20
Hammer House of Horror (Series)
The Devil's Rain
Extraordinary Tales
9/21
13 Cameras
Creepshow 2
Stitches
9/23
Creepshow Ep. 301
9/27
Phantasm
Phantasm III
Phantasm IV
Phantasm Ravager
9/29
Seance
9/30
Creepshow Ep. 302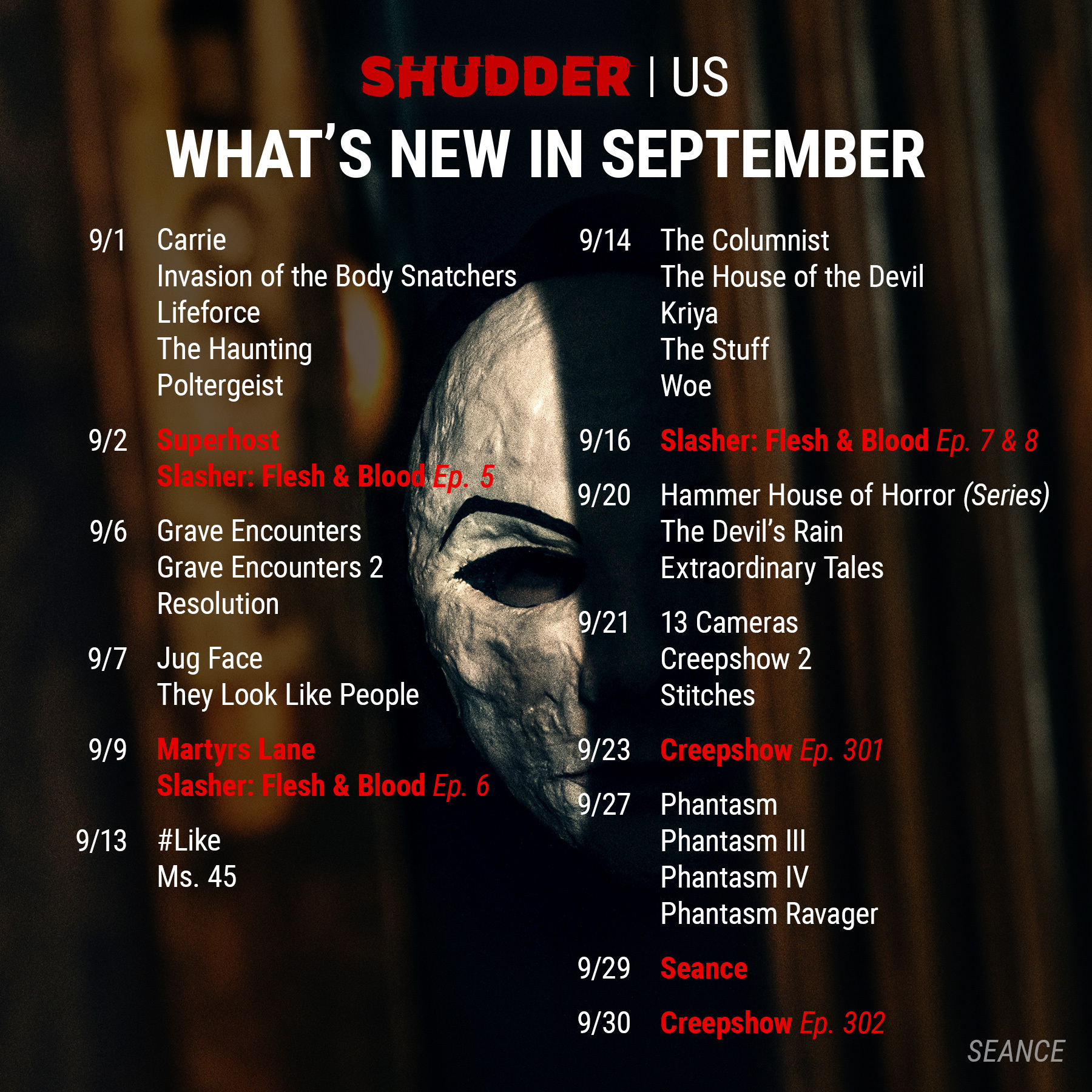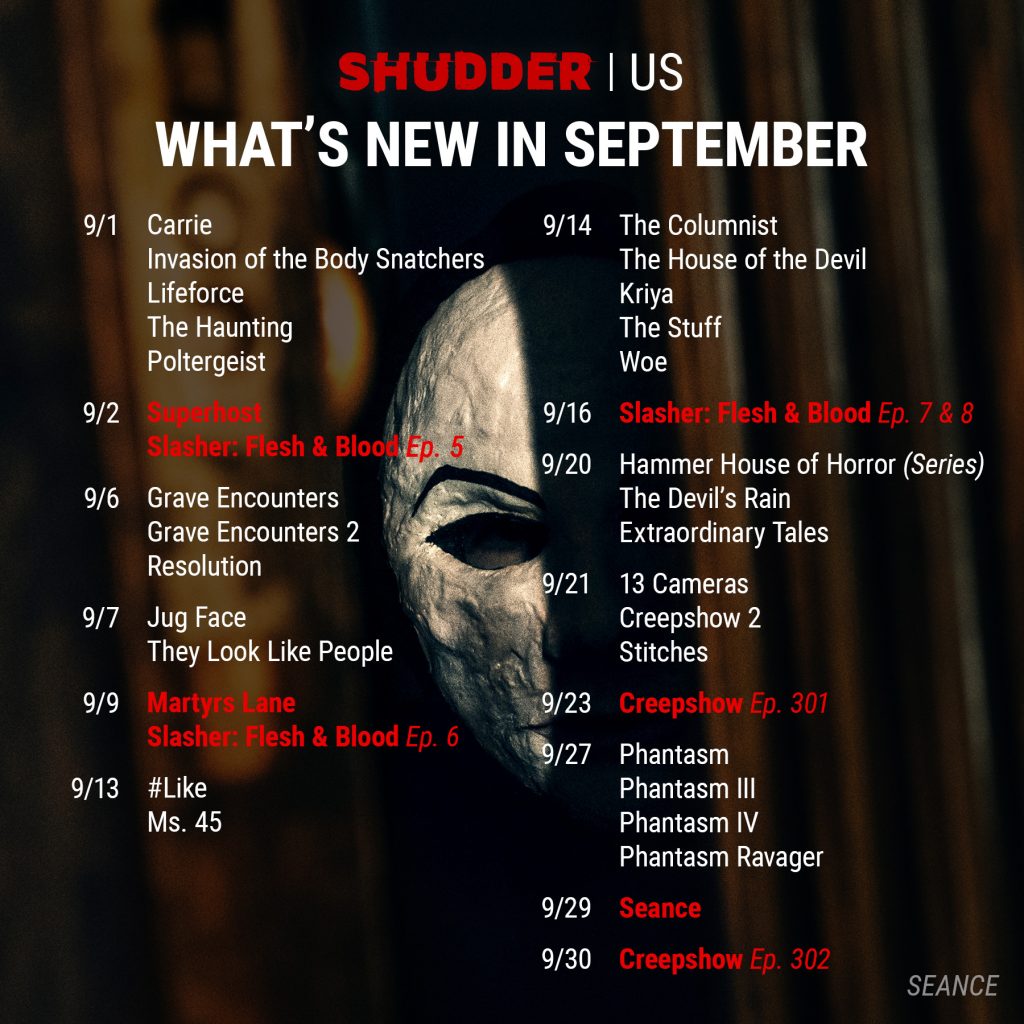 Coming to Shudder UK in September
Horror fans in the UK get quite a collection of content this month. We suggest checking out the Shudder Original Superhost.
Originals and exclusives will be marked with bold text. All dates are presented regionally.
1/9
Anna and the Apocalypse
The Stuff
2/9
Superhost
Slasher: Flesh & Blood Ep. 5
6/9
Ben
Willard
Every Time I Die
The Lesson
Splinter
Sword of God
9/9
Martyrs Lane
Slasher; Flesh & Blood Ep. 6
13/9
Lawnmower Man
Lawnmower Man 2
The Prey
14/9
Kriya
16/9
Slasher: Flesh & Blood Eps. 7 & 8
21/9
Creepshow 2
23/9
Creepshow Ep. 301
27/9
Phantasm
Phantasm II
Phantasm III
Phantasm IV
Phantasm Ravager
Level 16
Mercy Black
29/9
Seance
30/9
Creepshow Ep. 302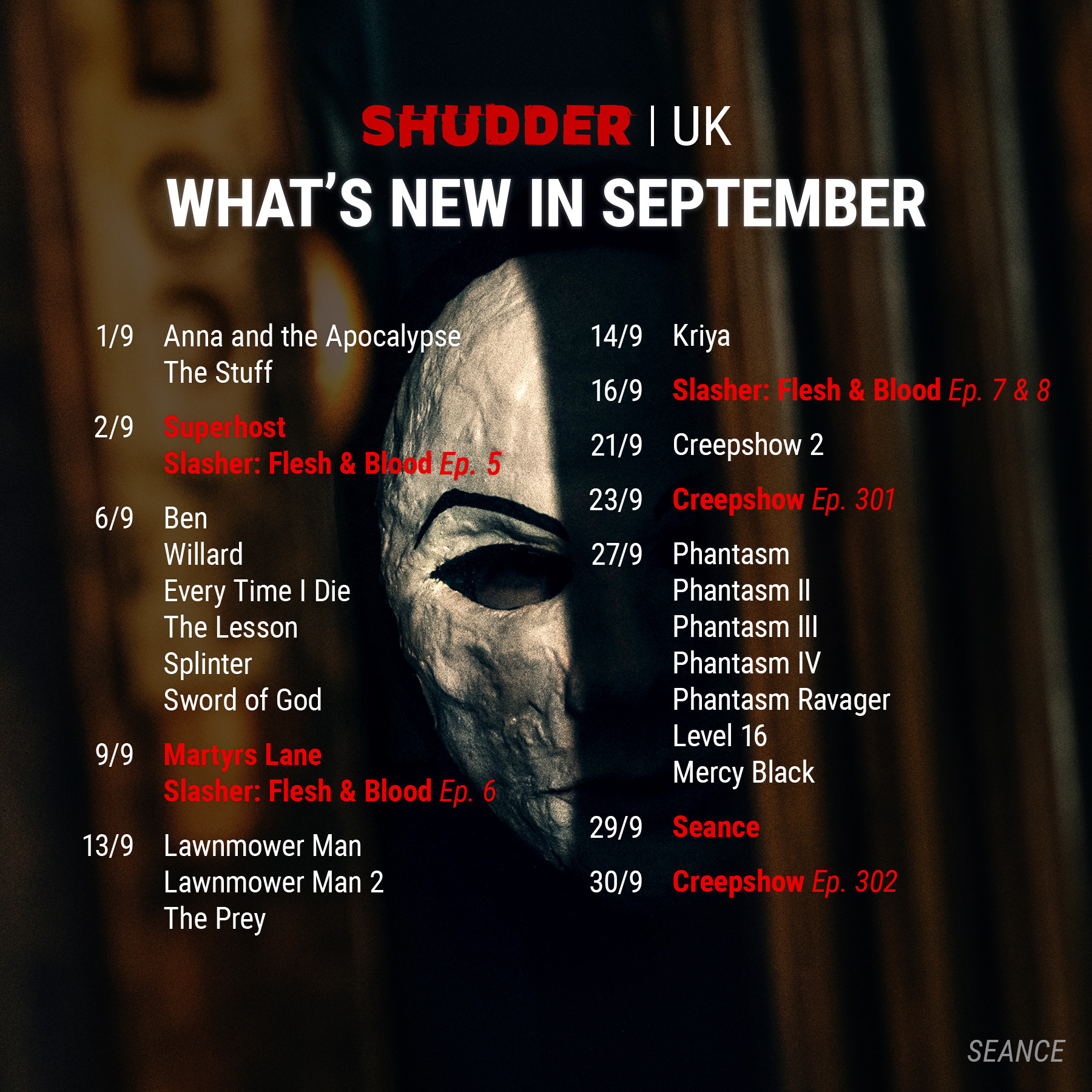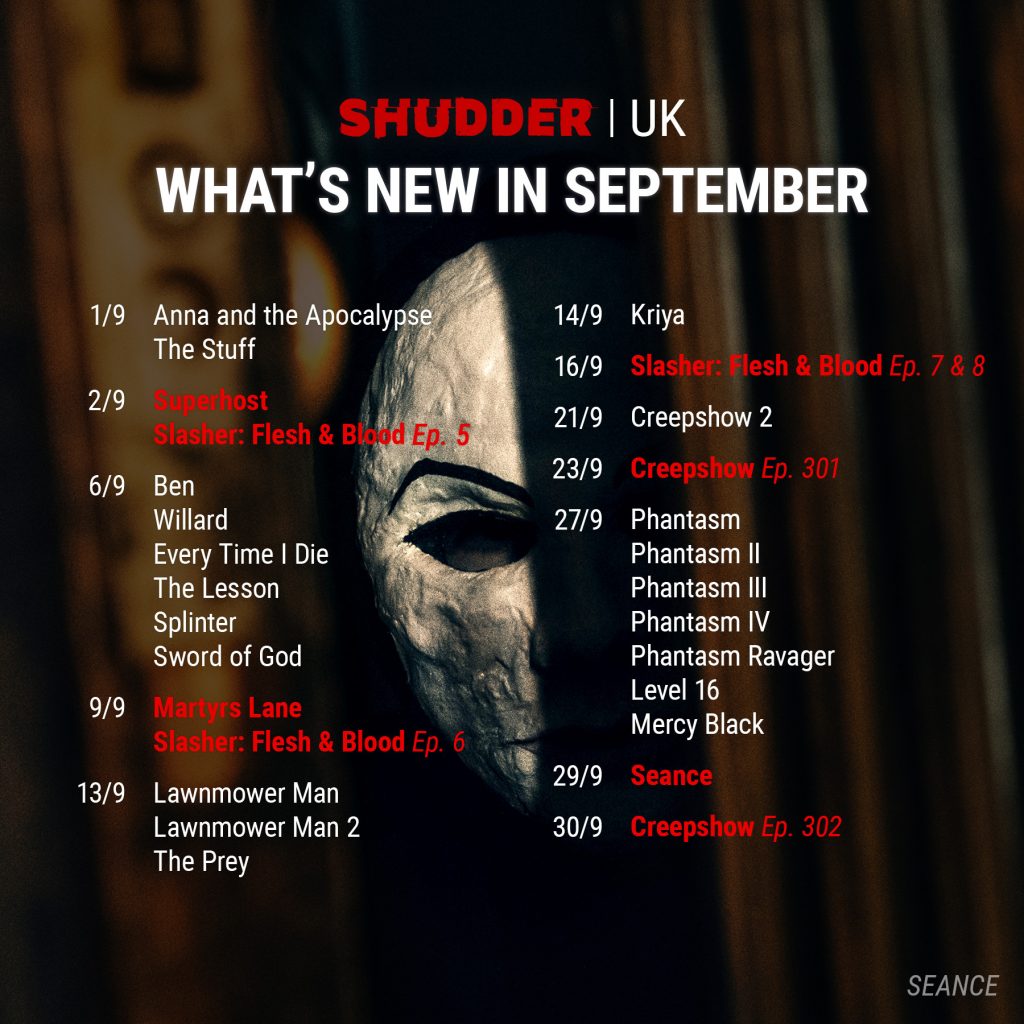 Coming to Shudder ANZ in September
Streamers from Australia and New Zealand should check out Possessor this month.
Originals and exclusives will be marked with bold text. All dates are presented regionally.
2/9
Superhost
Slasher: Flesh & Blood Ep. 5
3/9
Possessor
7/9
Ben
Willard
9/9
Martyrs Lane
Slasher: Flesh & Blood Ep. 6
14/9
Lawnmower Man
Lawnmower Man 2
15/9
Kriya
16/9
Slasher: Flesh & Blood Eps. 7 & 8
23/9
Creepshow Ep. 301
29/9
Seance
30/9
Creepshow Ep. 302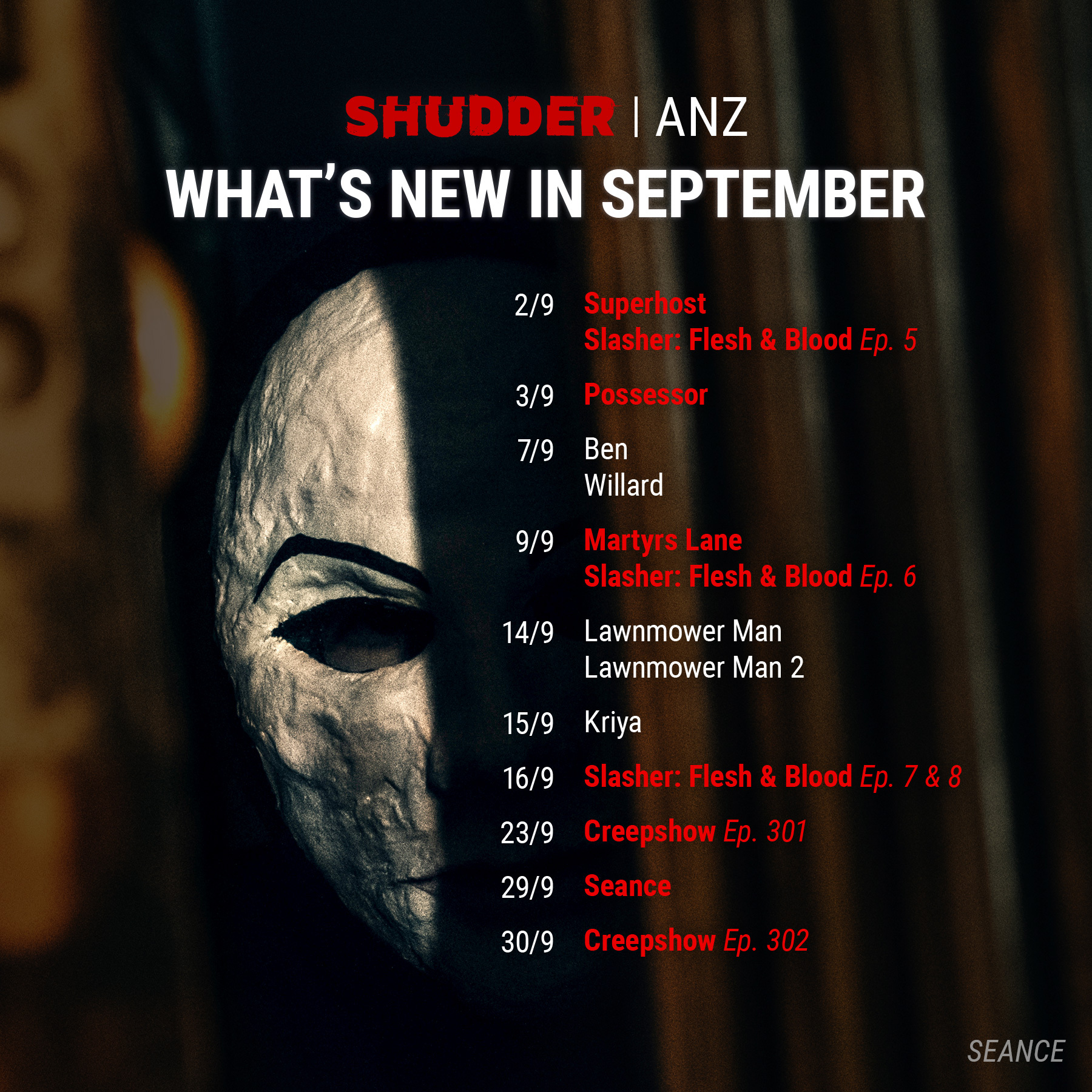 ---
That seems to be everything for now. Keep following Haunted MTL for Shudder news as we get updates. Let's enjoy the next 61 days of Halloween together, shall we?
A horror author goes to Nebula Con
The Science Fiction, Fantasy Writers Association is one of the most prestigious organizations in America for speculative fiction writers. While horror is not specifically mentioned, we all know that it's nearly impossible to discuss fantasy and science fiction without the shadow of horror creeping in.
Each year, SFWA hosts a convention for writers called Nebula Con. I have virtually attended the convention for the past two years. And if you've never attended, you might want to consider it. Even if your writing, like mine, is long in the shadows and short on the elves.
First off, I do want to be clear that Nebula Con is a convention for speculative fiction writers. There are some fan panels, like the one on the works of Robin McKinley, this year's Grandmaster. But the majority of the panels and events are for writers.
That being said, there are panels for writers at every stage of their careers.
For writers interested in crafting better stories, craft panels abound. My favorite panel was the one titled For The Love of Short Fiction. This panel started with a reading of some of the best short works from 2022. Then, each panelist dug into what made that piece work for them.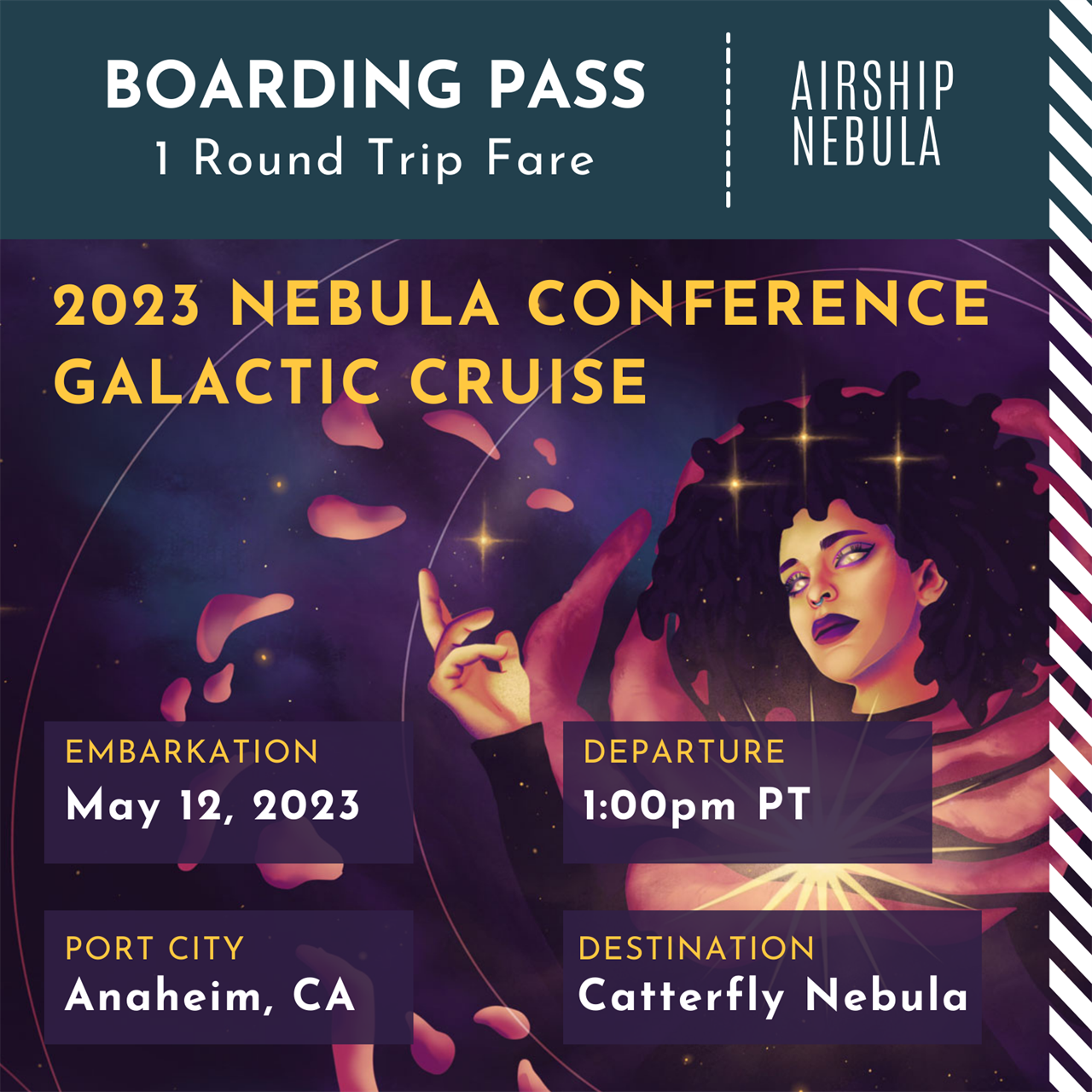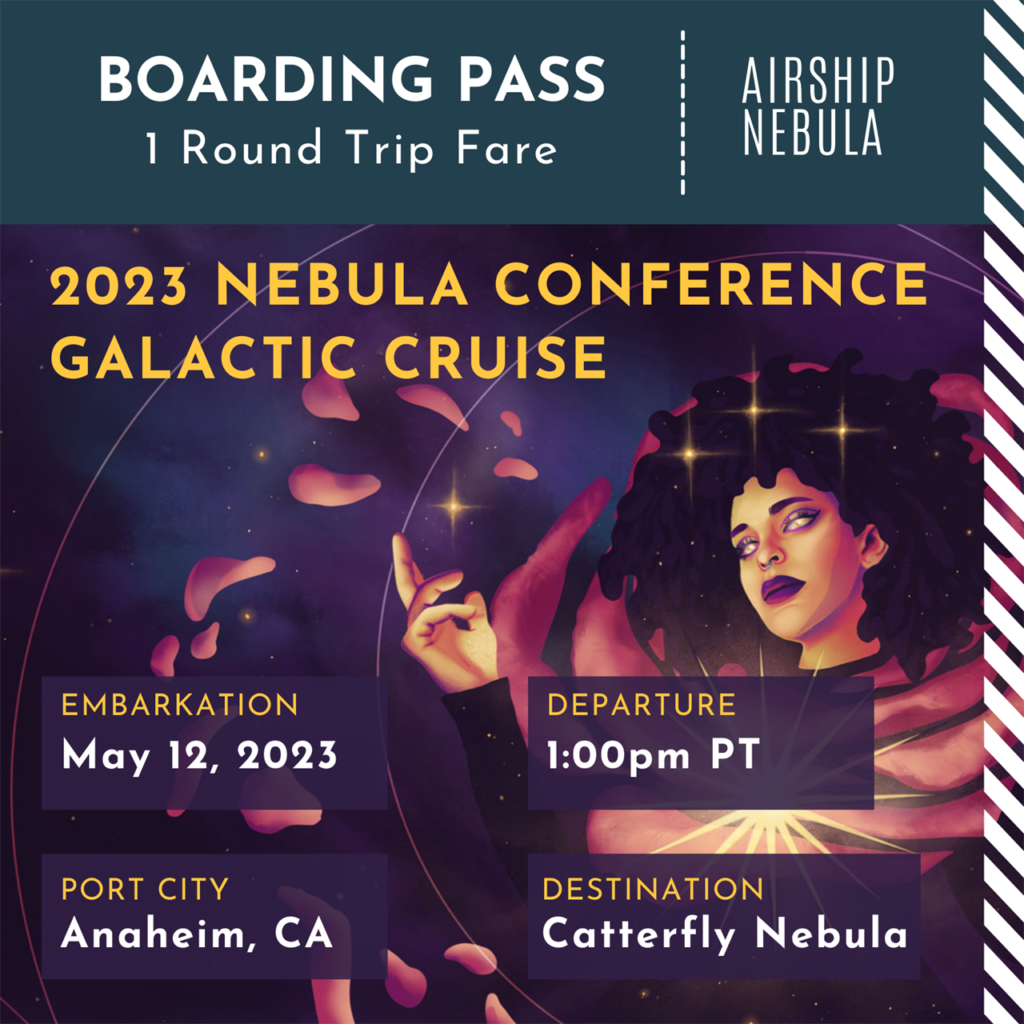 There were several other terrific panels, including one all about constructing a realistic legal system in your fictional world and writing fictional podcasts. (Like I do.)
But, you might say, these are panels for sci-fi and fantasy writers. No, these are panels for speculative fiction writers. Horror authors who want to have any kind of career would do well to master the short story. And if you don't think there's room for some legal horror in the market, you are wrong.
While the craft panels were wonderful, the career and marketing panels were probably the most useful and valuable of the whole convention. Are you, like many other online creatives, worried about the effects AI-generated writing is going to have on our field? There were two informative panels regarding that. Are you wondering how writers' relationships with agents have changed now that self-publishing is so prevalent? There's a panel for that.
A lot is going on in the publishing world. It's confusing as hell, my friends. And one of the ways we keep each other up to date is with conventions like this. What I got out of the panel most was that having a career in writing is possible. My fellow participants and I learned from writers who are doing the thing. It's hard, but it's possible.
Of course, a convention is more than just panels. There's the chance to meet with other authors. This might be where a virtual convention seems to have a deficit. And while I'll admit that meeting online isn't the same as meeting in person, there are certainly perks. I was able to meet, chat with and share stories with other writers in a Zoom chat room. And I came away feeling much like I did as a kid, having met new friends at summer camp. Even if I wasn't sitting across from them, it was great to be surrounded by other people who want to make a living scaring the hell out of other people.
All of this writing joy culminates with the Nebula Awards Ceremony. If you're interested in catching the awards but didn't make it to the convention this year, you can watch it all on Youtube. Each year speculative fiction authors of all kinds of honored, from written work to gaming to television. This year's toastmaster was Cheryl Platz, an author, and actress. As a critic, awards ceremonies are usually something I usually force my way through. The Nebula Awards are a rare treat in that scene. Partially because there's a chance I've met the people up for the awards. But also because the people involved are, first and foremost, writers. It's amazing how much more entertaining events are when the people being honored are, you know, talented storytellers.
If you've been on the fence about attending Nebula Con virtually, I suggest giving it a try. The world certainly needs more stories that go bump in the night.
Crashin' in Roswell NM: Road Trippin' with Jennifer Weigel
So on my recent road trip to Miami AZ USA for my menstruation art installation, we decided to detour to Roswell NM en route home. To be honest, this was one of the best decisions of my life, up there with road trippin' from Arizona to San Francisco along CA-Highway 1, and I will go into the details of why here soon.

Roswell NM USA has totally embraced its alien history of the UFO crash in the late 1940s and subsequent government cover up. The whole town is alien-happy with beautiful hand carved wood totems, murals and statues everywhere celebrating otherworldly denizens of all types, though predominantly the gray aliens of the crash (and their green counterparts). Even the city logo features a flying saucer as the center of the letter "R". It really is kind of incredible.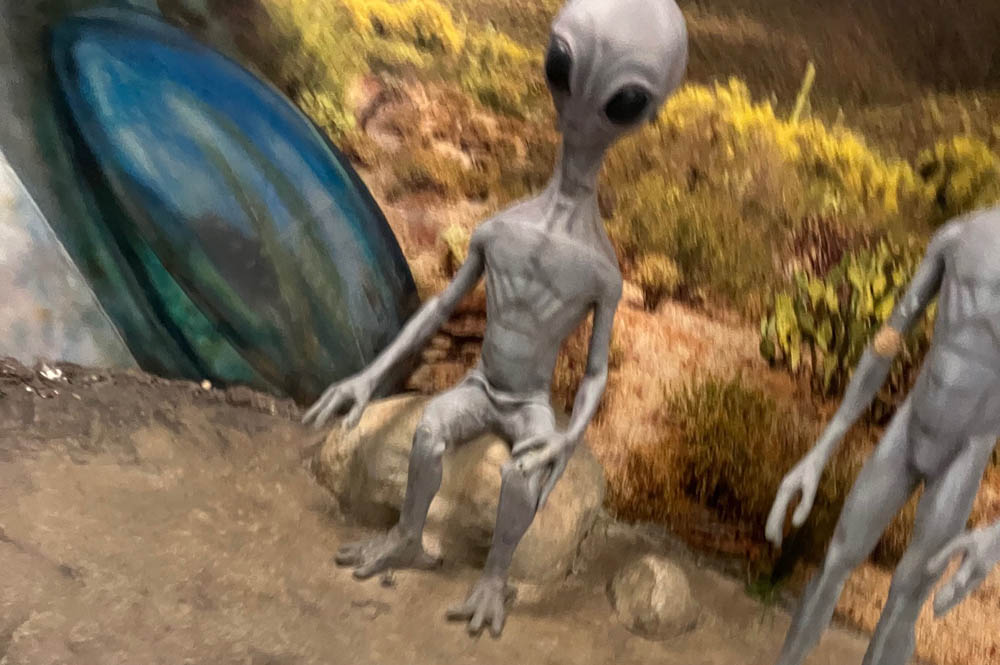 One of the biggest draws is the International UFO Museum and Research Center, housed in the wonderful old theater building. This museum details the crash history as well as celebrating aliens in movies and media and examining newer alien sightings and abductions. It is very thorough and includes maquettes, statues, written accounts and an extensive research library, as well as an interesting art collection of various items.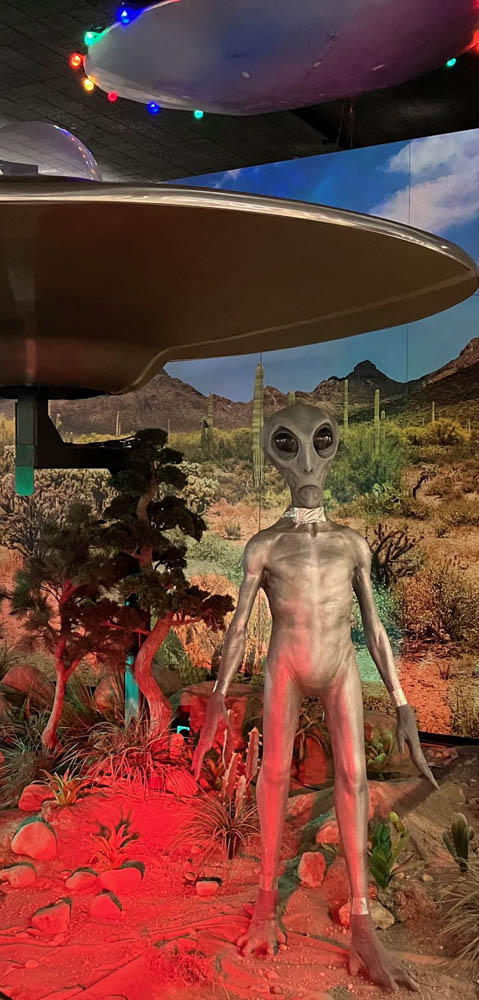 And there are TONS of fun alien themed curiosity shops. I will give a shout out to the newer Invasion Station north on Main Street where there had once been an old car dealership. I love the quirky nature of this particular store as well as their strong desire to promote local artists. Most of their wares are hand-painted in NM and feature designs by prominent local artists including one of the lead muralists in town (I bought a magnet of his). They also feature really alternative kitsch like KISS and Ace Frehley alien bobbleheads, marijuana and anal references, and such. All in all, our own Haunted MTL's kinda folks…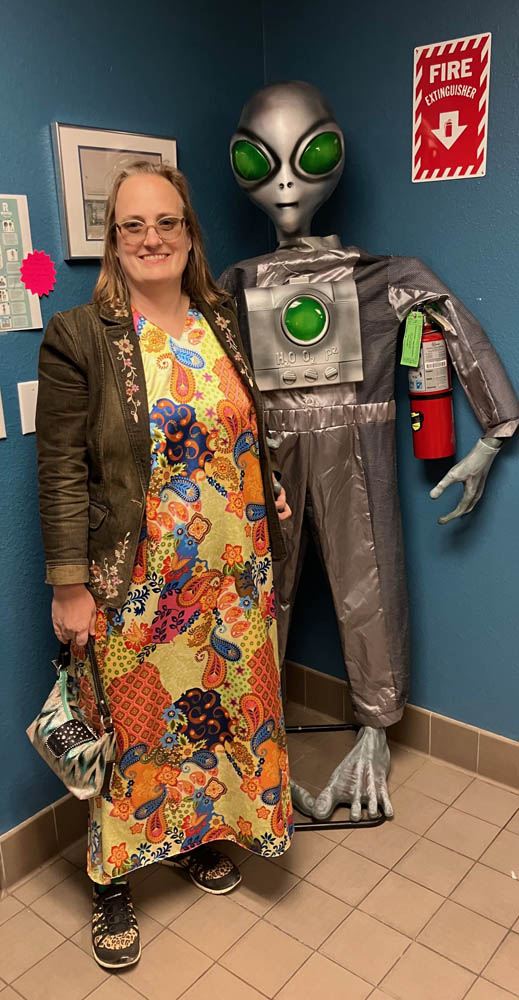 And the city is a huge tourist draw internationally, so you can meet some amazing and interesting folks from all walks of life who have caught the alien bug or at least want to check out all the hype. As a result of the tourism, the residents seem really laid back and accommodating (kind of like Hawaii but not quite as much) and there is a thriving art scene. And it's totally my kind of art – weird and a little creepy. Anyway, I feel like I've finally found my peeps and am eager to return someday.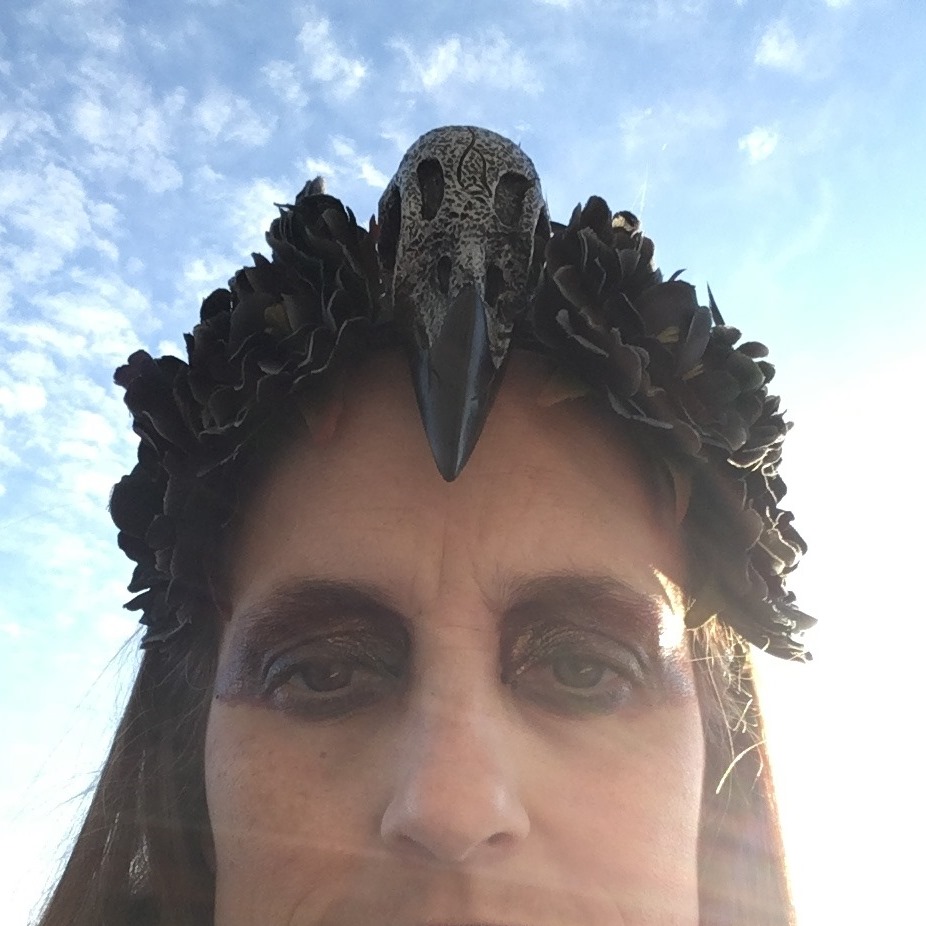 If you're feeling a bit extraterrestrial, I invite you to also check out some of my alien-themed stories here on Haunted MTL: LTD UFOs among us; my Drive-By short story; and LTD Abducted.
American Horror Story Season 12, Delicate
Killer Queens, I wasn't expecting to be back so soon with American Horror Story info. But yesterday we were blessed with a teaser for the intro of Season 12, which we believe will be titled Delicate.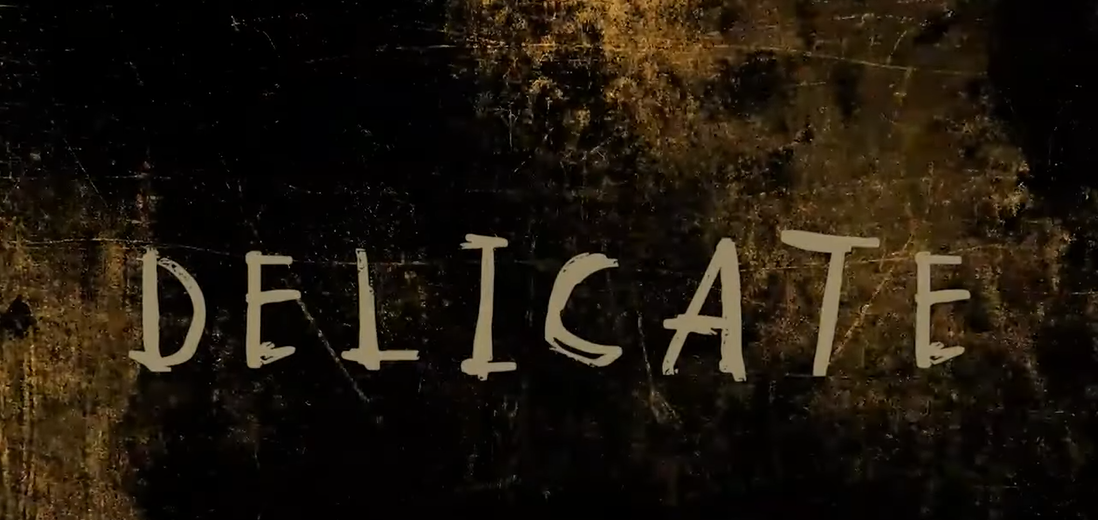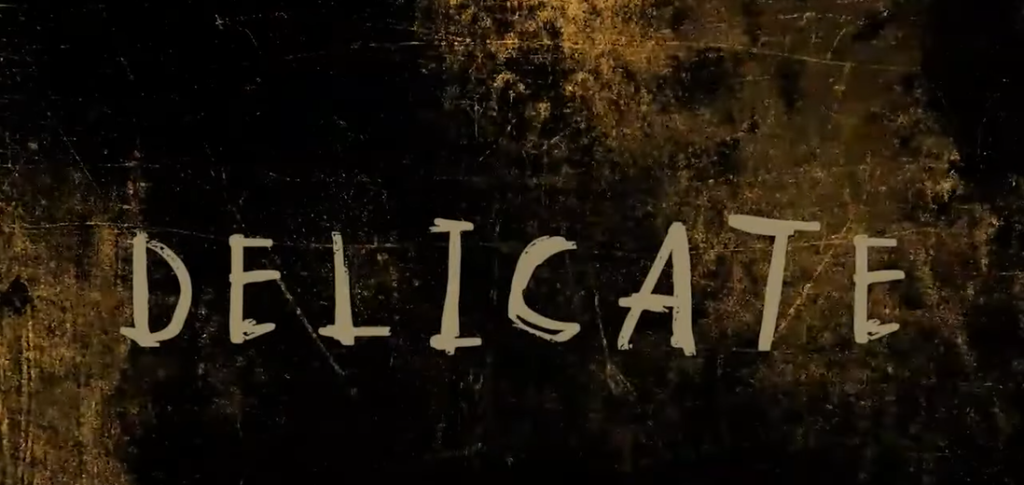 We are looking at a Summer release for season twelve, but won't know for sure until June, according to The Hollywood Reporter. Here's what we know right now. 
First, yes Kim Kardashian is starring alongside Emma Roberts in a role that was written specifically for her.
That's the bad news. The good news is that AHS favorites will also be involved. According to IMBD, Charlie Carver, Rebecca Dayan, Cody Fern, Leslie Grossman, Billie Lourd, and Denis O'Hare will be included this season.
AHS Delicate is different from other seasons in many other ways. It's the first season to ever be written by just one writer, Halley Feiffer. This isn't a writer most of us as horror fans will be familiar with. She's written episodes of shows like Kidding, SMILF, and American Crime Story. The last one can at least be seen as a sister show to AHS. 
As far as I have found, Feiffer has never written horror content. She is now the sole writer for an entire season of the most popular horror show in America. I'm not saying this is a bad thing. It's just not what I would have expected. Most AHS writers are staff writers, actors from the show, or at least people I've heard of. So as we don't have any former work to look at, we can only wait to see how she does.
We also know what the source material is for this season. It's a book called Delicate Condition, by Danielle Valentine. This book will be released in August of this year. Which also seemed strange to me. Normally a book would be, you know, published before it inspires additional work.
Even so, Delicate Condition seems like a fascinating story. According to Goodreads, it's the story of a woman named Anna. Anna is trying to get pregnant but starts to believe that something dark is working against her. Her doctors don't believe her. Her husband doesn't believe her. Is she losing her mind?
I'd be lying if I said I wasn't deeply interested in this book. And I have to assume that Feiffer and Murphy already have hands on it, to jump to this sort of decision.
By the way, Valentine at least is not an untested writer. Her first novel, How To Survive Your Murder, also made it right on my TBR pile. With a rating of 3.7 out of 4 on Goodreads, I think we can assume Valentine knows what she's doing with the written word.
This is all that we know about American Horror Story Delicate so far. What follows are my thoughts and opinions only.
My first thought is that this season is going to be dealing heavily with women's reproductive rights. This is a topic a lot of us are concerned about right now, as it feels like every day women lose more and more rights to our bodies.
(By the way, if you want to help fight the good fight for body autonomy and get some spooky stories, we have an anthology for that. I have a story in it, as does the horrifyingly talented Jennifer Weigel. All proceeds go to support organizations that help women make their own health decisions.) 
American Horror Story has handled important political issues before. Last season, AHS NYC discussed the AIDs epidemic that went largely ignored in the 80s and killed hundreds of young gay men. They did this in the best way possible, in what this critic believes to be the only way fiction should handle heavy topics. They rooted the issue in a good story. A story that was pure fiction, but also true.
However, this season has a lot of red flags. Never before have I seen the guest star be the main focus so early. Never have I seen any franchise bank so much faith in an all but untested writer, basing work on a book that isn't even published. And frankly, I've never been much of a fan of Kim K, or anyone else who's famous seemingly just for being famous.
I'm not rooting for this season to fail just because I don't like the guest star. If Kardashian is good at this, I'll be thrilled. I'll be the first one singing her praises. But when everything we know so far is added up, I'm a lot more concerned about AHS Delicate than I am excited.