Samanta Schweblin, author of Fever Dream and Mouthful of Birds, has brought us a story about the horror of interconnectivity. Originally published in Spanish in 2018 under the name Kentukis, Little Eyes (translated by Megan McDowell) is a new spin on the world's growing surveillance state.
Would you rather: know a stranger is watching every move you make, or not know someone you know is spying on your most intimate moments?
Enter Kentukis: cute, furry little creatures with little eyes and wheels. The critters resemble the cutest of animals, be it panda bears, bunnies, crows or dragons. For every Kentuki, there are two parties; one is the watcher, the other is the watched.
"The animal's camera was installed behind its eyes, and sometimes it spun around on three wheels, hidden in its base, moving forward or backward. Someone was controlling the creature from somewhere else, and they didn't know who it was."

Samanta Schweblin, Little Eyes. page 1
Voyeurism in the 21st century
This fragmented tale follows a cast of characters around the world. We as readers play the voyeurs, going into the homes Kentukis have infiltrated and the controllers behind the cameras. Perhaps most disturbing about this story is how relevant it is in the present technologically advanced world.
Take the United States. Marginalized communities have always been under the scrutinizing, oppressive eyes of State officials and people in power. This surveillance is even more scrutinized and oppressive with technology's advancement. Now, every day there are new stories about people hacking into security cameras and phone apps. Maybe you heard about Mark Zuckerberg and Facebook selling millions of people's data. And Millennials and Gen-Z's on social media have taken to joking about personal FBI agents on our cell phones.
But the present surveillance state is not just in the U.S. It's happening all over the world.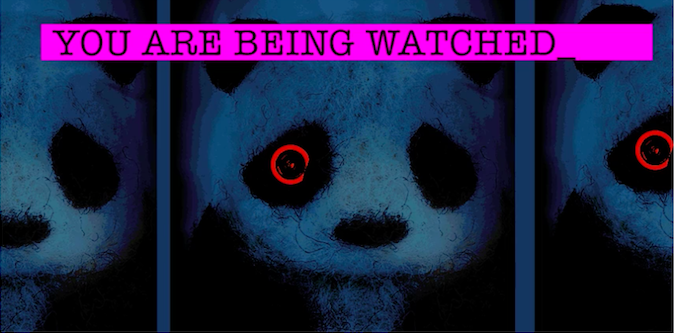 Kentukis are a disturbing, creative idea; it is precisely something any money-hungry corporation or entrepreneur could do. And what is a more "innocent" way of masking the displacement of privacy than with cute little animals with cute little eyes?
Verdict
What I love about Schweblin's work is how she takes real horrors to a whole new level. The dystopia of Little Eyes is terrifying in that it could happen and is happening. Her detailed, vivid writing provides insightful commentary on the effects of consumerism and the need to stay connected.
Schweblin has a way of saying so much with so few words. She exquisitely humanizes each character's behavior while honing in on the consequences of their actions. Little Eyes is a captivating, beautifully written page-turner with just the right amount of creepiness and paranoia.

(5 / 5)