Often, us horror fans love to dabble in the horrors of real life. That's right. I'm talking true crime. When I stumbled across this book bringing together 27 murder houses, I knew I had to read it.
The book is set up as such – Lehto explores each murder case, giving the reader background into the killings as well as the victims and murderers (if there is one!). After giving the reportage on the murder, he gives us some information about the house, or place, the murder took place in. All of the houses have their addresses listed, including any address changes since the murder. Lehto does a great job of updating the reader on each house's history of sales and ownership. Many of the homes mentioned in the book are now privately owned, but some are museums or host tours.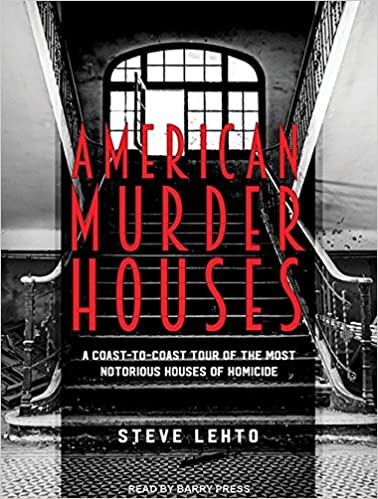 I have seen many reviews trashing Lehto for his "basic" writing style. True crime can only ever be such when the writing is more reportage than emotional and opinion based. I believe Lehto's writing style is perfect for the narrative he is trying to create in this text.
Title of the infamous home
Year the murder(s) took place
Address of the home
Background into the murder details, including information about the killer(s) and victim(s)
Updates as to the houses' statistics, including size and layout, ownership history, and current visiting capacities
There is no room for emotion in this layout for each house exploration that Lehto has presented. With a writing style other than reporting, this book would quickly become speculative and filled with rumors. True crime must remain facts only and critics of this novel are asking for the opposite.
One of my favorite features in this book is the middle insert that includes photos of the houses described in the text. It is spectacular to read each house's history and then turn to view the house.
This book covers cases from the insanely famous (The Lizzie Borden House, the Helter Skelter Houses, and the JonBenet Ramsey home) to more lesser known houses and the cases surrounding them. The "Hex House" in Stewartstown, Pennsylvania proved to be one of favorites throughout the collection.
It is obvious that Lehto did a great deal of research and information compilation for this collection and those of us who love real life horror and its details are sure to enjoy the effort that went into this publication.
(4 / 5)