It's a clash of the heads–Potterheads vs the Parrotheads. That's right, kiddies, you heard it here first (unless you listened to his song, then yeah, scooped by the actual person who sings it–the NERVE of the guy!), Draco 'Don't Call Me Smithering' Malfoy himself, Tom Felton, has let it slip that the prince of Slytherin might just be a parrothead.
Parrotheads, let me know if this lyric sounds familiar:
I've made enough money to buy Miami but I pissed it away so fast. It feels good. Feel good. Feels so good to me…

It Feels Good – Tom Felton
Felton's music seems to be a true expression of his artistic self. It's a mix of island folk that reminds me of an early Milla Jovovich–especially the acoustic sets. This is a good thing. Yeah, I know–when I teased Draco doing music, most of you probably imagined a Type-O Negative resurrection party with Goyle on bass. Nope. Light–fun, yet deep–almost effortless music is what Felton conjures up on a seemingly daily basis.
I first found out about his music when he serenaded the upstairs cafeteria at the Montreal Comic Con a few years back. Fast forward to a (rather shitty) 2019 and he takes main stage with his music. He closed his QnA with a number of songs, one dedicated to a newly departed friend, to standing ovation.
Doc's note: I had just lost my dad a few weeks back and the dedication to his friend was touching. Instead of expressing my sympathy to Tom, I was my robotic self. Maybe I can blame it on my recent loss or maybe it's just brain damaged ol' doc, one regeneration short of a six pack now days. Either way, there's nothing like a public apology for being an idiot–I'm sorry, Tom, for not expressing my condolences.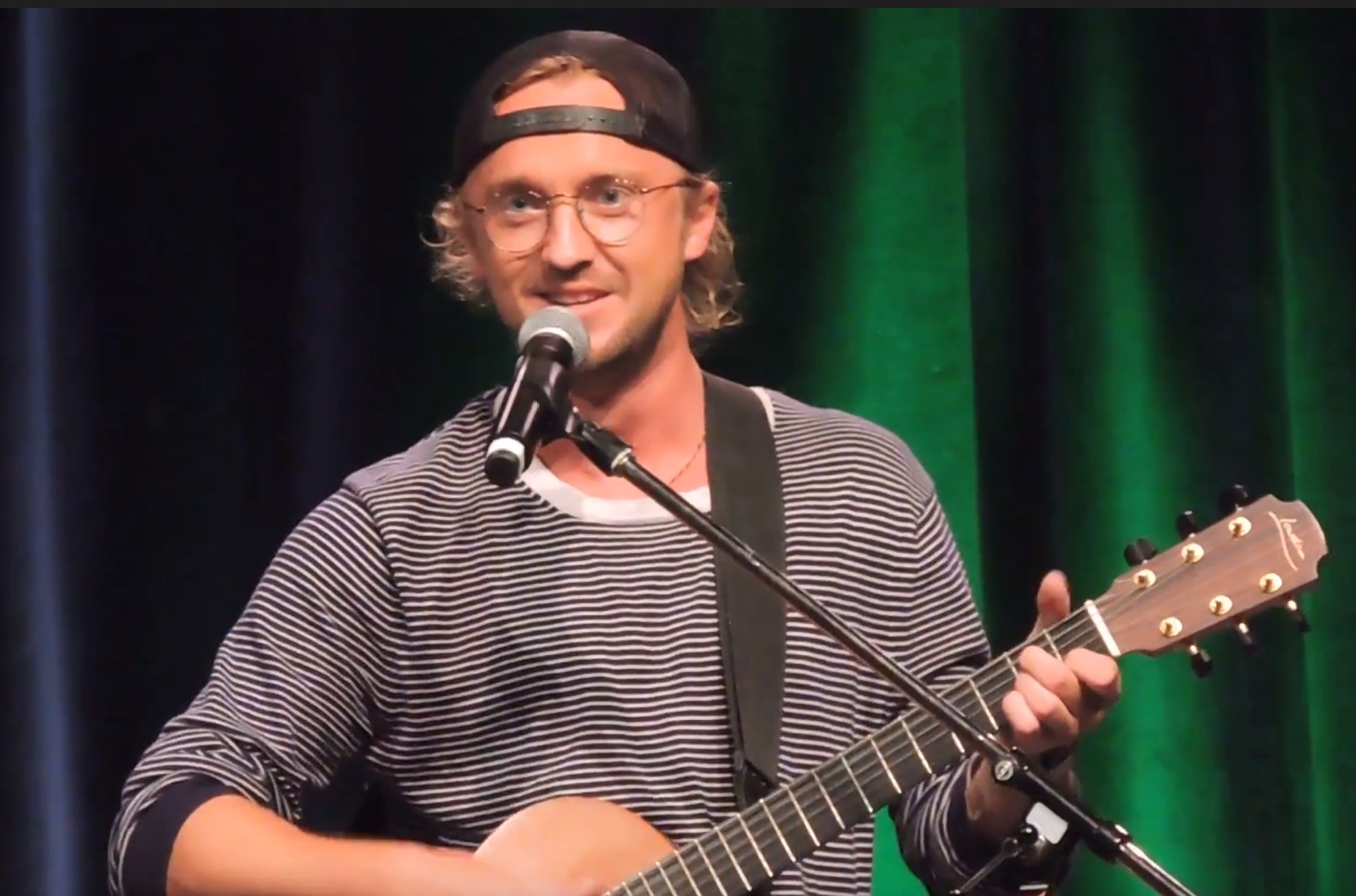 Back to the happy. Sorta. There I was, on a second honeymoon by myself (didn't I say 2019 was complete and utter shit?) walking along the beach at Morecambe. It popped into my head that I needed something a bit happy to listen to and googled the shit out of Felton's music. Listening to Porcelain Gun near the Eric Morecambe statue still sits with me.
If you like Indie Folk, or just want to be in a slightly better mood, go on over to Reverb and check his work out. He even has a few on sale at Apple, too. And if you ever get a chance to see him live, even a QnA or grabbing a Cheeseburger in Paradise–jump on it. He's got more than 'a few' original songs and when it's just him and his guitar, he truly is magical.
I give Tom's music 4.5 dark lords–a rating worthy of something something you finish the line, I've got exams to write and my brain is mush.

(4.5 / 5)