We're trying something new and exciting here at Haunted MTL. We wanted to do some weekly quick updates on different things and community discussion points. Please let us know what you think! We also want you to share your Christmas hauls!
As for the Godzilla image included as the featured image, I just think it is neat. I'd love to track down the original artist, but it seems like their Tumblr is gone.
EDIT: Friend of Haunted MTL, Julie, found the artist! It is a post-Christmas miracle! Go read Julie's comic.
Twin Peaks "Clue"
Twin Peaks is a personal favorite of mine and I'll take a Twin Peaks version of just about anything. I do appreciate the relative purity of the product, though. It didn't explode with a ton of products and the show still feels very novel because of that. With that being said, I will willingly buy as much Twin Peaks crap that can be produced. The fact I can think of a James Hurley PEZ-Dispenser and see myself buying it shows how far gone I am.
Mercifully, one Twin Peaks product that should have come out, and never did, not exists through a particularly crafty-crafter. River Watson took a Clue board and made all sorts of fun, referential tweaks. You can see all the details in a post over at Welcome to Twin Peaks, which is one of the biggest fansites on the whole wide interweb.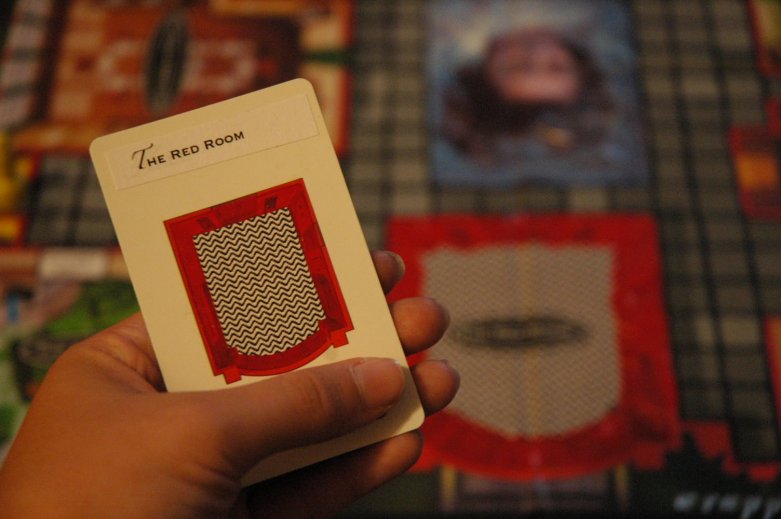 What did you get this (Black) Christmas?
Christmas was only a few days ago, but we'd really love to know what sort of horror-swag you unwrapped this holiday season. Please share your haul with us in the comments. We'd love to know!
As for me, I snagged some Godzilla-gifts. I'm a big Kaiju fan, so this worked out quite well for me. The little Godzilla figure above actually is sitting right on top of my computer. I may bring him with me to my classes I am teaching this Spring as a mascot. I'll probably talk a lot about this class over the coming months; it is an English course, but I have themed it around monsters.
And yes, I consider Godzilla to be horror. Not all horror stories are scary. I will fight you on this.
'Tis the Season for Movies
I see a lot of movies these days. I am a Regal Unlimited subscriber and live about 5 minutes away from my local theater on foot. It's pretty great. I have a lot of free time right now, so I've been filling it with trips to the movie theater.
While the latest Black Christmas has already been reviewed here on Haunted MTL, I ended up seeing it and did a Tweet thread of impressions that I feel would be worth checking out.
I also saw CATS, and it was terrible. This shocks nobody, I think everyone saw that coming. However, enjoy this other Tweet thread of my impressions. I include it because of its value as unintentional horror.
New Column and New Opportunities
We're now including an editorial category at Haunted MTL and I had the pleasure of being the first author to contribute to it. I explored a personal interest of mine, homeless advocacy through the lens of horror, and I am happy that there has been a good response to it. We hope these editorials will become fairly regular. We also would be interested in knowing what horror topics you are most interested in.
So we'll leave this installment of Weekly Wail with a request; please let us know what your favorite material has been on Haunted MTL over this past year.