I had quite a strange reading experience with this little book of striking poems. At first, I was reading through the poems and getting extremely frustrated. As someone who loves reading "high literature" and likes to proclaim that I "get it," it was frustrating for me to get about halfway through this collection and feel like screaming. I felt like everything went over my head and that I just wasn't understanding what was going on. I've always found this to be something I struggle with. Poetry is just really hard for me to "get." This is why in the past I've always skipped trying to read poetry or got frustrated and gave up. I've always just branded this as "I don't like poetry because I don't understand it" and left it at that.
This is the first collection of poetry I've read in a long time, admittedly. I was beginning to feel like my attempt at reading poetry (yet again) was a mistake until I reached about the middle of the book. Something clicked and the fog cleared. When this happened, I was feeling the ambience of sensuous terror that Pafunda's words were creating. It was as if the cold and grit were surrounding me as I flowed through her language. Once I reached the end of the collection and knew I'd stumbled upon something, I immediately reread the poems.
This time around, I found myself stopping to take photos of poems and the pages that stood out, that made me feel something. After my second readthrough, I had over 25 photos of poems in my camera roll. All of this to ultimately say, this collection is stunningly macabre, and I get it!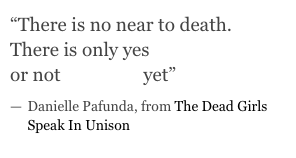 Some of my favorite lines bring an eerie softness that feels like a warm bath filled with black lavender. Corpses speak and the reader is enveloped in such beautiful terror: "We'll come for you. / And in your domicile / we'll plant our hooks / and in your eyes / we'll hook our beaks" (47). Images are uncanny and unsettling: "A receipt for turpentine / wiggles out of your wallet / and out of your mouth / the turpentine spills" (42). The underworld setting that the female speakers live in is terrifying, yet I can't stop feeling compelled: "What can we tell you / that all of those spiders / haven't already spelled out / across your stunned, / still, silent, flesh? / Get. Out. Now." (34). I was absorbed by the text.
In the end, my reading experience was frustrating, but even more gratifying in the end because of the struggle to grasp this prose. Work through it and you can find the gem inside. This read takes a lot of effort on the part of the reader, but is more than worth it – and is maybe even better because of it!

(4.5 / 5)