Hello everyone! It's me, Shane. Remember your old pal, Shane? Well, I'm back and I'm here again to talk to you about comics and monsters. Two of my favorite things in this (or any) universe! I know, I know, Hulk has been running for a few years now, I'm late to the party. Oh well, let's get on with it!
Hulk, huh? Kinda mainstream, though, right?
I can honestly say that I never expected to find a Hulk comic that crossed into the realm of horror so convincingly without just using "Hulk Smash!" as the means of creating something threatening, but here I am. No Morbius The Living Vampire, no Werewolf By Night, no Fin Fang Foom, not even a single alien. Just ol' Green Genes himself being super creepy and downright vindictive.
No spoilers ahead, but…
According to the rest of the Marvel Universe, Bruce Banner is dead. Well, he isn't (surprise!) and not only that, he's kicking around the US fixing problems in the little towns he happens to come across. How does he help? I'm glad you asked…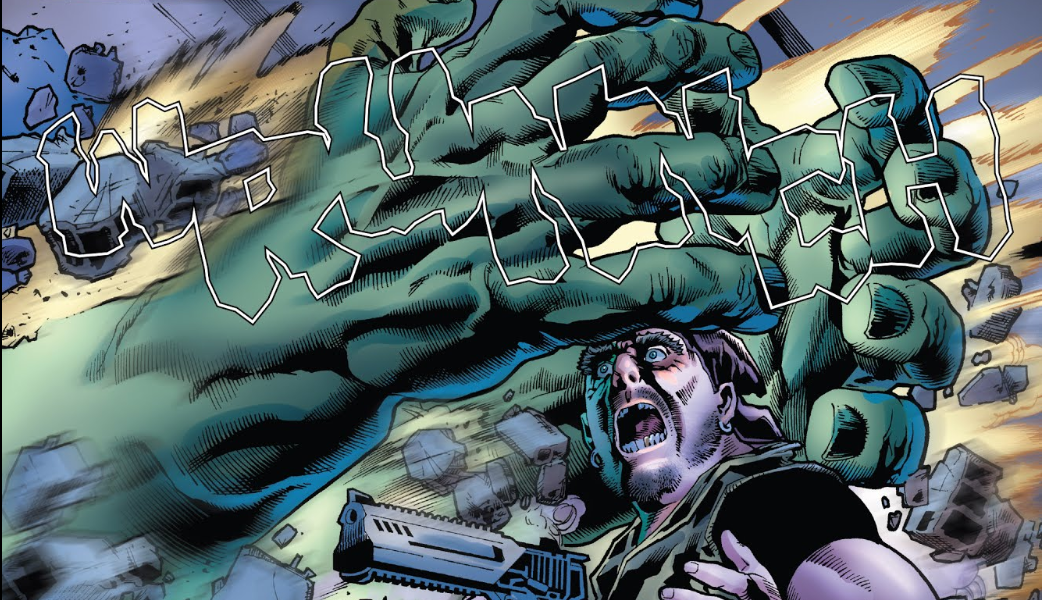 There was a little scuffle with a local biker gang after Hulk tracks one of their members, corners him, AND HAS A DISCUSSION ABOUT POWER.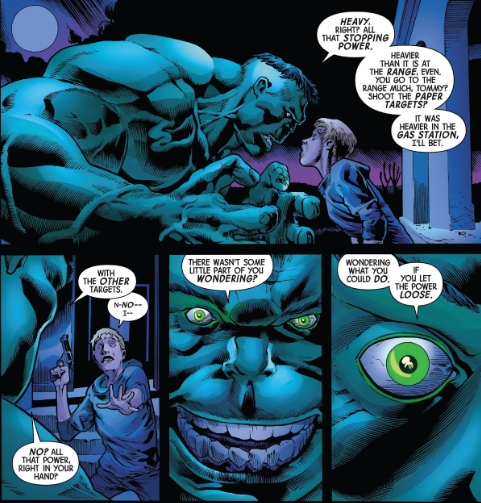 That's what sets this book apart for me. We have Hulk, who understands his own power and its effect on people around him, doing what he thinks is the right thing to do (smashing). Meanwhile, Bruce is stuck wondering if he's actually a hero… or if brutally murdering people who commit crimes makes him a monster.
Hulk with a twist, what makes it "horror"?
The art.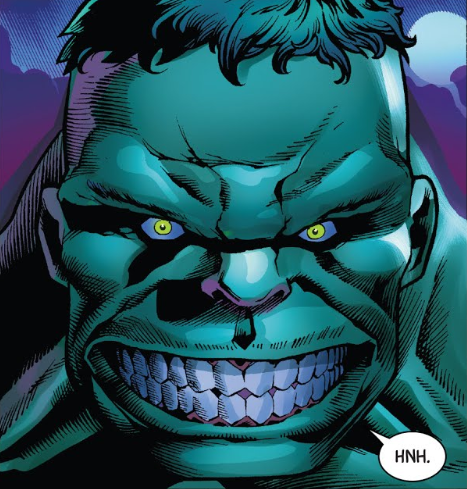 Joe Bennett absolutely nails creepy Hulk. He combines tons of aspects of the classic Hulk, including the low brow, thin eyebrows and tiny tuft of hair on top and uses it to amplify horrifying grins like this. This is Hulk, we know who the Hulk is, but maybe Hulk is a little different these days.
I'm giving this book 5 Cthulhus without hesitation.


(5 / 5)
Pick up issues of Immortal Hulk at your local comic book shop, or if you don't have one, find one that ships. Support your small businesses, especially in this industry. And stay tuned to HauntedMTL where I will certainly be reviewing this and other comics once again!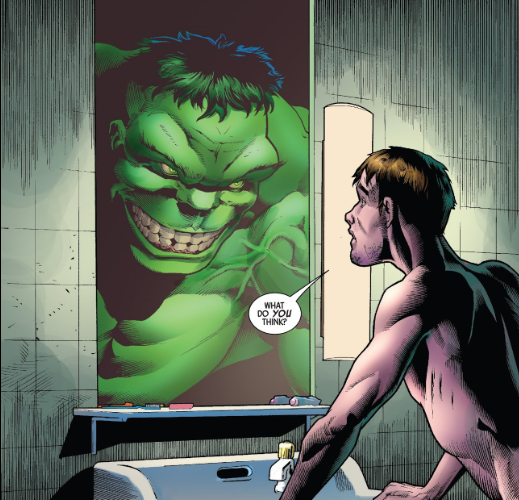 What Have We Done: Alex Finlay Produces Another Hit
Jenna: A stay at home mom with a secret assassin past
Donnie: An alcoholic rock star
Nico: An executive producer of a reality television show
They all have a past, but who is out to get them?
The Plot
Jenna, Donnie, and Nico share a troubled past. They were all orphans who lived at Savior House — which is much less savior, much more terror. When their friend Benny, a famous judge, is murdered and the FBI comes looking, Jenna, Donnie, and Nico must race against the clock to figure out who is targeting them.
The Verdict
From the author of The Night Shift, which I reviewed here, I would expect nothing less than what Finlay has delivered. Finlay notoriously creates stories with palpable thrill and spine-tingling revelations.
I particularly enjoyed the character of Jenna. She is a reformed assassin living a normal life as a new stepmom. When she is called in to make a hit and her family is threatened, she goes badass mom on 'em. While I still thought Donnie and Nico as characters were engaging, it was nothing for what I felt for Jenna.
Also, major props to Finlay for creating a character that kills with a very unique weapon. Read it to find out more!

(5 / 5)
"The Writing Retreat" Gone Bad: Julia Bartz's Debut
Keeping it all in the family, Julia Bartz's The Writing Retreat is the debut novel of the sister of Andrea Bartz, author of We Were Never Here, which I reviewed here.
I was much more impressed with The Writing Retreat than I was We Were Never Here.
The Plot
Five up and coming female writers under 30 are invited to a writing retreat hosted by the reclusive and acclaimed horror writer Rosa Vallo. Rosa reveals the details of the retreat: each writer must complete a full length novel from scratch over the next month. The best novel wins a multi-million dollar publishing deal with Rosa.
Suddenly, the retreat turns into a nightmare when one writer goes missing in the snowy terrain outside.
The novel hinges on friendships in turmoil and has a focus on LGBT+ representation as well as interpersonal female relationships. The novel explores the dark publishing world and the search for fame and the Great American Novel.
The Verdict
This novel is atmospheric and intellectual, page turning, and the English major's required reading. I absorbed this novel and found Julia Bartz's writing and conceptual chops to be leagues above her sister's.
Ths novel releases on February 21, 2023 and it should be in your cart right now.

(5 / 5)
Buy it here!
A Murder in Reverse: "Wrong Place Wrong Time"
The Plot
"A brilliantly genre-bending, mind-twisting answer to the question How far would you go to save your child?"  — Ruth Ware, #1 New York Times bestselling author
Jen watches her son murder a stranger. Stab him to death. She and her husband, Kelly, watch as their son Todd is taken into custody.
The next morning, Jen wakes up and it's yesterday. Jen knows that at the end of the night, her son kills someone. She is determined to stop it.
Jen goes further and further back in time trying to discover why Todd murdered a stranger and how to stop it.
The Verdict
This book is twisty. Right when you think you know the ending, something else is there to prove that the story is more multifaceted than that. While the premise of the novel is simple, Gillian McAllister elevates a simple concept with deep, dark twists.
It is best that you don't know too much going into this one. For fans of Blake Crouch, this is such a good thriller with time travelling vibes.
(4 / 5)