Hello everyone! It's me, Shane. Remember your old pal, Shane? Well, I'm back and I'm here again to talk to you about comics and monsters. Two of my favorite things in this (or any) universe! I know, I know, Hulk has been running for a few years now, I'm late to the party. Oh well, let's get on with it!
Hulk, huh? Kinda mainstream, though, right?
I can honestly say that I never expected to find a Hulk comic that crossed into the realm of horror so convincingly without just using "Hulk Smash!" as the means of creating something threatening, but here I am. No Morbius The Living Vampire, no Werewolf By Night, no Fin Fang Foom, not even a single alien. Just ol' Green Genes himself being super creepy and downright vindictive.
No spoilers ahead, but…
According to the rest of the Marvel Universe, Bruce Banner is dead. Well, he isn't (surprise!) and not only that, he's kicking around the US fixing problems in the little towns he happens to come across. How does he help? I'm glad you asked…
There was a little scuffle with a local biker gang after Hulk tracks one of their members, corners him, AND HAS A DISCUSSION ABOUT POWER.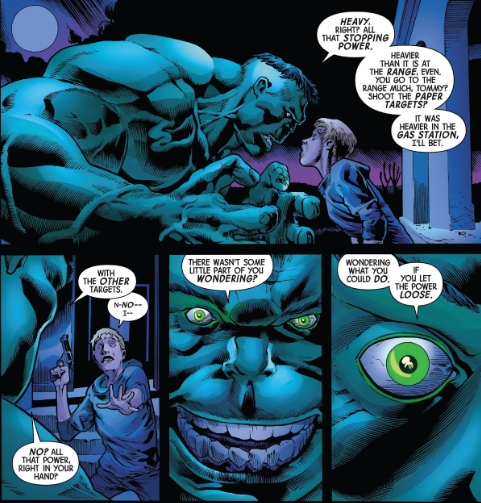 That's what sets this book apart for me. We have Hulk, who understands his own power and its effect on people around him, doing what he thinks is the right thing to do (smashing). Meanwhile, Bruce is stuck wondering if he's actually a hero… or if brutally murdering people who commit crimes makes him a monster.
Hulk with a twist, what makes it "horror"?
The art.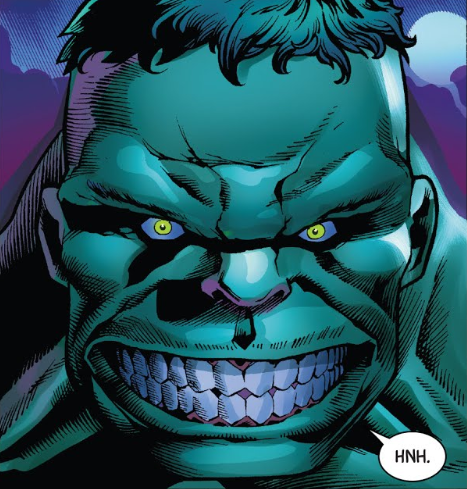 Joe Bennett absolutely nails creepy Hulk. He combines tons of aspects of the classic Hulk, including the low brow, thin eyebrows and tiny tuft of hair on top and uses it to amplify horrifying grins like this. This is Hulk, we know who the Hulk is, but maybe Hulk is a little different these days.
I'm giving this book 5 Cthulhus without hesitation.


(5 / 5)
Pick up issues of Immortal Hulk at your local comic book shop, or if you don't have one, find one that ships. Support your small businesses, especially in this industry. And stay tuned to HauntedMTL where I will certainly be reviewing this and other comics once again!