As we gear up for a strange WrestleMania this coming weekend, I thought now would be a good time to talk about one of the contenders and a Dark Deviation in the World Wrestling Entertainment sphere – The Fiend.
WWE's Bray Wyatt (Windham Lawrence Rotunda) is no randy when it comes to putting horror into his wrestling. During his NXT days, he founded the faction The Wyatt Family with Luke Harper and Erick Rowan. Later on, The Wyatt Family joined Raw, continuing the creepy backwoods origins and its Bayou/voodoo cultist imagery. This led to Bray Wyatt eventually facing John Cena at WrestleMania XXX, in a weird match between the "Eater of Worlds" and the current host of "Are You Smarter Than a Fifth Grader?" on Nickelodeon. 
🇸🇮 Janko Ferlič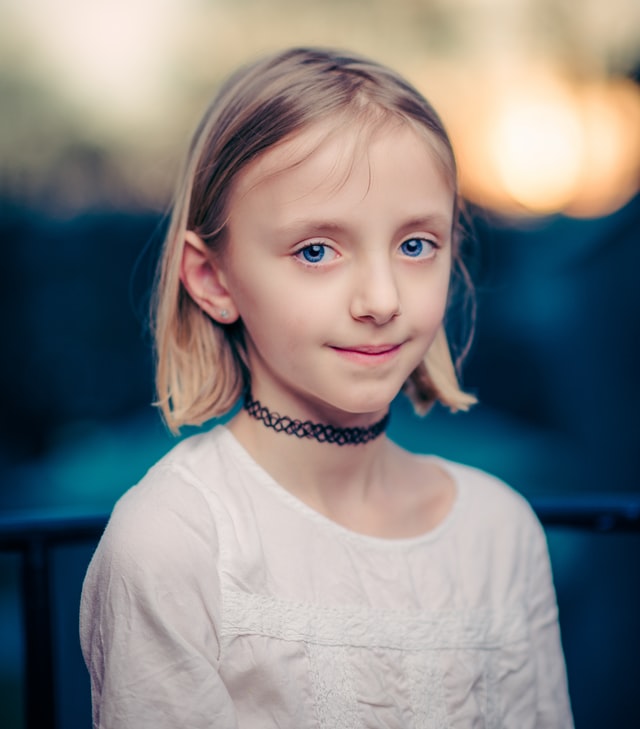 After Bray Wyatt was defeated by Cena, the Wyatt family still kicked around for a while, sinking disappointing lows when Randy Orton joined the group.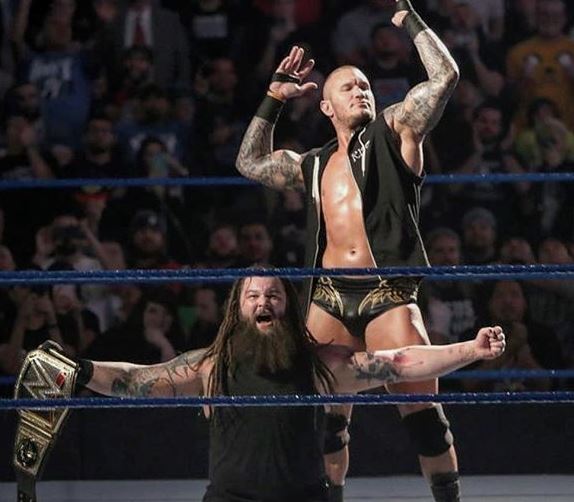 The group officially disbanded in 2017. Bray Wyatt still wrestled (and even teamed up with the "Deleter of Worlds" Matt Hardy for and after Wrestlemania 34), but never fully rose to his full potential.
Until April 2019.
There is nothing wrong with your television set. Do not attempt to adjust the picture.
In April 2019, strange occurrences started happening on the live feed of WWE. Short and ominous clips of strange, grotesque puppets began airing. Soon, they became longer segments of a "children's show" called "Firefly Fun House", featuring a intensely cheerful Bray Wyatt with his puppet friends: Mercy the Buzzard, Abby the Witch, Ramblin' Rabbit and Huskus the Pig Boy.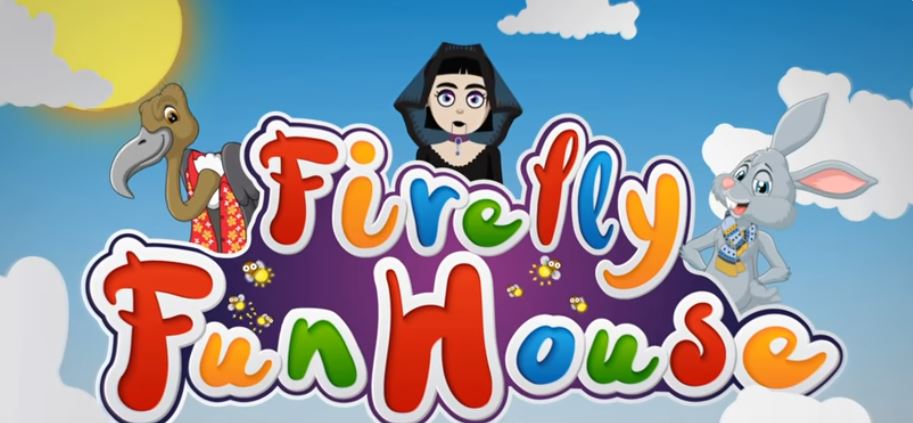 During its first full segment, the new and improved Wyatt destroyed a cardboard cutout of his old self with a chainsaw and cheerily told viewers that all they had to do was "let [him] in". Thus began the catchphrase and constant request throughout the show as it became more sinister in tone and the request increasingly became more demanding.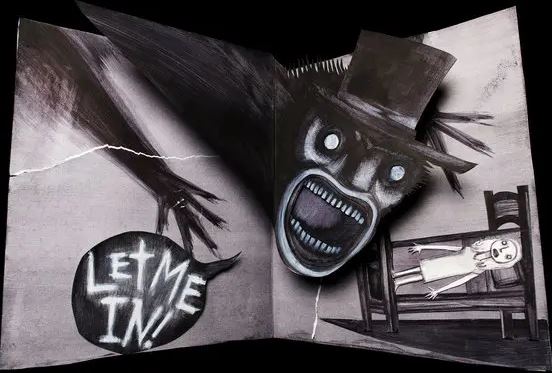 Over the following weeks, Bray began to gleefully mention HIM, the one who was able to finally give him safety and comfort. He talked about this new friend as a mentor and guardian, teaching him how to control the darkness and to not be afraid. How this friend is also a friend to you and to me…
All we have to do is let him in…
The Fiend Emerges!!!
Three months later, HE appeared.  No one saw it coming, least of all Finn Bálor. Poor Finn Bálor.
In July, The Fiend made his unofficial debut as all the lights went dead during Monday Night Raw as Finn was in the ring. Only seconds later, the lights flashing on to reveal The Fiend had destroyed Finn within the darkness.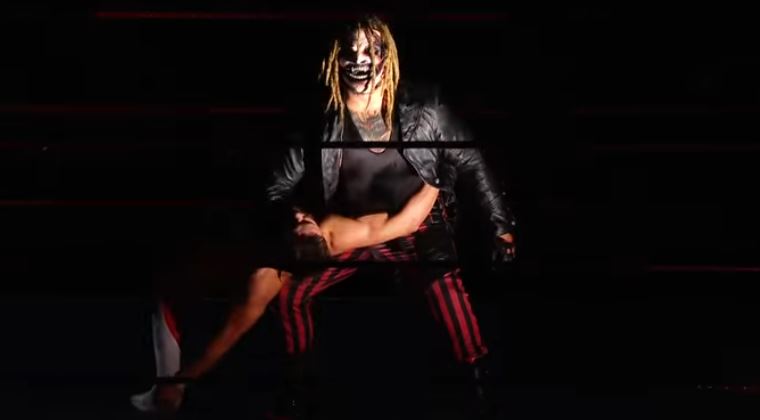 After some matches, some wins and some losses, we have The Fiend going after old rival John "Are You Smarter Than a Fifth-grader" Cena in the next Wrestlemania on April 4-5th, 2020. Cena accepted this challenge, but the stipulations of the Firefly Fun House match are not yet known. However, I doubt it includes a rap battle between The Fiend and Cena, so we can all be rest-assured.
The Character: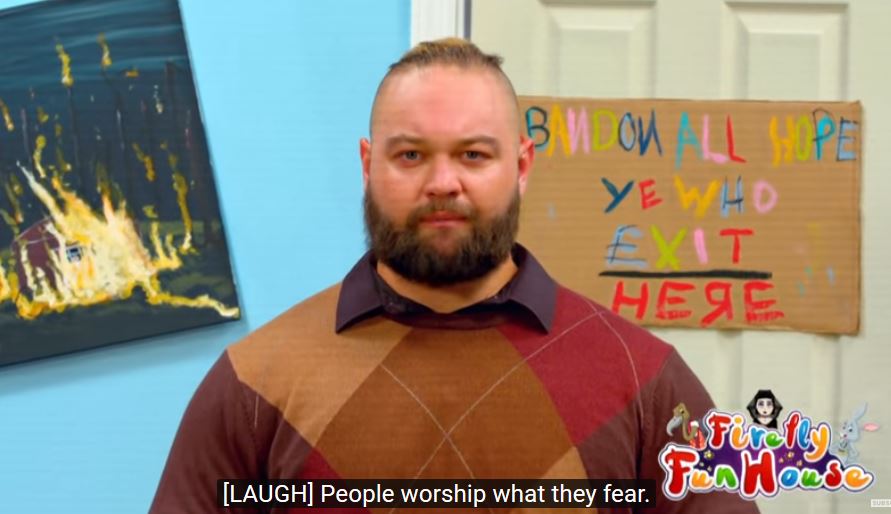 Bray Wyatt (Windham Lawrence Rotunda) is a master story-teller and a terrific actor. The lead-up and the reveal of The Fiend is one of the best and scariest things that the WWE has ever had in its history.
I am so, so glad that he was given creative license to try this and to try the Wyatt family, because that was absolutely the foot-in-the-door for this character. Wyatt not only has the charisma to pull this character off, but the passion behind it to make it work. Without both, this could have been a hot mess and fallen flat. It's a bold move that has paid off big – for fans, for Wyatt and for the company.
According to some theories, this character has been in his mind for quite some time and they are major layers of complexity. That's what makes it resonate so much with the fans. This persona is carefully crafted – from personality, to moves, to the horrifying and hideous mask.
The Mask: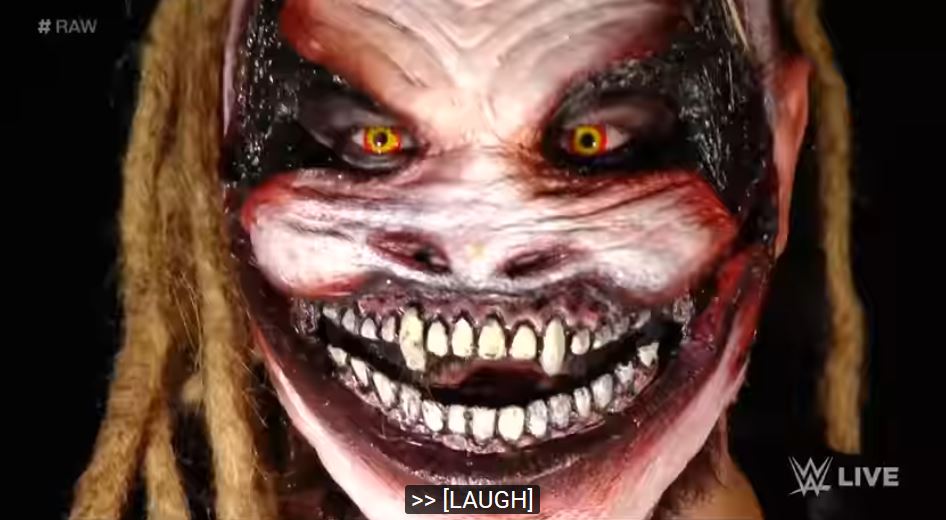 Yowie wowie! There's a good reason why that mask is as mother-snuggling terrifying as it is. The mask was first designed by tattoo artist Kyle Scarborough, owner of The Washington Tattoo Collective. But as horror aficionados, you've most likely seen the work of the official mask creator before. Once the sketch was given the green light, it was then handed to horror legend and special effects icon Tom Savini's studio and created by Savini, Jason Baker and Ell Farrington. 
Not only is it utterly horrific, but needed to be completely wrestling-proof. That means he had to be able to see every dropkick coming his way or could be seriously hurt. It had to be easy to breathe in, and breathable itself for all the sweat and movement of getting, say, dropkicked in the face.
Truly a work of art from Bray Wyatt, Kyle Scarborough, and Tom Savini's team, this is an instant classic and iconic mask in horror history.
The Lantern:
A little while after the construction of the mask, Wyatt also asked for at least one other accessory that we know of…his own head.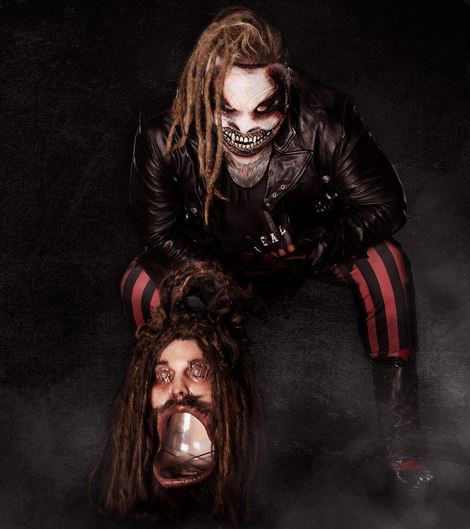 Again, Wyatt went to Scarborough for the concept art.
"The idea was to have the face that we know that he has, stretched over a lantern with a glow coming out of his mouth," Kyle Scarborough said.
The lantern was also created by Savini's studio, with the fear that it would get the boot because it was too scary. They were given the go-ahead…mostly. While the mask has been an easy sell to promote, the WWE has edited out the lantern for their Youtube channel, but it can be seen during its live shows. And, if you've got a spare $100, you can buy a replica on the website, complete with stitched eyes!
Bottom-line:
I have thoroughly enjoyed Bray Wyatt's Fun House and The Fiend since Day 1.
The Fiend is a fast fan-favorite and it's easy to see why. A lot of time and preparation has been taken to create and perfect this character. While Wyatt has always dabbled and moved within the realm of horror in the WWE, this character takes it to a whole new level. He is a carefully crafted jump-scare and not just a quick gimmick. Bray Wyatt is one of the best entertainers they have right now in the WWE, regardless of his wrestling, regardless of his physical attributes. He has people terrified and loving it. 

(5 / 5)