While Stephen King is the master of long-form horror, I love him most for his short work. In the past, we've reviewed If It Bleeds, and today we're going to talk about his most recent short collection, Full Dark, No Stars.
Full Dark, No Stars consists of four short stories. Not quite long enough to be novellas, but still longer than a standard short. And while they're not technically linked together in any clear way, they all have the same theme. What sort of person are we when we're pushed to the extremes of human emotion? Who are we capable of becoming when we're threatened?
Our first gory story is 1922. This is the tale of a man named Wilf, and the worst year of his life. After years of arguing with his wife over whether or not to sell the farmland she inherited, he decides it would be easiest just to kill her and toss her body down the well. To do that, he's got to get his teenage son Hank involved.
Of course, killing his mother does some terrible things to poor Hank. He starts making some truly horrible choices. Meanwhile, Wilf's wife is forming a great relationship with the farm rats.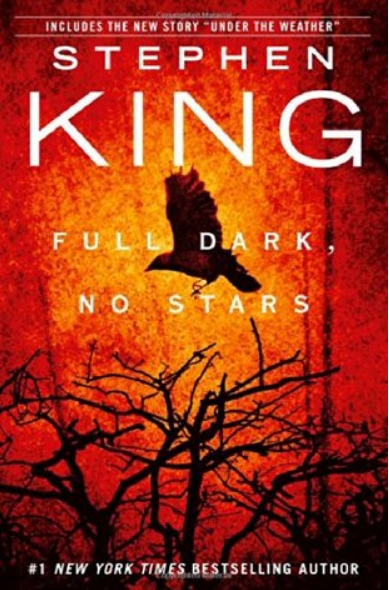 This story was great fun. I despised Wilf right from the start. I hated how he considered killing his wife to be his right. As though his right to his farm was worth more than her right to live. And I was so happy to see that he got what was coming to him.
The next tale, Big Driver, requires a trigger warning. There are explicit rape scenes in this story. You have been warned.
This one hit real close to home for me, as a horror writer in my late thirties. It's the story of Tess, a cozy mystery writer in her late thirties. On her way home from a book signing, she has a car accident that's not an accident. And she's brutally raped because of it.
After barely surviving this, Tess decides that she can't live while her rapist, who she calls Big Driver, is still alive.
This story was difficult to read, but again so satisfying. Everything you want to have happen happens.
The third story, Fair Extension was probably my least favorite. A man with cancer happens upon something selling extensions by the side of the road. What kind of extensions? Depends on what kind you need. In the case of Streeter, our main character, he needs a life extension. What he's willing to do to get that extension is pretty horrific. He's more than happy to see the downfall of his best friend.
I didn't like this one, because I wanted to see justice. Justice, sadly took a pass on this one.
Finally, we have A Good Marriage. Darcy, our main character, finds out how little she really knows her husband. She discovers a box in her garage with proof that he is, in fact, a serial killer.
I loved this one because it had some serious Dexter vibes. It almost made me glad that Rita died before she could make a similar discovery of a similar little wooden box.
I adored Full Dark, No Stars. It's just more proof that King's talent and writing style aren't slowing down at all. If you're looking for a spooky read that will upset you in all the best ways, check it out.
(4 / 5)
Want to read Full Dark, No Stars for yourself? You can grab it now on Amazon.