The 12-issue manga "Death Note" by Tsugumi Ohba ended over 10 years ago but its legacy is still going strong. The series follows ambitious high school student Light Yagami who decides to rid the world of evil when he finds a notebook with the power to kill people. He strives to become the God of a new world, one that is without crime. He takes on the name Kira and enforces his justice across the world.
The horror manga tells a dark tale about crime, punishment, and humanity. Asking philosophical questions about good and evil that sparked numerous debates during its original run. The moral of "Death Note" is that no one person should have the power to pass the final judgment on another.
Outside of the manga, "Death Note" is also an anime TV series, a short-lived live-action series and the basis for six film adaptations. It's also a surprisingly good musical. The series ended in 2006 but has returned with a special one-shot.
A new Kira for a new world
10 years after the events of Kira, the Shinigami Ryuk returns to the human world for another round of entertainment. He actually just wants someone to feed him more apples because he's a junkie. He ends up giving the Death Note to a new boy named Minoru Tanaka, a middle-school student as intelligent as Light, though not nearly as ambitious.
One downside to introducing such a character in a limited format is that it's impossible to properly connect with him. We only have 88 pages to get to know Minoru, however, the story is very clever in its portrayal of him.
Crime will adapt
Minoru is, in every way, a modern teenager raised by television and the internet. He becomes the new Kira but doesn't see the Note the same way his predecessor did. He doesn't want power or justice, he just wants easy money and decides to sell the Death Note!
Even Ryuk is shocked by this move, although to be fair Ryuk is often shocked by everything.
The one-shot acknowledges how the original Kira's plans wouldn't work now because of surveillance. The whole world is being watched, and just as crime adapts to every new advancement, Minoru adapts his handling of the Death Note. He uses the internet's greatest weapon, Twitter, to his advantage and sets up a bidding war between countries. Whoever bids the highest number gets the most dangerous weapon in the world.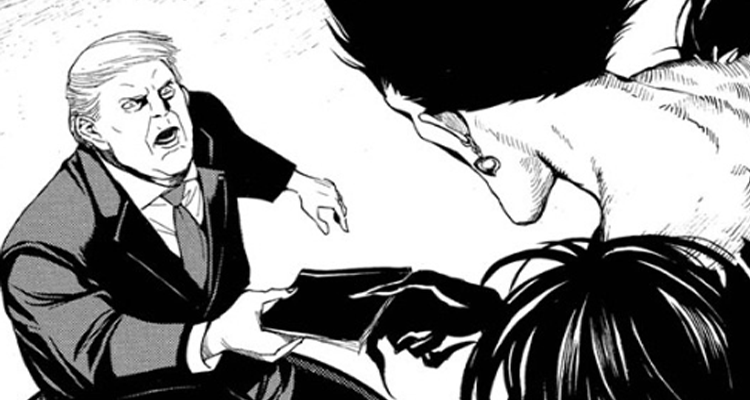 Donald Trump officially exists in the Death Note universe
There is a dangerous situation being exposed in this one-shot. It's an 88-page allegory about the greed of already ruling nations.
In the end, it's the United States that wins the bid, and guess who's president? Donald Trump! Trump's name is never outright spoken but it's clearly meant to be him. A bloated man in a suit with a bad comb-over that throws money around like he's living in a Monopoly game. Ohba uses this time to bluntly write out his personal opinions about Trump and other world leaders, including the General Secretary of China, Xi Jinping. It's not pretty.
Near continues to be a wasted character
There are several callbacks to the original series including surprise appearances from old characters such as Matsuda, Aizawa, and of course, Near a.k.a. Nate Rivers. Unfortunately, I feel that Near is a weak spot in the issue.
Now living as the new L, he briefly takes on the new Kira case when the bidding war starts, but then drops it just days later when he admits defeat. At first glance, it seems as if Near's there for pure nostalgia reasons. An attempt to resurrect the L vs. Kira dynamic despite the fact that Near and Minoru have absolutely no interaction.
Although his presence is most likely an attempt to show the difficulty in stopping the selling and purchasing of weapons of mass destruction. The sale happens in secret and the buyer is rarely an individual, but instead a group or nation. If Near is the cop in the scenario and the countries publically bidding are the criminals, how exactly could he stop it?
At one point he makes the claim that he can't confiscate the notebook because he's an American citizen. The police can't arrest their own government for purchasing war tanks. I believe this is the purpose of Near in the one-shot, but it feels almost pointless. He doesn't get to do anything.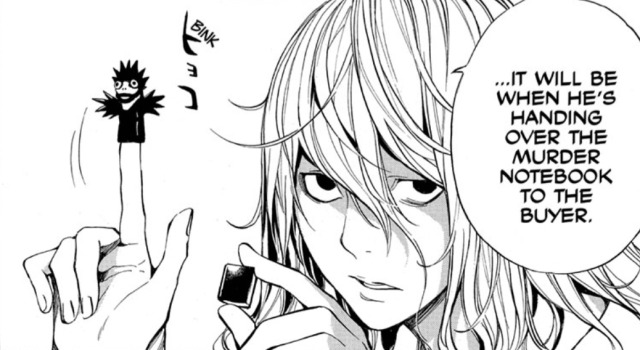 I've always thought that Near was one of the more underdeveloped characters in the series. He first appeared alongside Mello in "Death Note: Zero", as one of L's two successors. They represented the two halves of L's personality; Near as his analytical side and Mello as his emotional side.
However, once he's alone Near seemed to a somewhat deficient character. For me, he just couldn't live up to L and was almost tedious when compared to Mello. This was a chance to finally show his strengths as a character, but it never happened.
Verdict
Overall, the one-shot brings us back to the world of "Death Note" but doesn't fall completely back into the past. The story has aged but it's aged well. It's enjoyable but also reads like a slap to the face because of how realistic it is. The notebook is fake of course, but it can easily be a stand-in for an actual weapon of war.
You can read it for free here.
(4 / 5)
What Have We Done: Alex Finlay Produces Another Hit
Jenna: A stay at home mom with a secret assassin past
Donnie: An alcoholic rock star
Nico: An executive producer of a reality television show
They all have a past, but who is out to get them?
The Plot
Jenna, Donnie, and Nico share a troubled past. They were all orphans who lived at Savior House — which is much less savior, much more terror. When their friend Benny, a famous judge, is murdered and the FBI comes looking, Jenna, Donnie, and Nico must race against the clock to figure out who is targeting them.
The Verdict
From the author of The Night Shift, which I reviewed here, I would expect nothing less than what Finlay has delivered. Finlay notoriously creates stories with palpable thrill and spine-tingling revelations.
I particularly enjoyed the character of Jenna. She is a reformed assassin living a normal life as a new stepmom. When she is called in to make a hit and her family is threatened, she goes badass mom on 'em. While I still thought Donnie and Nico as characters were engaging, it was nothing for what I felt for Jenna.
Also, major props to Finlay for creating a character that kills with a very unique weapon. Read it to find out more!

(5 / 5)
"The Writing Retreat" Gone Bad: Julia Bartz's Debut
Keeping it all in the family, Julia Bartz's The Writing Retreat is the debut novel of the sister of Andrea Bartz, author of We Were Never Here, which I reviewed here.
I was much more impressed with The Writing Retreat than I was We Were Never Here.
The Plot
Five up and coming female writers under 30 are invited to a writing retreat hosted by the reclusive and acclaimed horror writer Rosa Vallo. Rosa reveals the details of the retreat: each writer must complete a full length novel from scratch over the next month. The best novel wins a multi-million dollar publishing deal with Rosa.
Suddenly, the retreat turns into a nightmare when one writer goes missing in the snowy terrain outside.
The novel hinges on friendships in turmoil and has a focus on LGBT+ representation as well as interpersonal female relationships. The novel explores the dark publishing world and the search for fame and the Great American Novel.
The Verdict
This novel is atmospheric and intellectual, page turning, and the English major's required reading. I absorbed this novel and found Julia Bartz's writing and conceptual chops to be leagues above her sister's.
Ths novel releases on February 21, 2023 and it should be in your cart right now.

(5 / 5)
Buy it here!
A Murder in Reverse: "Wrong Place Wrong Time"
The Plot
"A brilliantly genre-bending, mind-twisting answer to the question How far would you go to save your child?"  — Ruth Ware, #1 New York Times bestselling author
Jen watches her son murder a stranger. Stab him to death. She and her husband, Kelly, watch as their son Todd is taken into custody.
The next morning, Jen wakes up and it's yesterday. Jen knows that at the end of the night, her son kills someone. She is determined to stop it.
Jen goes further and further back in time trying to discover why Todd murdered a stranger and how to stop it.
The Verdict
This book is twisty. Right when you think you know the ending, something else is there to prove that the story is more multifaceted than that. While the premise of the novel is simple, Gillian McAllister elevates a simple concept with deep, dark twists.
It is best that you don't know too much going into this one. For fans of Blake Crouch, this is such a good thriller with time travelling vibes.
(4 / 5)