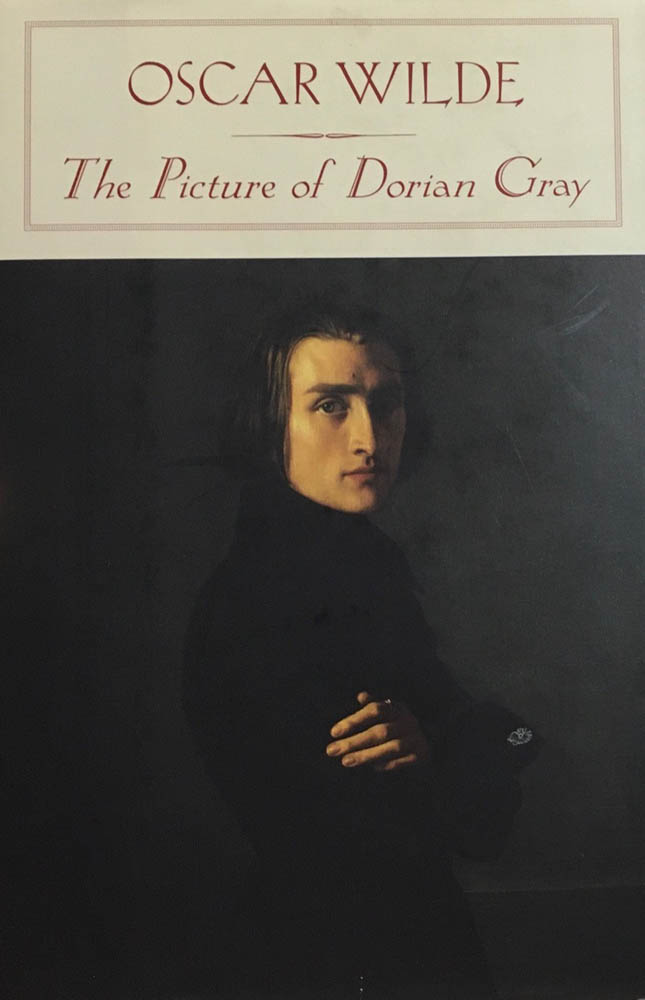 The Picture of Dorian Gray is a Classic neo-Gothic literary novel that has been revived and revisited in so many homages, from literature to music to film to pop culture. But how immortal is the original book by Oscar Wilde, really?
I am not going to go into great depths as far as the plot or go into details in case you want to read the book for yourself, but I will provide some insights into the scene and setup. Dorian Gray is a young socialite rising to status. He is incredibly handsome and his boyish good looks are interpreted throughout the book as signs of a pure, untarnished soul.
The story opens with artist Basil Hallward having painted a splendid portrait of Dorian Gray which piques Lord Henry Watton's interest. Over time, both men become very close to Dorian Gray and, as his two closest friends, pull him in very different directions like shoulder morality guides, with Basil playing the Angel and Lord Henry playing the Devil more or less. Upon contemplating something that Lord Henry has insinuated, Dorian wishes for the portrait to age rather than his actual person, and his wish is mysteriously granted to both good and bad outcome. This creates opportunity within the novel to consider what one could or would do if never perceived to do wrong nor required to answer for one's actions. The story is much more nuanced and involved than this, but I don't want to spoil it so I will leave it at that.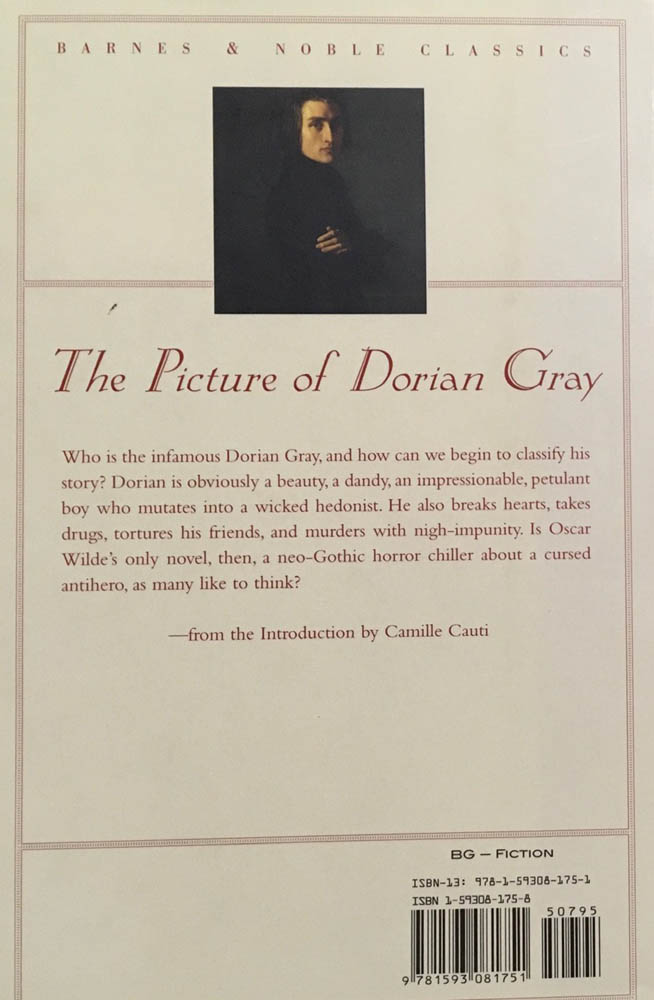 What I liked most about The Picture of Dorian Gray were the conversational aspects of the relationships as they develop between the main characters and their respective friendships. There is action, but there is also a lot of talk of what that means, speculating both moral responsibilities and deepest desires. The book provides many philosophical points to ponder art, success, wealth, life, and what it means to truly live. It is eloquently written and provides interesting insights into Victorian culture and a glimpse behind the rigid curtain of propriety of the era.
However, the book is very much a product of its time, and there are many reminders of how much has changed since then. Some of the base, carnal desires as expressed have become more accepted by more people than they were then. The idea that the surface conveys the soul within as pure or corrupt is also a bit dated, though a lot of that depends on how this is said to manifest and who you ask.
Based upon these factors, I will give the book 3.5 Cthulus.
(3.5 / 5)
Note: If you need intense high action drama, cut scenes, high speed car chases, explosions and the like, The Picture of Dorian Gray will likely come across as long, dry and painstakingly slow (undoubtedly not unlike my review of it). But in my mind, the story is well worth reading to get a sense of its own history and cult status. It is rather immortal as we continue to come back to the tale time and again within other stories and references, reconsidering the story in new and subtle ways through all kinds of different media. As it evolves, each iteration speaks tomes about the moral leanings and perceived roles of art and high society in their day.
Moreover, it is impossible to read The Picture of Dorian Gray without reflecting upon Oscar Wilde's life and challenges he faced, especially having been bankrupted, charged, found guilty, and sentenced to prison for engaging in homosexual acts. Public opinion has shifted drastically since the time of Dorian Gray, but sadly we must remember that this really wasn't as long ago nor as far away as we might wish it to be. So much has changed in the past 150 years; let us see what the next 150 will bring and how this story regenerates and is reborn to return anew.

You can enjoy some more literary greats I have responded to in my previous posts celebrating Classic poems and Emily Dickinson in particular.
What Have We Done: Alex Finlay Produces Another Hit
Jenna: A stay at home mom with a secret assassin past
Donnie: An alcoholic rock star
Nico: An executive producer of a reality television show
They all have a past, but who is out to get them?
The Plot
Jenna, Donnie, and Nico share a troubled past. They were all orphans who lived at Savior House — which is much less savior, much more terror. When their friend Benny, a famous judge, is murdered and the FBI comes looking, Jenna, Donnie, and Nico must race against the clock to figure out who is targeting them.
The Verdict
From the author of The Night Shift, which I reviewed here, I would expect nothing less than what Finlay has delivered. Finlay notoriously creates stories with palpable thrill and spine-tingling revelations.
I particularly enjoyed the character of Jenna. She is a reformed assassin living a normal life as a new stepmom. When she is called in to make a hit and her family is threatened, she goes badass mom on 'em. While I still thought Donnie and Nico as characters were engaging, it was nothing for what I felt for Jenna.
Also, major props to Finlay for creating a character that kills with a very unique weapon. Read it to find out more!

(5 / 5)
"The Writing Retreat" Gone Bad: Julia Bartz's Debut
Keeping it all in the family, Julia Bartz's The Writing Retreat is the debut novel of the sister of Andrea Bartz, author of We Were Never Here, which I reviewed here.
I was much more impressed with The Writing Retreat than I was We Were Never Here.
The Plot
Five up and coming female writers under 30 are invited to a writing retreat hosted by the reclusive and acclaimed horror writer Rosa Vallo. Rosa reveals the details of the retreat: each writer must complete a full length novel from scratch over the next month. The best novel wins a multi-million dollar publishing deal with Rosa.
Suddenly, the retreat turns into a nightmare when one writer goes missing in the snowy terrain outside.
The novel hinges on friendships in turmoil and has a focus on LGBT+ representation as well as interpersonal female relationships. The novel explores the dark publishing world and the search for fame and the Great American Novel.
The Verdict
This novel is atmospheric and intellectual, page turning, and the English major's required reading. I absorbed this novel and found Julia Bartz's writing and conceptual chops to be leagues above her sister's.
Ths novel releases on February 21, 2023 and it should be in your cart right now.

(5 / 5)
Buy it here!
A Murder in Reverse: "Wrong Place Wrong Time"
The Plot
"A brilliantly genre-bending, mind-twisting answer to the question How far would you go to save your child?"  — Ruth Ware, #1 New York Times bestselling author
Jen watches her son murder a stranger. Stab him to death. She and her husband, Kelly, watch as their son Todd is taken into custody.
The next morning, Jen wakes up and it's yesterday. Jen knows that at the end of the night, her son kills someone. She is determined to stop it.
Jen goes further and further back in time trying to discover why Todd murdered a stranger and how to stop it.
The Verdict
This book is twisty. Right when you think you know the ending, something else is there to prove that the story is more multifaceted than that. While the premise of the novel is simple, Gillian McAllister elevates a simple concept with deep, dark twists.
It is best that you don't know too much going into this one. For fans of Blake Crouch, this is such a good thriller with time travelling vibes.
(4 / 5)