Sam Wineman's The Quiet Room didn't strike me as a masterpiece. However, it does pair with a concept I've often mentioned: The success of a horror story isn't just about events, but how they are portrayed. Yes, this movie is heavily marketed as a "queer horror short," and there are those elements. However, this needs to be said: It definitely doesn't forget to actually be an atmospheric horror story, including a weird demon called "Hopeless Hattie" (Alaska Thunderfuck). In addition to a quality performance from Jamal Douglas as Michael, horror fans will also recognize Lisa Wilcox, known as Alice in the Nightmare on Elm Street franchise.
From what I can tell, this is mostly a movie about mental illness and how, apparently, demons can latch onto depression…or something like that. Basically, like many horror films, it's difficult to 100% pinpoint what it's trying to say. It can best to not overthink it, and maybe some unexpected messages (or moods and impressions) will come through as you watch. The Quiet Room does, however, suggest that there's more to depression than meets the eye. Then again, this movie will require repeat viewings for more in-depth analysis. Suffice it to say, this movie is simply pretty well done. It delivers a socially claustrophobic atmosphere.
Possible Companion Pieces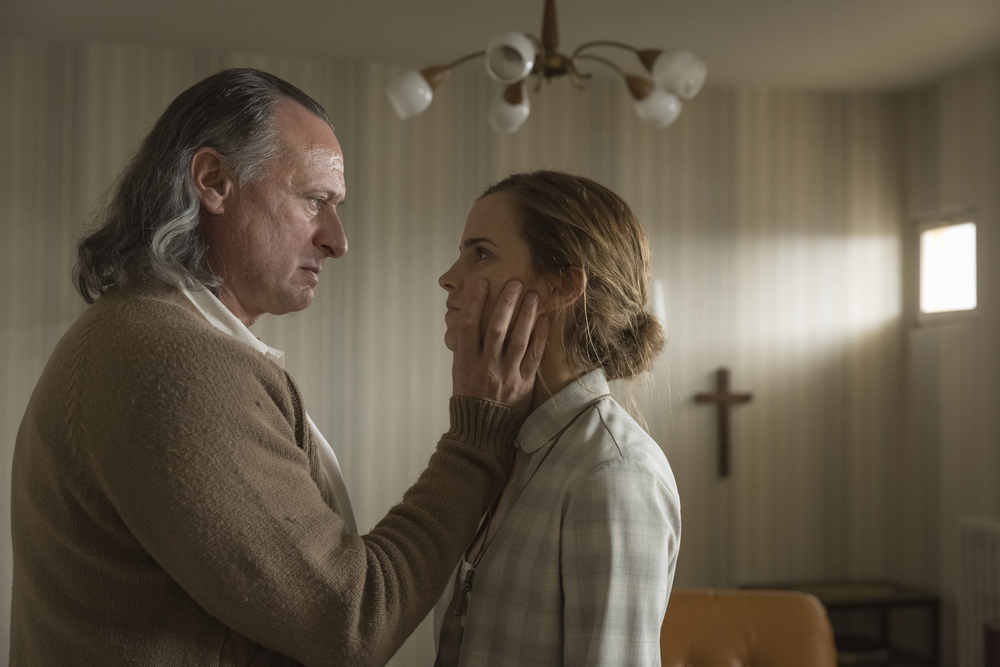 As The Quiet Room is so short, it might be a good idea to consider companion pieces. I am choosing these due to certain overlapping themes, rather than saying they're identical. To start with, you might want to pair The Quiet Room with Florian Gallenberger's Colonia, a historical thriller about a woman (Emma Watson) trying to find her boyfriend (Daniel Brühl), kidnapped by a Nazi-like cult in Pinochet's Chile. In my opinion, this film is pretty much masterful and seems to have a similar mood as The Quiet Room. Yes, as so often happens, Rotten Tomatoes' low score will have some thinking this might be a piece of trash. It isn't!
For a non-horror film, definitely consider including Miloš Forman's One Flew Over the Cuckoo's Nest. While it has its lighter moments, it actually starts getting very heavy and certainly deals with mental health issues throughout. Also, "Hopeless Hattie" is a bit reminiscent of horror villains like Candyman or even Freddy Krueger, if you feel like going with some old standards. Obviously,  A Nightmare on Elm Street 3: Dream Warriors might be the most relevant, due to its clinical setting and psychological explorations of its characters.
Final Thoughts on "The Quiet Room"
To fully appreciate this film, I will most certainly have to watch it again. This doesn't seem like a movie to watch while distracted, or while one's mind is in a different place. Rather than this short film failing me in any sense, I feel like I failed it. While this may never become a standard perennial fave for horror fans, it seems like something destined for the occasional rewatch. That's not the praise of the century, but there are far shittier movies about demons haunting people, for sure. So give The Quiet Room, pay attention to it, and try not to see it any one way. This little movie has some depth beyond the surface level.
What are your thoughts on The Quiet Room? Let us know in the comments!