From a Buick 8 is possibly the most beautiful, impactful novel that Stephen King has ever written. It's the one that's stayed with me the longest and the one I'm most likely to come back to.
I might be biased, though. From a Buick 8 is set close to my hometown, Butler PA. While reading it, one can tell. At least, it's glaringly obvious to someone who grew up in this rural steel town. But even for those who aren't familiar with the area, From a Buick 8 is still a rich, riveting horror story.
The book is told through a series of flashbacks. It's set soon after a state trooper named Curtis died in the line of duty. His troop begins telling his teenage son, Ned, stories about Curtis. Stories that are also about an old Buick Roadmaster parked in a garage on the barracks property.
The Buick is the real mystery of the story. It was left behind at a gas station years ago. The owner vanished, never to be seen again. This is a mystery by itself. But the things that start coming out of the Buick are the real horrors.
As the troop shares their stories of Curtis and the Buick, we see how this loss impacted his troop. Curtis left three kids and a wife behind. But you get the sense that the people who miss him are members of his troop.
There is a hole in their lives that hasn't healed. This hole leads them to pull Ned into their family. As they induct him into the troop, they don't see the trap they're part of setting for him. They don't see the Buick wrap itself around Ned's mind and draw him in until it's too late to stop.
Don't let me mislead you. There are monsters in this book. Horrifying creatures from another universe. Things that are not entirely explained. Animals that die and start to rot as soon as they try to breathe our air. Leaves that burn the flesh. Arms that threaten to reach out and pull us into the world that has been so quick to give us these tiny terrors.
These elements are blended with the story of a young man reconciling with the death of his father. While it doesn't seem like those things should go together, they do.
If you've never read From a Buick 8, you should. In the end, the monster is the thing we're all most afraid of. The unknown.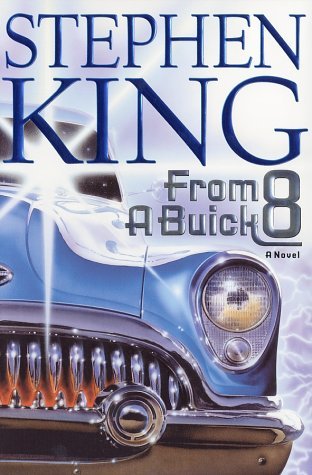 "The Writing Retreat" Gone Bad: Julia Bartz's Debut
Keeping it all in the family, Julia Bartz's The Writing Retreat is the debut novel of the sister of Andrea Bartz, author of We Were Never Here, which I reviewed here.
I was much more impressed with The Writing Retreat than I was We Were Never Here.
The Plot
Five up and coming female writers under 30 are invited to a writing retreat hosted by the reclusive and acclaimed horror writer Rosa Vallo. Rosa reveals the details of the retreat: each writer must complete a full length novel from scratch over the next month. The best novel wins a multi-million dollar publishing deal with Rosa.
Suddenly, the retreat turns into a nightmare when one writer goes missing in the snowy terrain outside.
The novel hinges on friendships in turmoil and has a focus on LGBT+ representation as well as interpersonal female relationships. The novel explores the dark publishing world and the search for fame and the Great American Novel.
The Verdict
This novel is atmospheric and intellectual, page turning, and the English major's required reading. I absorbed this novel and found Julia Bartz's writing and conceptual chops to be leagues above her sister's.
Ths novel releases on February 21, 2023 and it should be in your cart right now.

(4.5 / 5)
Buy it here!
A Murder in Reverse: "Wrong Place Wrong Time"
The Plot
"A brilliantly genre-bending, mind-twisting answer to the question How far would you go to save your child?"  — Ruth Ware, #1 New York Times bestselling author
Jen watches her son murder a stranger. Stab him to death. She and her husband, Kelly, watch as their son Todd is taken into custody.
The next morning, Jen wakes up and it's yesterday. Jen knows that at the end of the night, her son kills someone. She is determined to stop it.
Jen goes further and further back in time trying to discover why Todd murdered a stranger and how to stop it.
The Verdict
This book is twisty. Right when you think you know the ending, something else is there to prove that the story is more multifaceted than that. While the premise of the novel is simple, Gillian McAllister elevates a simple concept with deep, dark twists.
It is best that you don't know too much going into this one. For fans of Blake Crouch, this is such a good thriller with time travelling vibes.
(4 / 5)
Woom: An Extreme Horror Novel
"That doesn't invalidate it," Angel said. "There's no statute of limitations on pain."
The Plot
Angel is a man who knows pain: physical, mental, sexual. The story begins with Angel visiting Room 6 at the Lonely Motel and ordering a plus-size sex worker to his room. What comes next is Angel's retellings of painful stories while performing sexual acts on the sex worker, Shyla.
The novel reads as a book of short stories, as Angel relays stories to Shyla and she tells him stories back. This is a novel of pain and disgust. Angel's stories are so dark and traumatic that Shyla can't believe they are true. As Angel bares his soul, we see a side of him that is melancholy and unable to process hurt in a natural way.
The Verdict
This novel is full of disgusting visuals and isn't afraid to get dirty. This truly is an extreme horror novel. As a warning, there is discussion of feces, blood, rape, sex, and body horror. This novel is not for the faint of heart. You'll close this short novel feeling dirty. Angel is a character that begs for sympathy while his stories narrate that he may not be as innocent as he perceives.
When the subtitle says this novel is extreme horror, believe it. Only the strong will survive Duncan Ralston's Woom. It is more splatterpunk than anything, but true literary quality lies beneath the filth.
(4 / 5)
Read it yourself by clicking below!