I spent the day after Christmas arguing with strangers on Facebook. I spent a couple of hours grappling with a meme in my local community discussion group. The meme was such a dog whistle that I am surprised I have yet to have been mauled by a werewolf. It was a dumb meme that featured a "good ol' boy" commenting on the idea that homeless and poor people today can check their food stamp balance on their smartphone. And yes, it had the requisite Confederate flag stamp on it.
While yes, this sounds like a horror story of someone having entirely too much time on their hands, it's not necessarily what I want to discuss. The ensuing discussion on the comment thread hit on something for me: How has horror tackled class-division? More specifically… how has horror addressed themes of homelessness?
Class-Conscious Horror
Class-consciousness in horror is nothing new. One of the most recent and popular class-conscious horror series would be The Purge in which the elites exert control over the less affluent by creating "purge days." As a whole, they're not great, but they are at least trying to explore these divisions. 2008's Repo! The Genetic Opera revolves around a megacorp that hunts down people who default on their payments on their organs. There are a lot of class-conscious horror films out there.
i09 had a list of horror films that deal with themes of class, but none of them are really hitting that spot I have been thinking about. I mean, there are some amazing films there, but not what I am quite looking for. I am specifically interested in how homelessness is explored in horror. Whether there is a movie that reflects the anxieties and traumas of having no safe space in a world that seems to hate and judge you constantly.
The Homeless
The homeless are victims of increasing violence. The homeless population is seen by society, largely, as people not to be trusted. Evidence shows, however, that this should go both ways. Back in the mid-2010s, Japan had a rather public problem of the homeless being assaulted by Japanese youths.
Society conditions people to inherently distrust the poor and homeless. Often I was told that instead of giving money to someone who is homeless, that I should offer to buy them food… after all, they'll probably just use the money of drugs or alcohol. It has taken a lot of reflection and growth to grow out of this conditioning on my end, but I highly doubt the majority of people do this, thus that distrust persists.
Another film, which I reviewed as part of my Drive-In recaps is Street Trash. It is not particularly flattering or sympathetic to the homeless. There are other horror films out there that feature the homeless, of course. For example, 2011's The Tunnel, an Aussie found-footage horror film, features tunnels occupied by the homeless, but it isn't so much about them. In my experience, if someone is homeless in a horror film, they're most often a disposable body, an object.
Where are the homeless horror films where the terrorizing of the homeless is visible through their perspective?
Homeless Horrors
I live in an area that has many, many homeless people. I live south of Los Angeles, in a region known as the Inland Empire. While California as a whole is dealing with an increasing homeless population, so too is my county. Currently, I live across the street from a shopping center that is filled with the homeless and every couple of days I see them shuffled off by the police.
My own feelings on homelessness are particularly strong because I have been there.
At this point, I am still very much searching for some media that tackles the pain and fear that comes with homelessness from the homeless perspective. One film I stumbled upon was a VR film titled The Killer that explores the metaphor of homelessness.
You can watch it on YouTube, naturally. It is a 360-degree experience and fairly immersive.
It's interesting, but it doesn't quite scratch that itch for me. The metaphor is just a bit too abstract. Closer to what I am seeking is the Korean animated zombie film Seoul Station, which I also happened to review. The film is distinctly Korean, but it does hit on some things I want to see using the lens of zombies.
It features homeless characters centrally, and it does explore how they are cast out by society. The homeless of Seoul Station are still victims, of course. Many of the homeless figures of the film die and are treated as disposable. But where Seoul Station succeeds is that many of the people who live on the streets, already having been cast out and forced to survive, have an advantage over those who have wealth and homes.
So What the Hell am I Looking For?
To a degree, I am still trying to figure out what I want. I suppose I am waiting for a watershed moment for the poor and homeless in horror. I am waiting for that watershed moment. When will the homeless' Get Out be released?
I have ideas – I am a writer – I can't help but think of how I would tackle poverty horror stories when I am examining the media-landscape. But that is an entirely different topic from this one. I wanted to explore the idea of class-conscious horror and poverty horror. My admittedly informal survey tells me that, perhaps, there is a void needed to be filled, here. I believe that horror, as a genre, is a tool of social awareness. Perhaps we should use that tool to explore the plight of the homeless.
Shudder March 2023 Release Schedule
Mutant family, please gather 'round as February kicks rocks and we shove our way into March. With the new month comes the shifting from winter to spring as death beautifully resurrects back to life, drunken patrons swarm our local bars like rabid locusts for St. Patrick's Day celebrations, and of course new exclusives and returning favorites on Shudder to satisfy the horror fiend in us all. To quote the prestigious Samuel L. Jackson, "hold onto your butts" and let's dive right into Shudder's March 2023 release schedule.
Shudder Exclusives
While it is true that the release schedule for the start of 2023 on Shudder has been minor and slightly mixed, with films such as the much talked about experimental low-budget indie 'Skinamarink', the surprisingly entertaining horror comedy 'Sorry About the Demon', and writer/director Neil Marshall's return to the genre with 'The Lair'. We also graciously received the wildly fun 'The Last Drive-In: Joe Bob's Vicious Vegas Valentine" special, with season 5 currently in production and premiering later this year; though it can't come soon enough. As we like to do here at HauntedMTL, let's kick off March with Shudder's newest exclusives currently streaming now and in the coming weeks.
Spoonful of Sugar – Now Streaming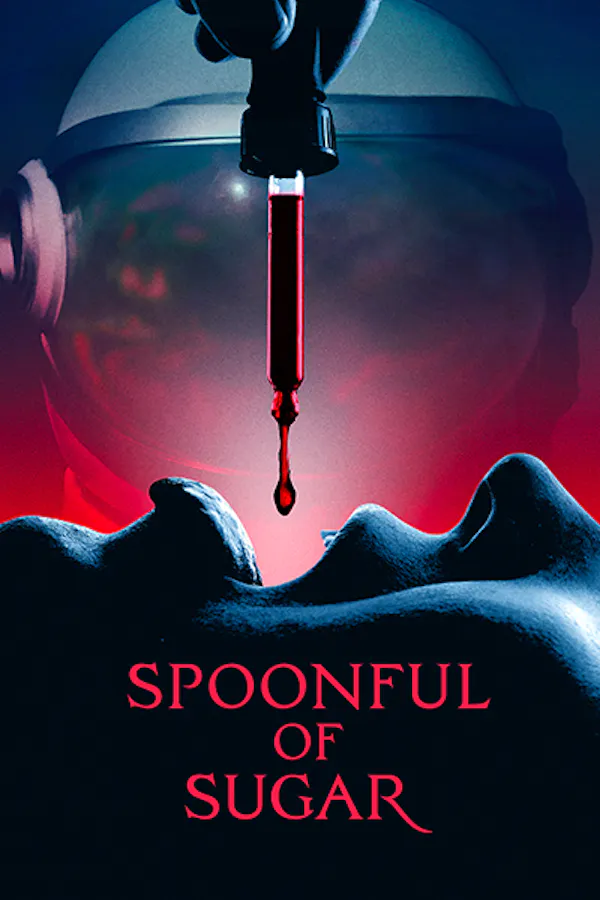 Starting off this list we begin with director Mercedes Bryce Morgan and writer Leah Saint Marie's latest film 'Spoonful of Sugar', now currently streaming.
Millicent (Morgan Saylor), a disturbed college student working on her thesis about children with severe allergies, is hired to babysit little Johnny (Danilo Crovetti), a sickly, mute child who suffers from every allergy under the sun. His mother Rebecca (Kate Foster) is an accomplished author currently focused on her newest book release, while his father Jacob (Myko Olivier) spends his days in the backyard working on frivolous carpentry projects. After experiencing a bizarre sexual awakening while using LSD as an alternative treatment for Johnny, she soon uncovers the family's dark secrets as things begin to become unhinged.
Leave – Premiering Friday 3/17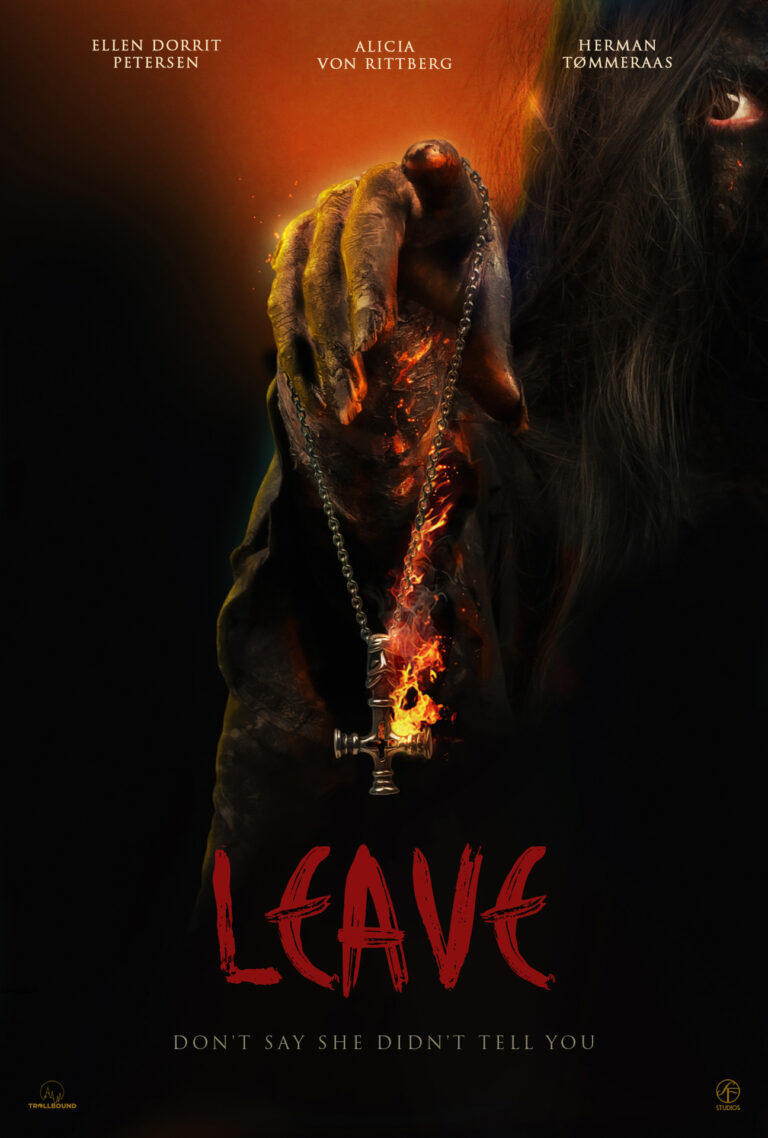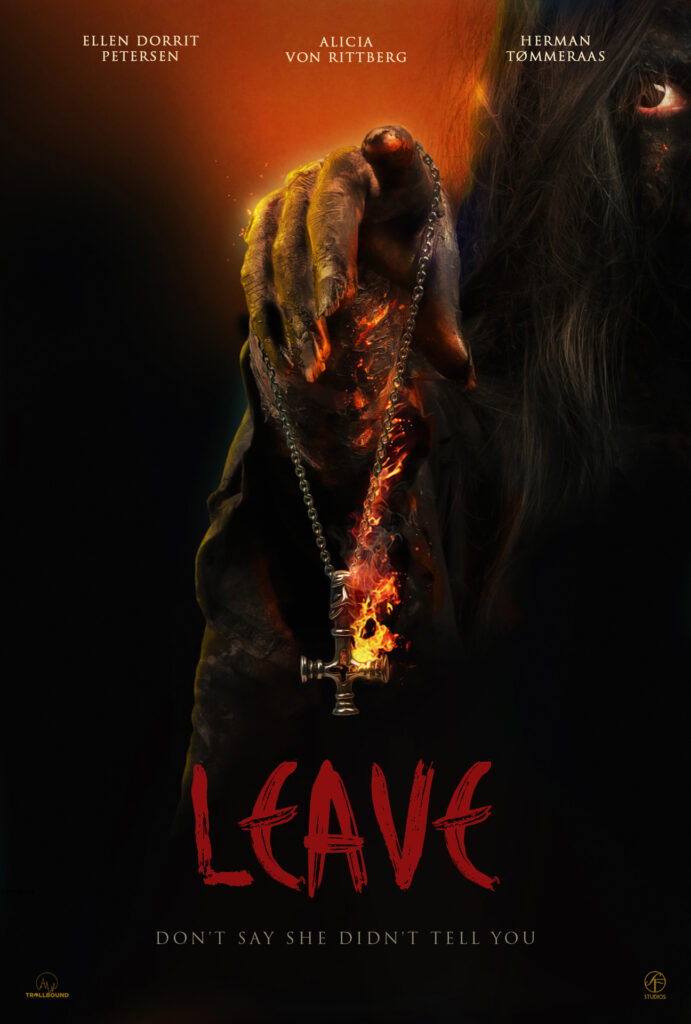 After having been abandoned as an infant at a cemetery wrapped in a cloth with satanic symbols, Hunter White (Alicia von Rittberg) grows obsessed with figuring out who her biological parents are and why they seemingly abandoned her. However, as she gets closer to the answers she so desperately seeks, a malevolent spirit is warning her to leave.
'Leave' premiers exclusively on Shudder Friday 03/17 and is directed by Alex Herron and written by Thomas Moldestad, starring Alicia von Rittberg, Herman Tømmeraas, Ellen Dorrit Petersen, and Stig R. Amda
The Unheard – Premiering Friday 03/31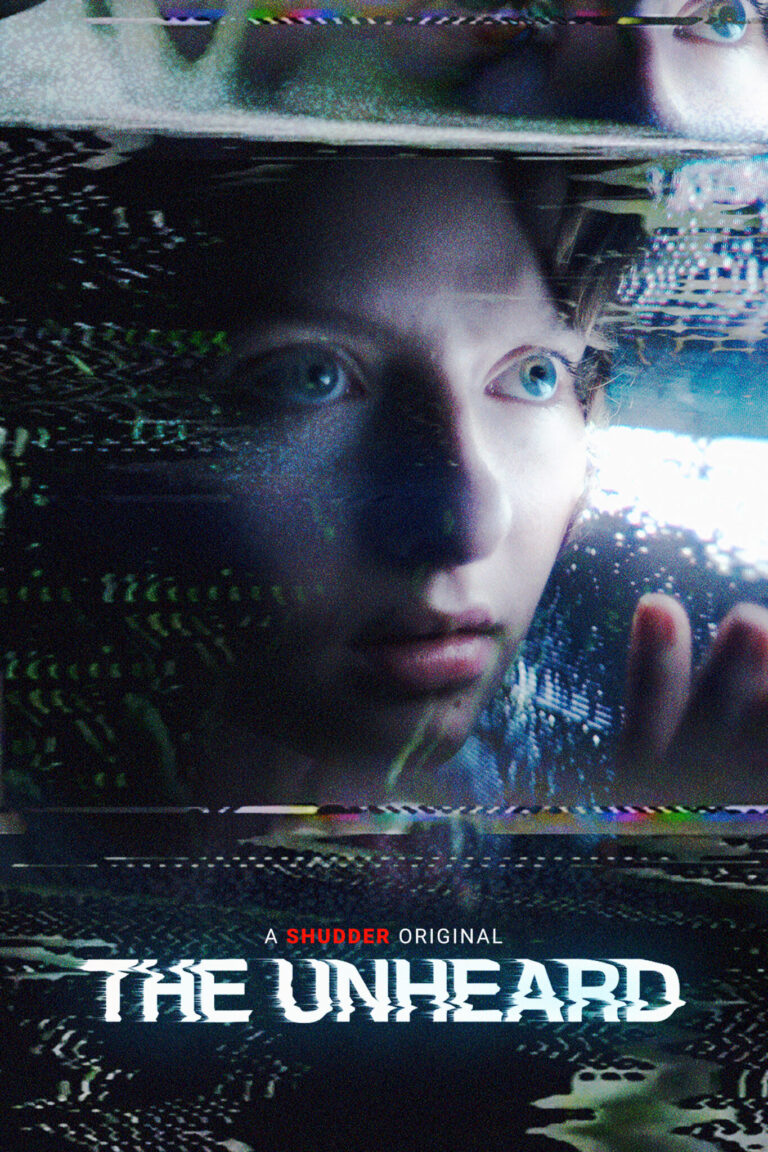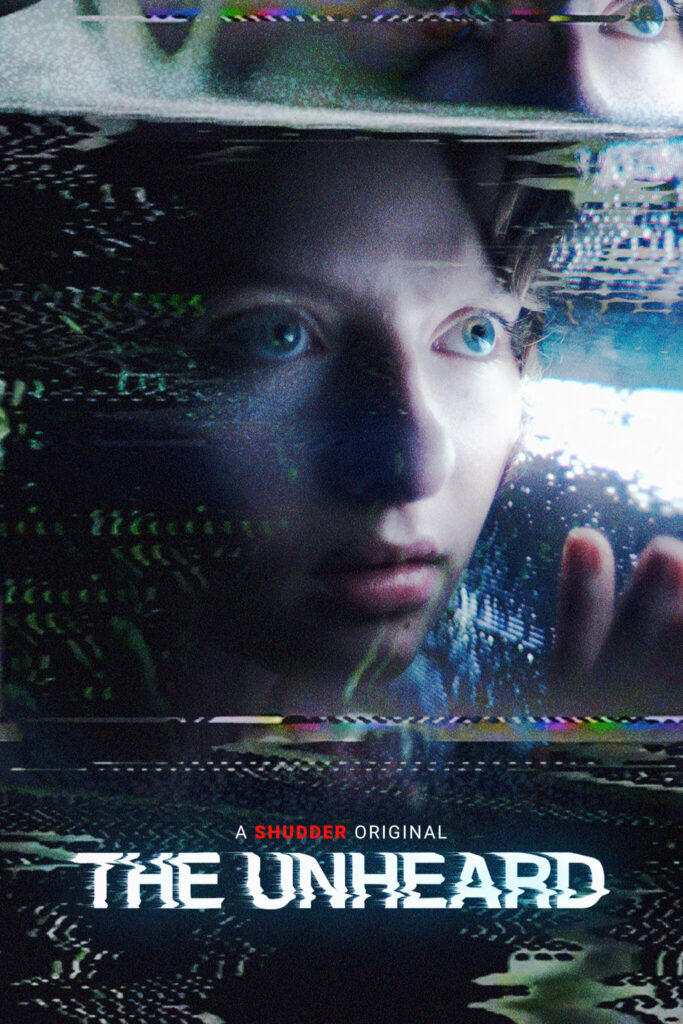 'The Unheard' follows the story of deaf 20-year-old Chloe Grayden (Lachlan Watson) after she undergoes an experimental treatment to restore her hearing. While recovering at her family's beach home after the successful procedure, Chloe begins to fear she is not alone as she begins to experience auditory hallucinations related to the mysterious disappearance of her mother.
'The Unheard' is directed by Shudder alumni Jeffrey A. Brown (The Beach House) and written by brothers/screenwriting partners Shawn Rasmussen and Michael Rasmussen (Crawl), co-starring Michele Hicks and Nick Sandow. 'The Unheard' premiers exclusively on Shudder Friday 03/31.
Returning Classic and Fan Favorites
Now that we've removed the veil for the new exclusive titles dropping this month, I think it's time we reveal the returning classics jump starting our transition into spring for 2023. Allow me to highlight some of my favorite films returning to Shudder for March including 'Gretel and Hansel' and 'The Company of Wolves'; grim re-telling's of popular children's fairy tales. We also cannot forget John Carpenter's haunted coastal horror 'The Fog'; no, not the remake…thankfully.
Gretel and Hansel – Now Streaming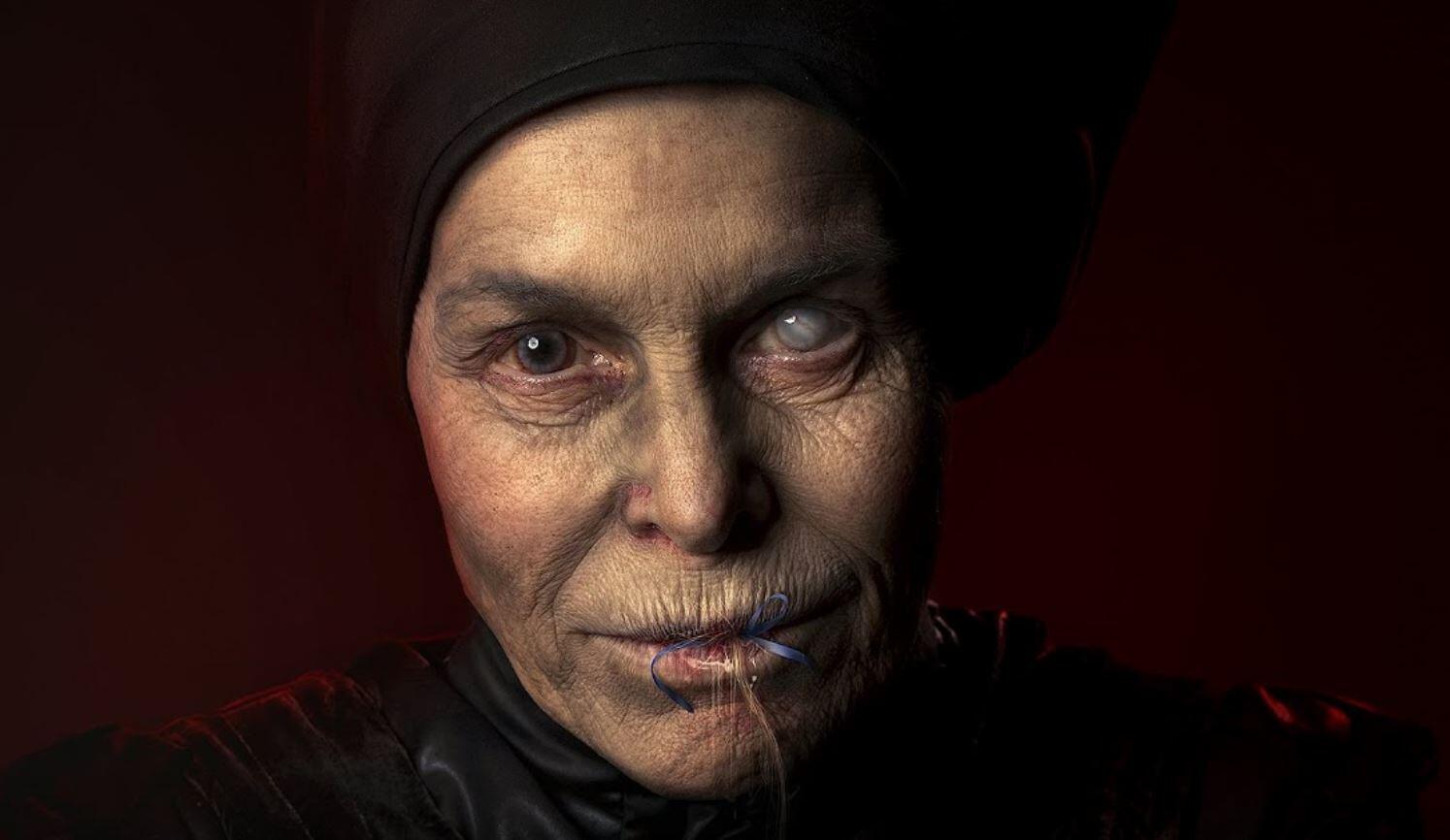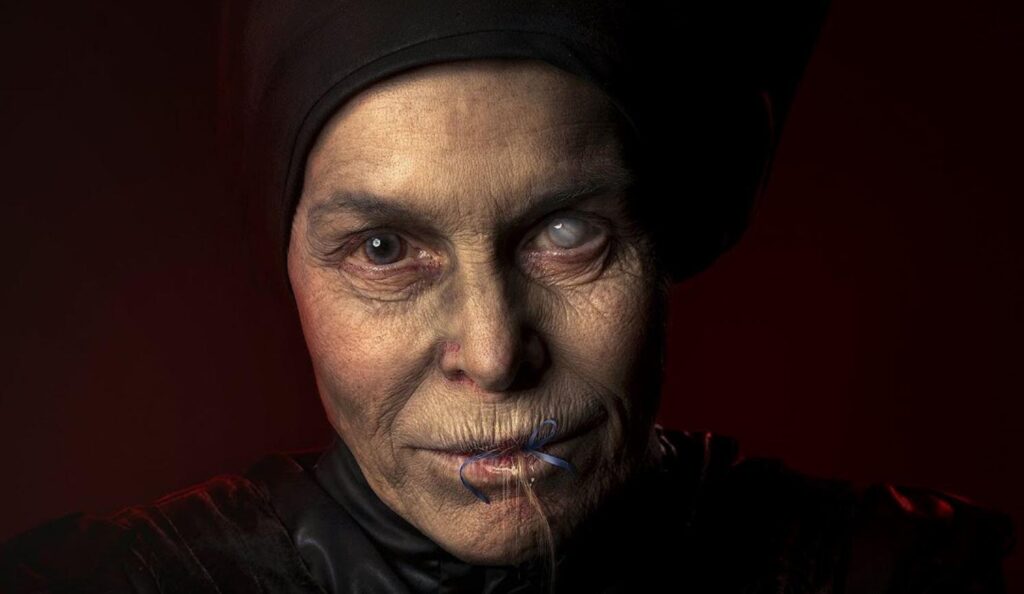 Directed by Osgood Perkins, 'Gretel and Hansel' is a terrifyingly dark and unique vision to one of history's most famous childhood fairy tales. After being thrown out of their mother's home, Gretel (Sophia Lillis) leads her younger brother, Hansel (Samuel Leakey), through the woods in search of food and work. The children soon discover a quaint cottage where a fragile old woman Holda (Alice Krige) offers fresh food and bed. The children accept all Holda has to offer, with little thought as to what may be asked of them in return.
Though it has been met with mixed reviews, 'Gretel and Hansel' offers astounding performances by veteran actress Alice Krige as the films iconic Witch of the woods and Sophia Lillis as lead Gretel. Director Osgood Perkins does well to draw his viewer in with a beautifully haunting score and unnerving cinematography, making this one grim re-telling worth checking out at least once. 'Gretel and Hansel' is available to stream now.
The Company of Wolves – Now Streaming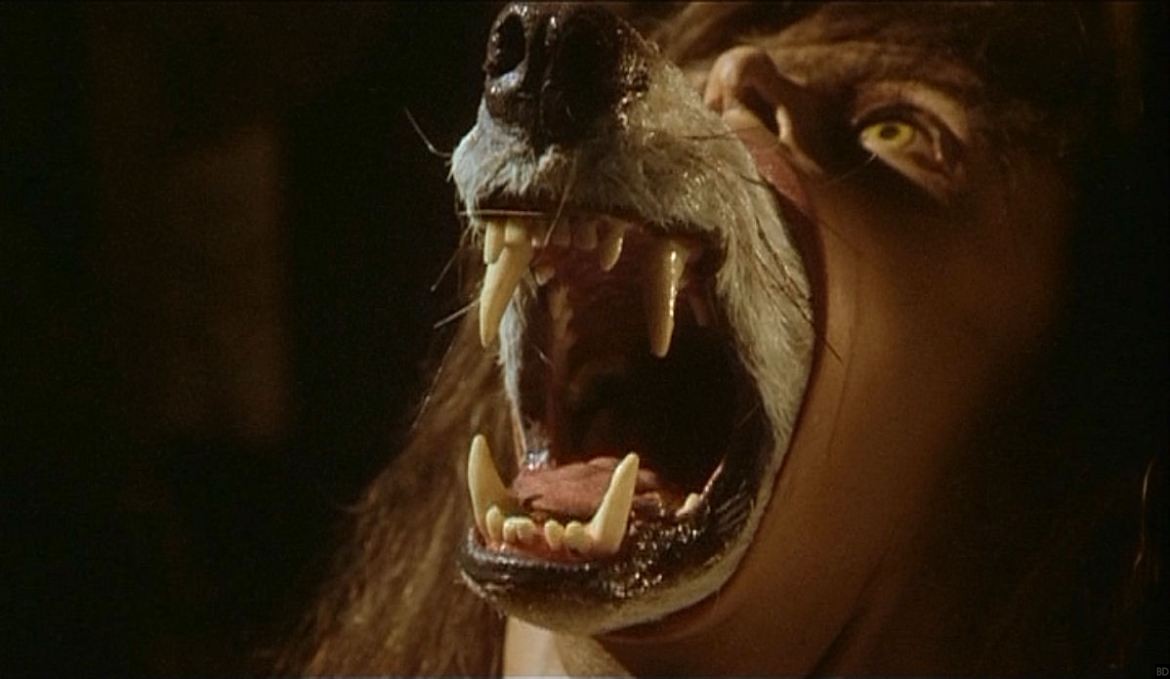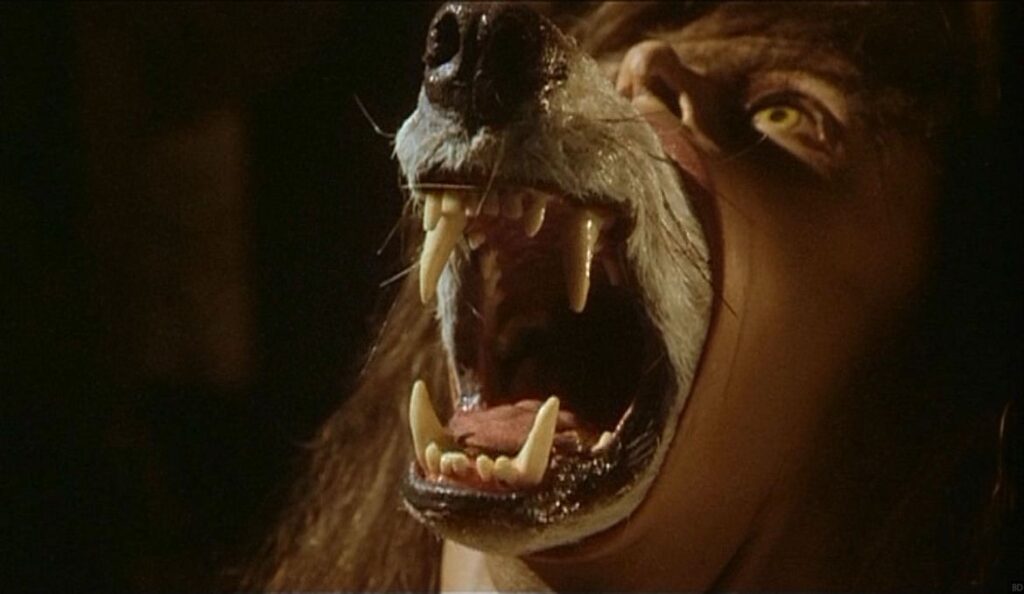 Continuing our list of returning classics, we have yet another bold re-telling of a beloved children's fairy tale, 1984's 'The Company of Wolves'. While the story of 'Little Red Riding Hood' has been retold through various forms of media, including numerous films, 'The Company of Wolves' is a beloved horror interpretation with adult themes and memorable practical effects including one of the genres best werewolf transformations.
A wise grandmother (Angela Lansbury) tells her granddaughter Rosaleen (Sarah Patterson) a disturbing tale of innocent maidens falling in love with handsome strangers … and of their sudden mysterious disappearances when the moon is full and accompanied by the strange sound of a beast in the woods.
'The Company of Wolves' is co-written and directed by Neil Jordan and stars Sarah Patterson, Angela Lansbury, Micha Bergese, and David Warner, streaming now.
John Carpenter's The Fog – Streaming 03/31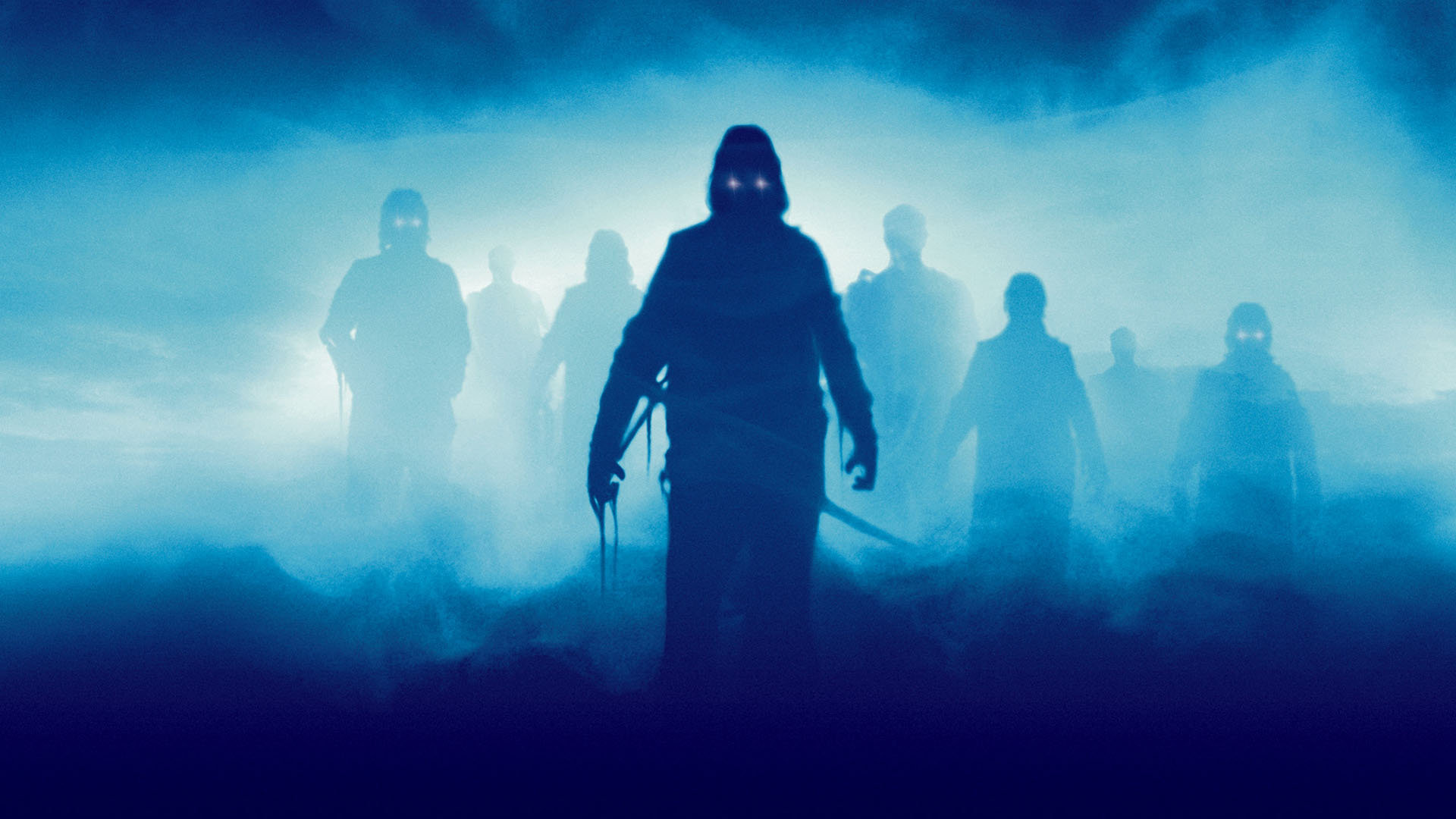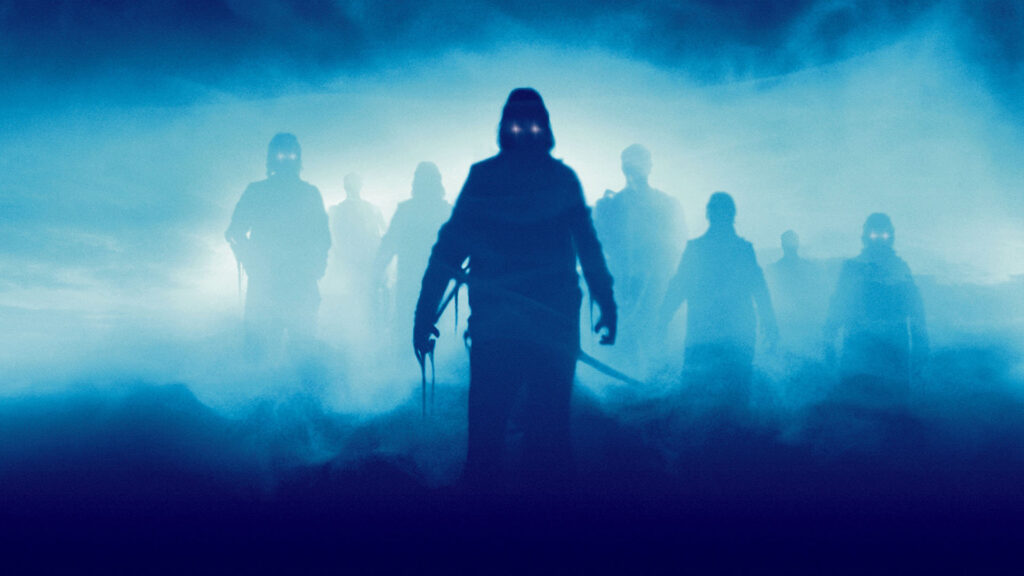 Writer, director, musician, and horror master John Carpenter is a legend in the genre having provided countless classics such as 'The Thing', a terrifyingly gruesome remake of 'The Thing from Another World'. Or his sci-fi action/horror 'They Live' where he deals with societal control through corporations and government. And of course, my personal favorite, the film that jumpstarted his career and created one of horror's most iconic slashers…'Halloween'.
1980's 'The Fog' is a terrifying shoreside tale of vengeful spirits haunting the fictional coastal town of Antonio Bay, OR. as they begin preparations to celebrate its centenary. Following exactly 100 years after a ship mysteriously sank in the town's waters, a thick unearthly fog harboring the souls of those who perished rolls in and with them, the dark secrets of Antonio Bay's past.
John Carpenter's 'The Fog' stars scream queen and recent Academy Award winner Jamie Lee Curtis, genre alums Adrienne Barbeau, Janet Leigh, Tom Atkins, Charles Cyphers, and Nancy Kyes, and was co-written by the late Debra Hill. 'The Fog' will be available to stream on Shudder 03/31.
Full Shudder March 2023 Film Releases
For a full comprehensive list of all the titles being added to Shudder for the month of January, please refer to the graphic below. Please be on the lookout for our review of 'The Last Drive-In: Joe Bob's Vicious Vegas Valentine' to drop later this week here on HauntedMTL and be sure to follow us on Twitter and Instagram for more Shudder news and spooky reviews!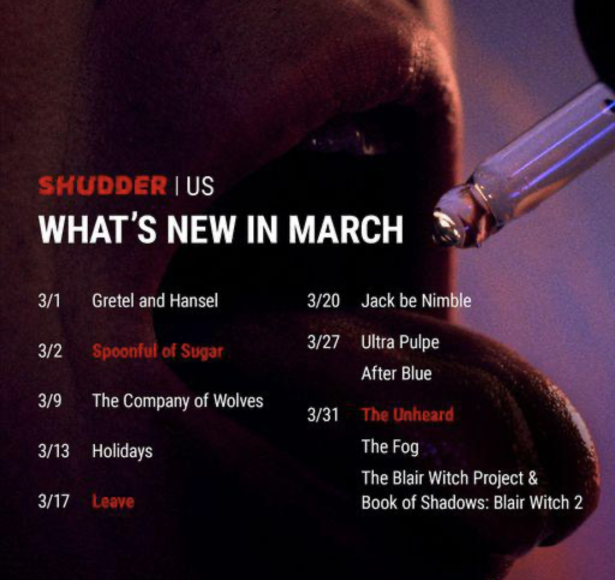 3/1:
Gretel and Hansel
3/2:
Spoonful of Sugar
3/9:
The Company of Wolves
3/13:
Holidays
3/17:
Leave
3/20:
Jack be Nimble
3/27:
Ultra Pulpe
After Blue
3/31:
The Unheard
The Fog
The Blair Witch Project & Book of Shadows: Blair Witch 2
The Last Drive-In: Joe Bob's Vicious Vegas Valentine Special Live Watch Party February 10th!
The sweet putrid stench of love lingers through the air which can only mean one thing…Valentine's Day and its annoying little winged cherub mascot, Cupid, is fast approaching. Soon, partners will be spoiling one another with extravagant bouquets of roses, heartfelt Hallmark cards, obnoxiously large teddy bears, glistening diamond jewelry, and heart-shaped candies or boxes filled with assorted mediocre chocolates. You know? Normal things couples do. I tend to prefer my chocolate boxes filled with bleeding hearts, à la 'My Bloody Valentine' but, beggars can't be choosers, right? All jokes aside, Valentine's Day is special for many couples, however, there are also many others who find themselves celebrating this day without a significant other. Luckily, Shudder, along with drive-in king Joe Bob Briggs and co-host Darcy the Mail Girl (Diana Prince) will graciously be keeping us lonely mutants', and yes, all you horror fanatic couples' company on Friday, February 10th as they return with The Last Drive-In: Joe Bob's Vicious Vegas Valentine, premiering live at 9pm EST.
Love Spells Abound…
Back in 2021, Joe Bob and Darcy invited us to a gruesomely passionate night of spell-binding love witches and animatronic dinosaurs infused with teenage human brains during The Last Drive-In: Joe Bob Put a Spell on You. Many, including myself, were introduced to the tantalizing 70's inspired retro throwback 'The Love Witch' and the graphically goofy cult classic 'Tammy and the T-Rex', providing the perfect viewing pleasure to mend any broken heart. While the two films for this year's morbid love-induced special have yet to be announced, as a special treat, Briggs has announced for the first time on The Last Drive-In, he will be marrying one lucky couple during the live showing. We here at HauntedMTL are eagerly awaiting the return of the ghoulish duo so, as is tradition, we will be proudly hosting a watch party on Twitter during the broadcasting of The Last Drive-In: Joe Bob's Vicious Vegas Valentine. Be sure to follow us on Twitter and tag us @hauntedMTL as well as @shudder, @therealjoebob, and @kinky_horror to partake in this night of unholy love.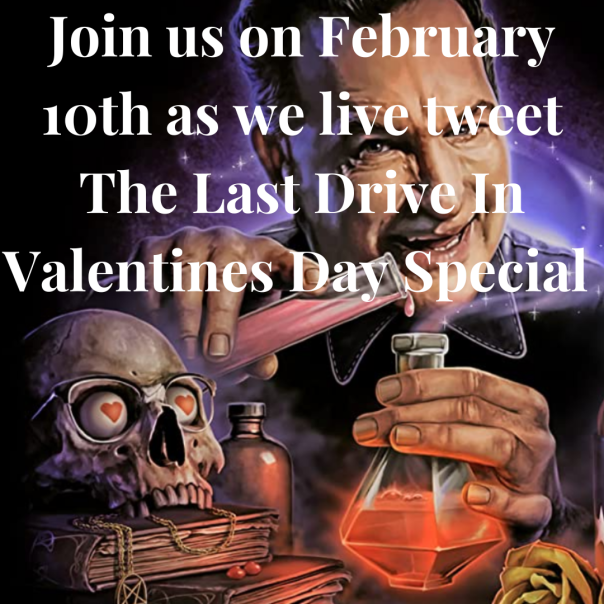 What started off as a one-time special premiering on Shudder July 13, 2018, 'The Last Drive- In' was originally meant to be Brigg's swan song; one last special before hanging up the bolo tie in retirement. However, due to so many mutants, excuse me…viewers tuning in and breaking the Shudder servers, it was only natural to announce an official full season of 'The Last Drive-In', which would make its explosive debut March 19, 2019. Since then, Darcy and Briggs have spawned many exclusive holiday specials, have graciously donated to many charities within the community, and have accumulated 4 seasons of 'The Last Drive-In', with a fifth currently in production premiering on Shudder's 2023 schedule sometime this year, let's hope sooner rather than later.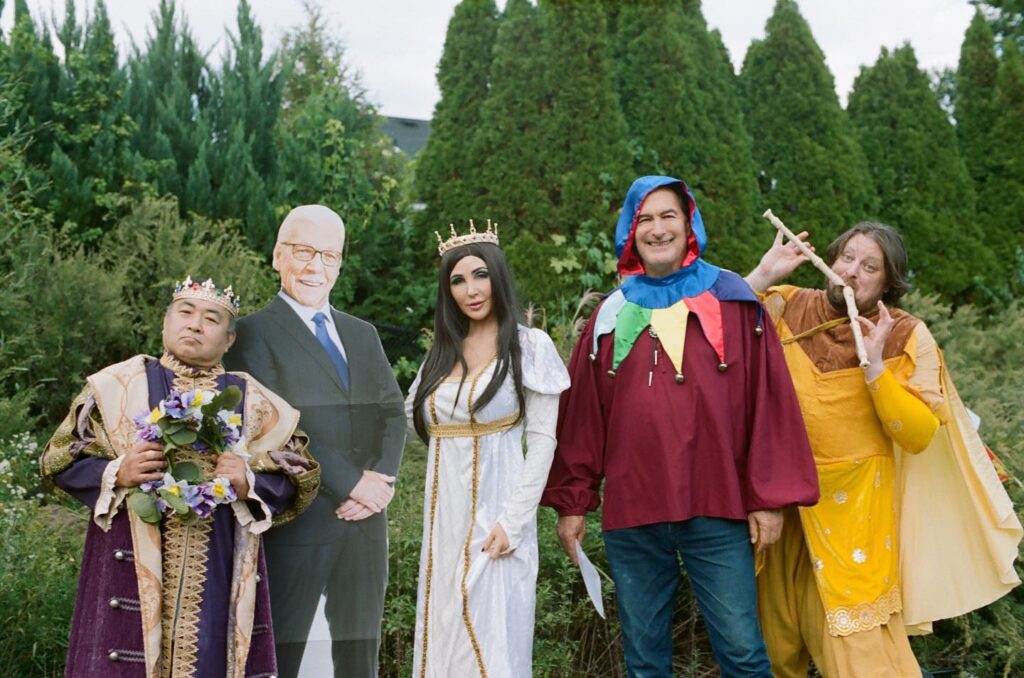 Coming to Shudder and AMC+ for January 2023
January 2023 Shudder and AMC+ release schedule.
2022 was an impressive year for the horror genre, as we received a slew of incredible films, many of which premiered exclusively on Shudder. However, news has recently been quiet regarding Shudders current slate of 2023 releases. This is in part due to the recent cutback in staff Shudder, as well as other AMC Network sites have recently received, including Shudder GM Craig Engler. Though the current January list is less significant than it has been in the past, we still have a few scary treats to look forward to.
Let's kick off the bloody new year and see what will be streaming exclusively on Shudder and AMC+ for January 2023.
AMC+ Exclusive Premiers
Before we jump into Shudder's upcoming list of exclusive streaming titles, let's first take a peek at AMC+ and 'Vesper', which made its world premiere in the Crystal Globe Competition at the 2022 Karlovy Vary International Film Festival. We'll also touch on the much-anticipated series 'Mayfair Witches', based on Anne Rice's best-selling trilogy, Lives of the Mayfair Witches. This will be the second series in the Anne Rice Immortal Universe, which is being overseen by Mark Johnson (Anne Rice's Interview with the Vampire, Breaking Bad, Better Call Saul). Johnson will also be acting as the series executive producer alongside Esta Spalding (Masters of Sex, On Becoming a God in Central Florida) and Michelle Ashford (Masters of Sex, The Pacific, John Adams), who will also act as writers for the series.
Vesper (Streaming Exclusively on AMC+ January 6th)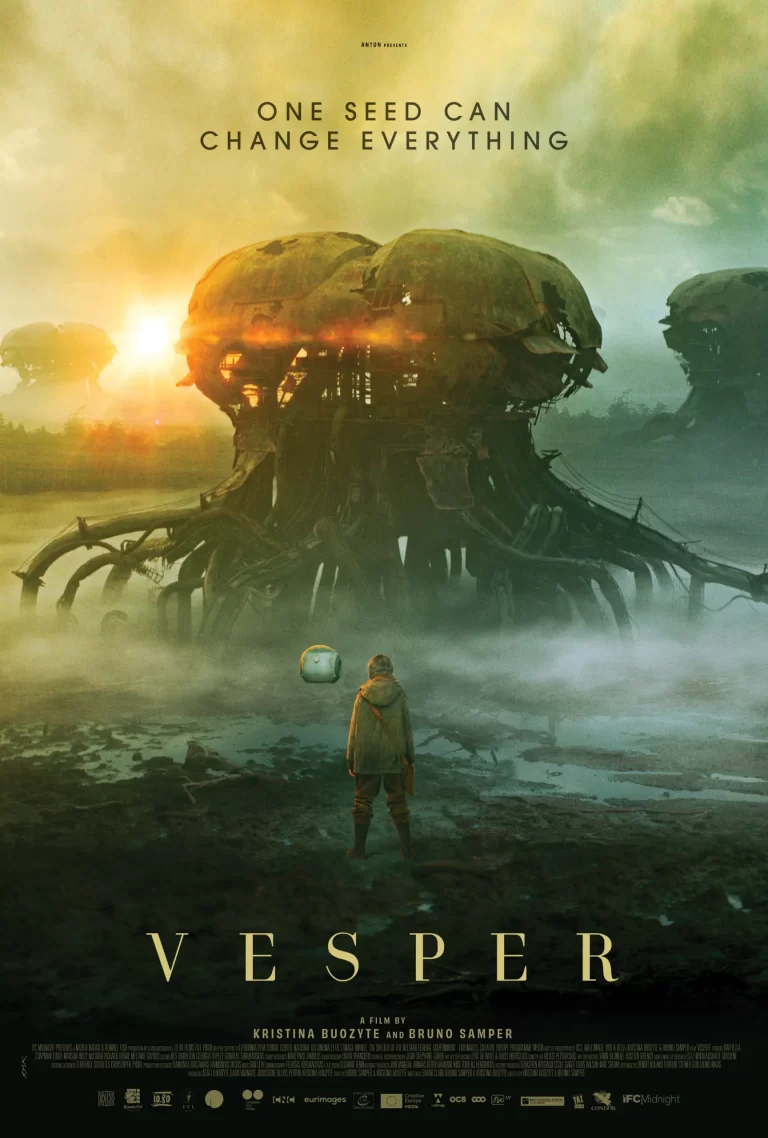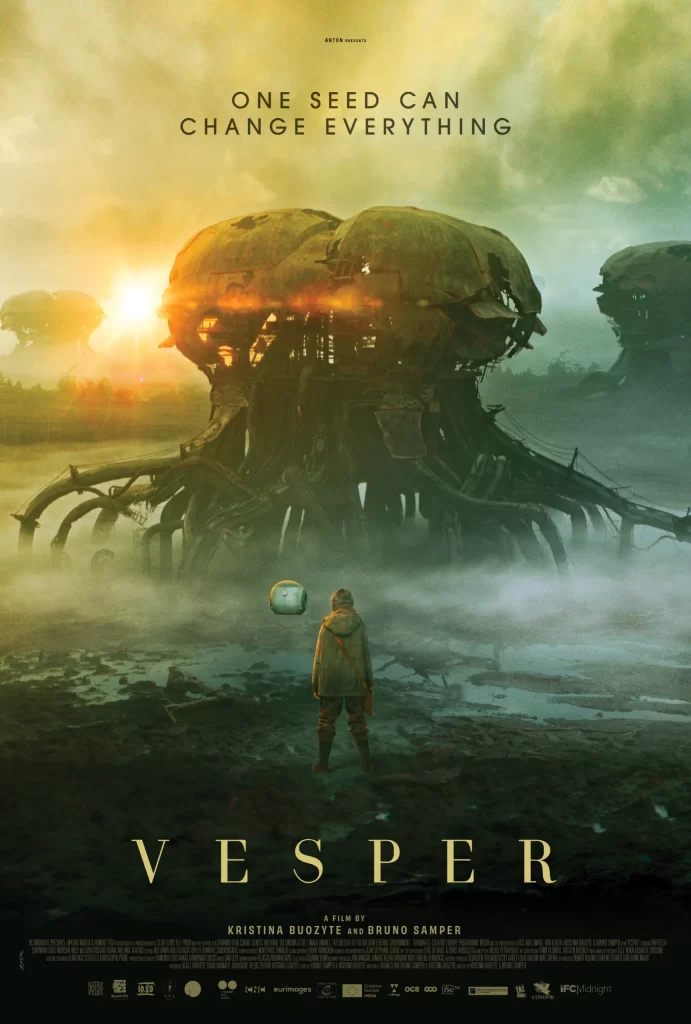 We kick off the new year with the sci-fi thriller 'Vesper', streaming exclusively on AMC+ January 6th.
Set in a bleak post-apocalyptic Earth following the collapse of our ecosystem, Vesper (Raffiella Chapman, The Theory of Everything), a rebellious 13-year-old girl who uses her survival skills to subsist in the remnants of a strange and dangerous world with her debilitating father, Darius (Richard Brake, 31 and Barbarian). After Stumbling upon a mysterious woman named Camellia (Rosy McEwen, The Alienist), solo and disoriented after an aerial crash, Vesper cautiously agrees to help find Camellia's missing companion in exchange for safe passage to the Citadel – a dark central hub where oligarchs live in comfort courtesy of state-of-the-art biotechnology. Vesper soon discovers that her violent neighbor, Jonas (Eddie Marsan, Sherlock Holmes), has been searching for Camellia, who harbors a secret which could change their future forever. Forced into a dangerous adventure, Vesper must rely on her wits and bio-hacking skills to unlock the key to saving their lives and our planet.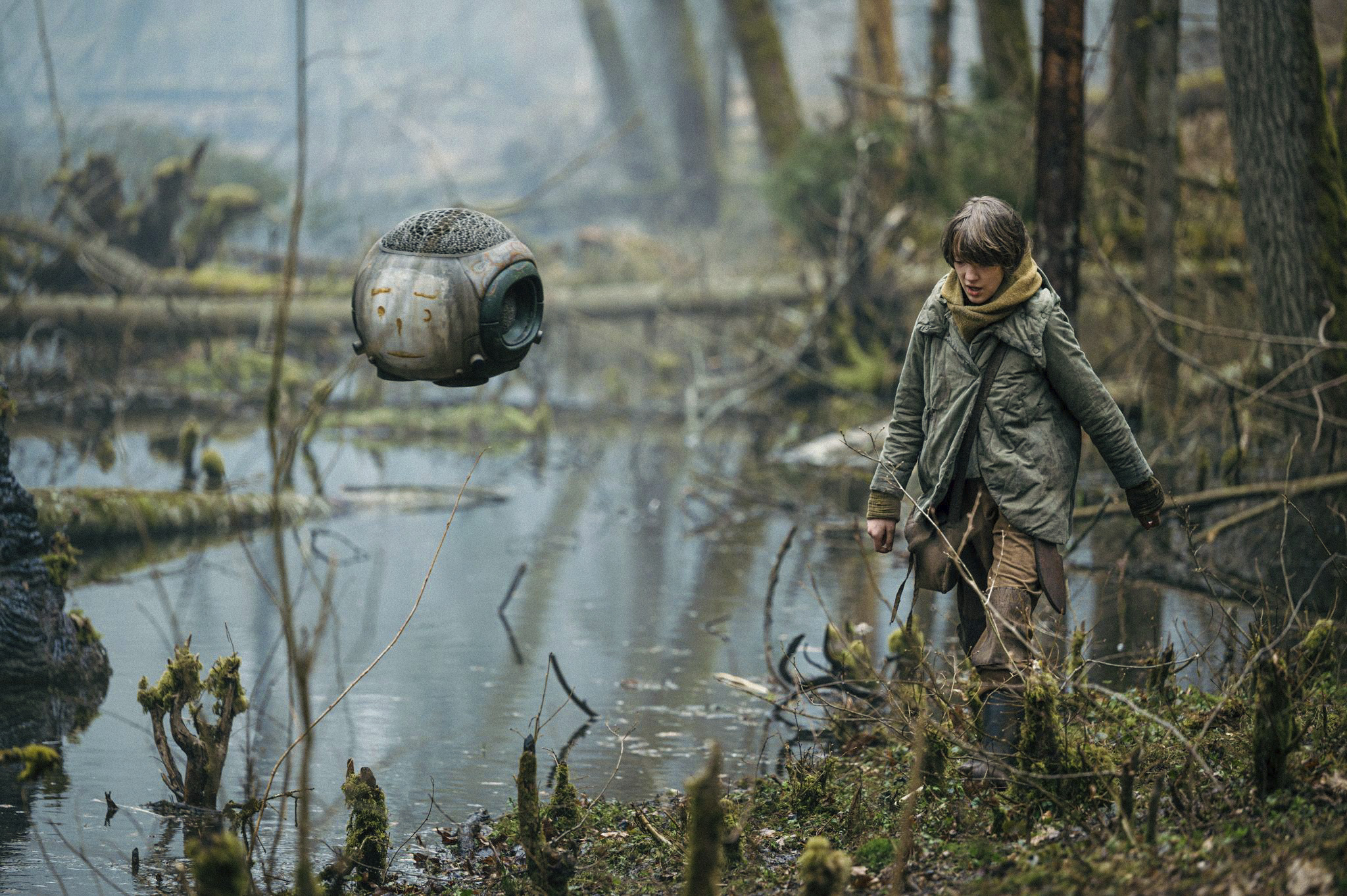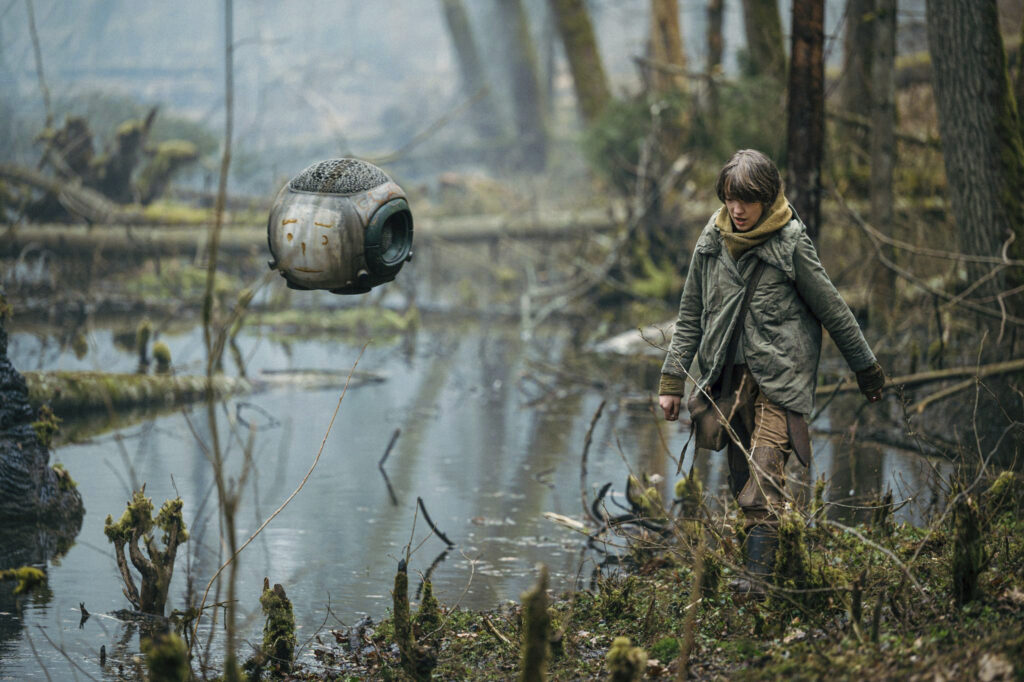 Anne Rice's Mayfair Witches (New Series Premier Exclusively on AMC+ Sunday, January 8th)
Starring Alexandra Daddario (Texas Chainsaw 3D and We Summon the Darkness) as main character Rowan, who discovers she is the unlikely heir to a family of ancient and powerful witches. As she grapples with her newfound powers, Rowan must clash with a sinister presence that has tormented her family for generations. Mayfair Witches also co-stars Harry Hamlin (1981's Clash of the Titans) as Cortland Mayfair, money and power obsessed patriarch to the Mayfair family. Jack Huston (Antebellum) as Lasher, a mysterious ghost who has haunted the Mayfair family of witches since the 1600's, Tongayi Chirisa (Antebellum) as Ciprien Grieve, head of the town of Maska and, Beth Grant (Donnie Darko and Child's Play 2) as Carlotta, a cruel and dangerous member of the Mayfair family of witches.
Mayfair Witches begins streaming exclusively on AMC+ Sunday, January 8th.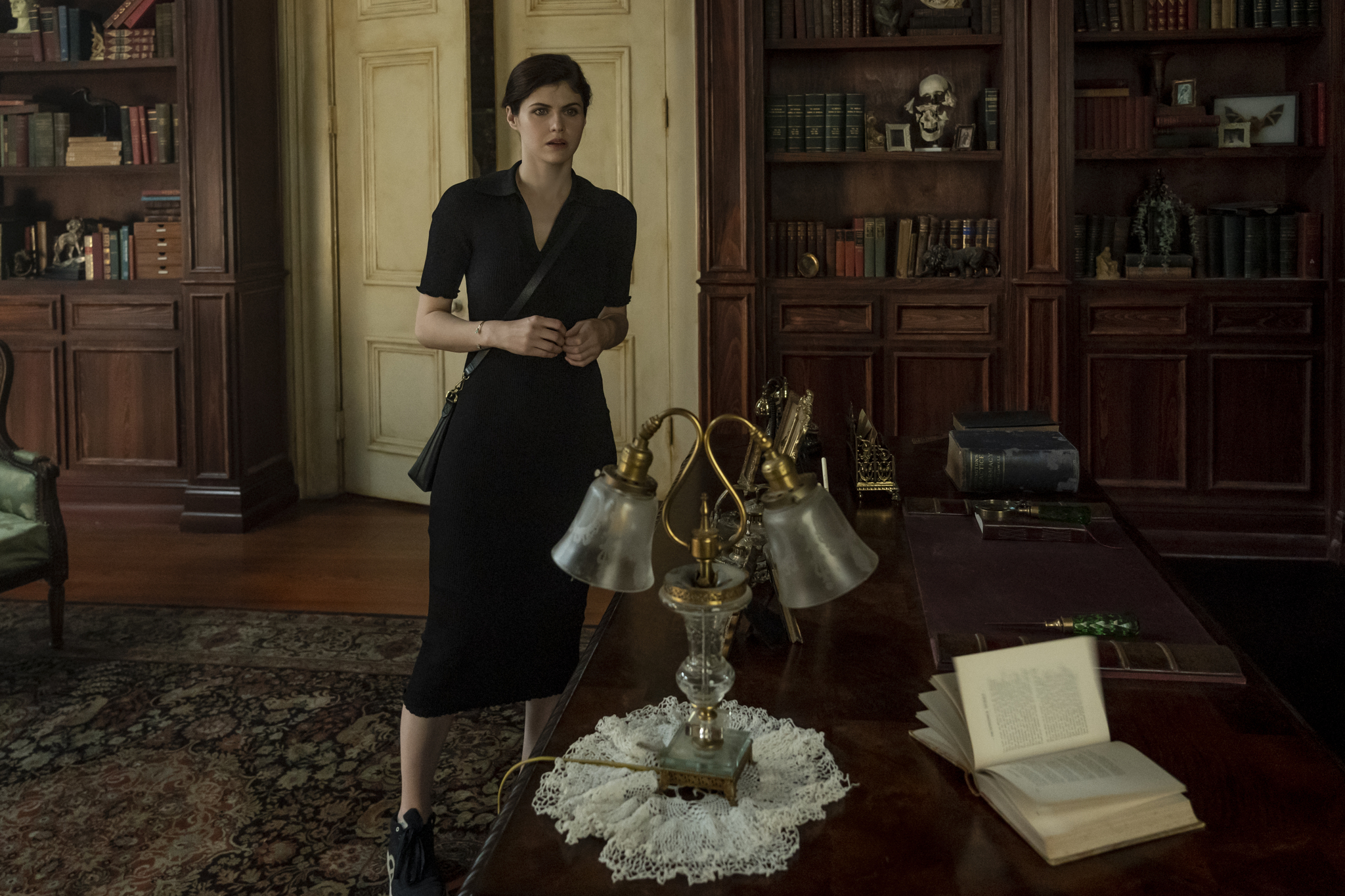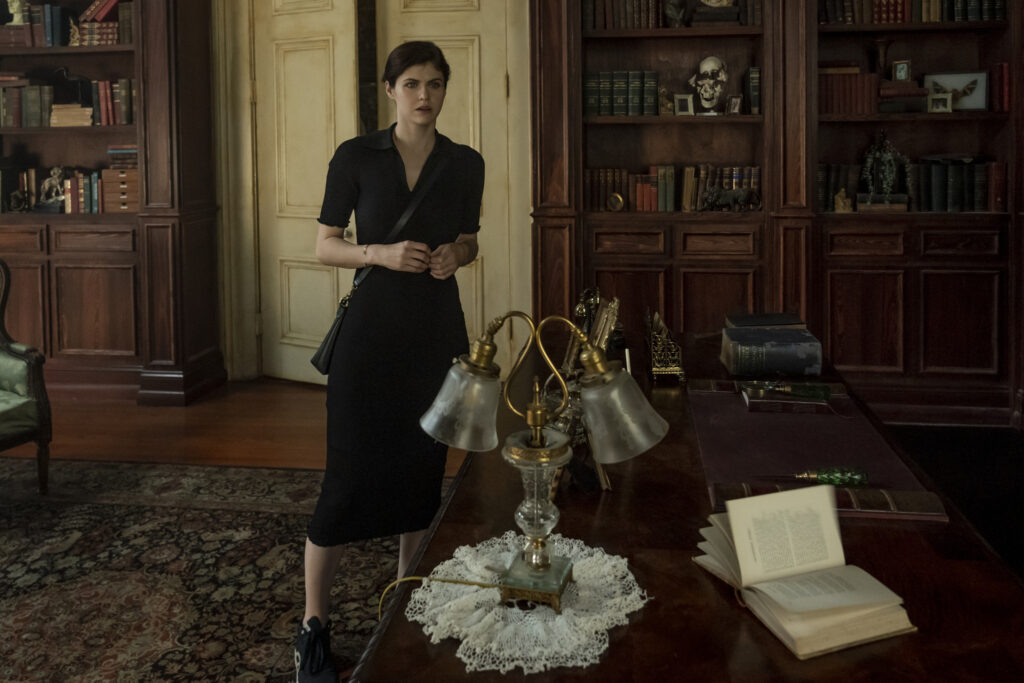 New Shudder film exclusives for January
Now that we've covered the exclusive horror and thriller premiers that will be premiering on AMC+ very soon, it's time to get into the content we've been waiting for; Shudders exclusive January 2023 premiers and returning content. While the list is thin, there are still some worthy films dropping this month that usher in the new year with optimism and hope Shudder will still reign supreme as the premier horror streaming service.
Sorry About the Demon (Premiers Exclusively on Shudder January 19th)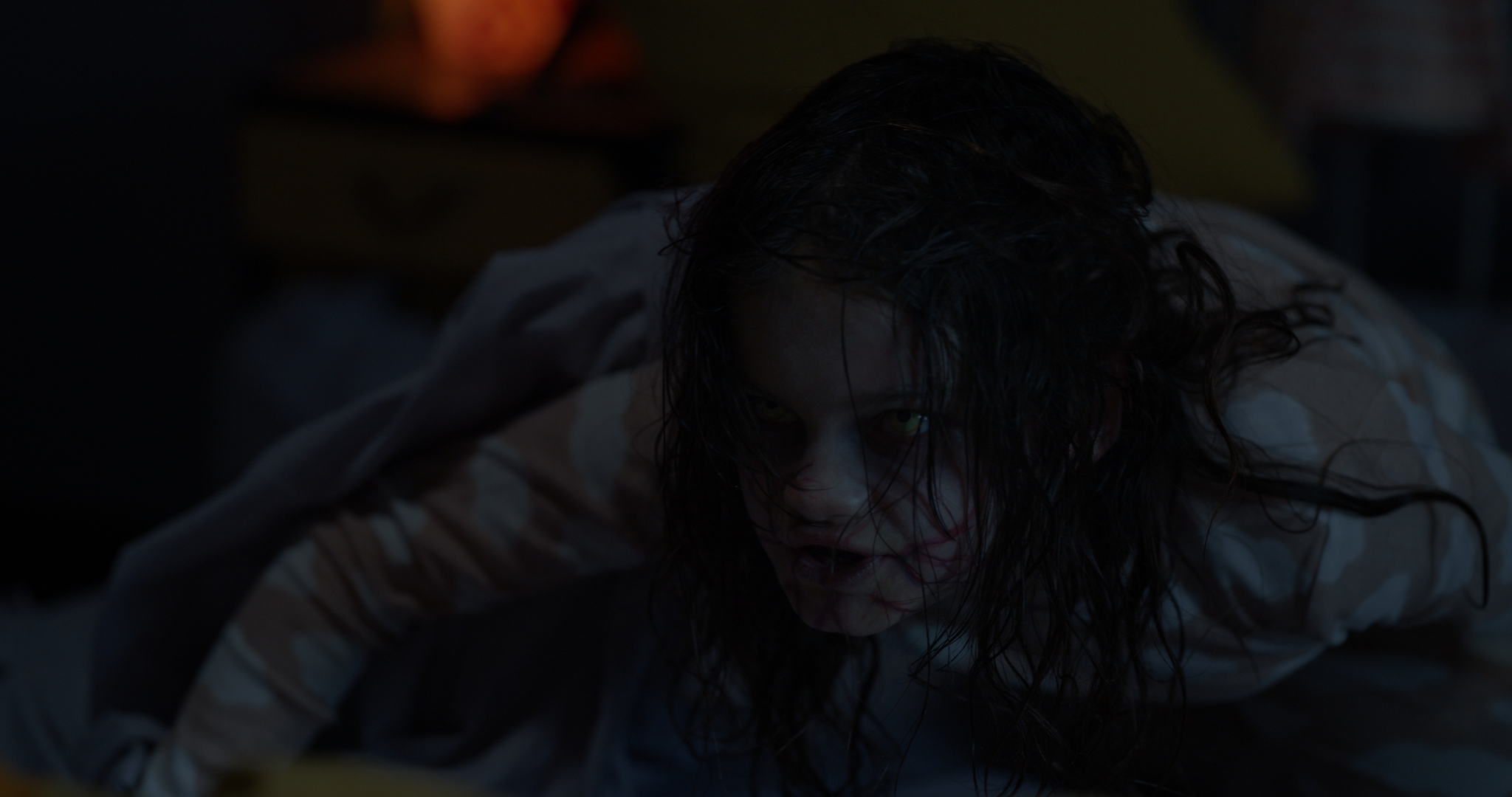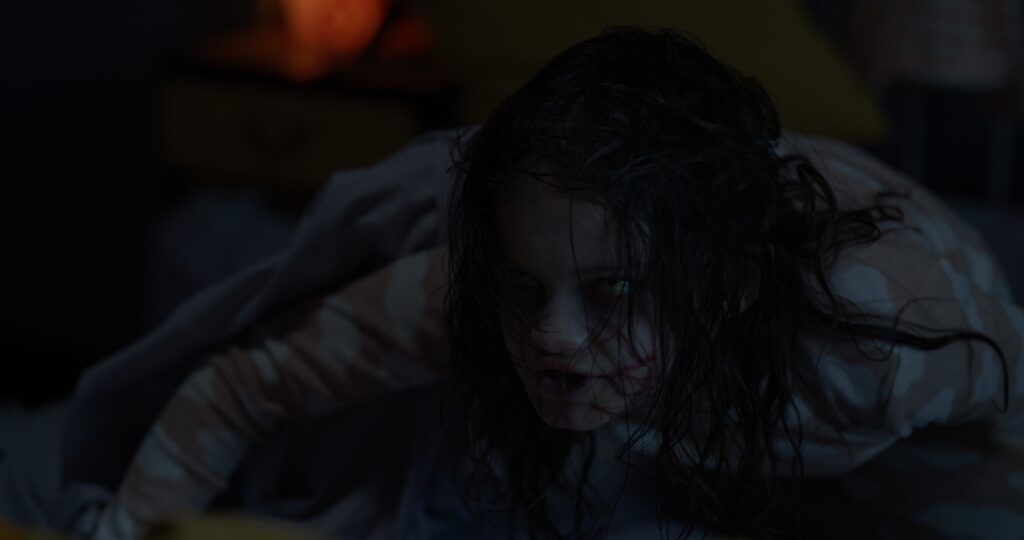 Written and directed by Emily Hagins (Scare Package segment 'Cold Open') 'Sorry About the Demon' is the story about a heartbroken young man named Will (played by Jon Michael Simpson) that is tricked into living in a home plagued by an evil presence. Taking residence with a family at wit's end, an unexpected, surprising twist on ghostly haunts and demonic possession follows the film's wildly entertaining and silly climax.
'Sorry About the Demon' also stars Jeff McQuity as Patrick, Olivia Ducayen as Aimee, and Paige Evans as Amy. Dave Peniuk and Sarah Cleveland costar as the film's parents of the fractured family as Ken and Tammy Sellers, with Presley Allard and Jude Zappala playing their children Grace and Jake.
The Lair (Premiers Exclusively on Shudder January 26th)
Neil Marshall (writer/director of The Descent parts 1&2) makes his triumphant return to the genre with his latest creature-feature and eagerly anticipated film 'The Lair', co-written by Charlotte Kirk (The Reckoning). As Royal Air Force pilot Lt. Kate Sinclair (Charlotte Kirk) is shot down over Afghanistan and finds refuge in an abandoned underground bunker, where unbeknownst to her, deadly man-made biological weapons have been developed. Soon after Lt. Sinclaire encounters a group of soldiers, the half human, half alien monstrosities are awakened, prompting the films characters to ban together in order to escape the deadly bunker alive.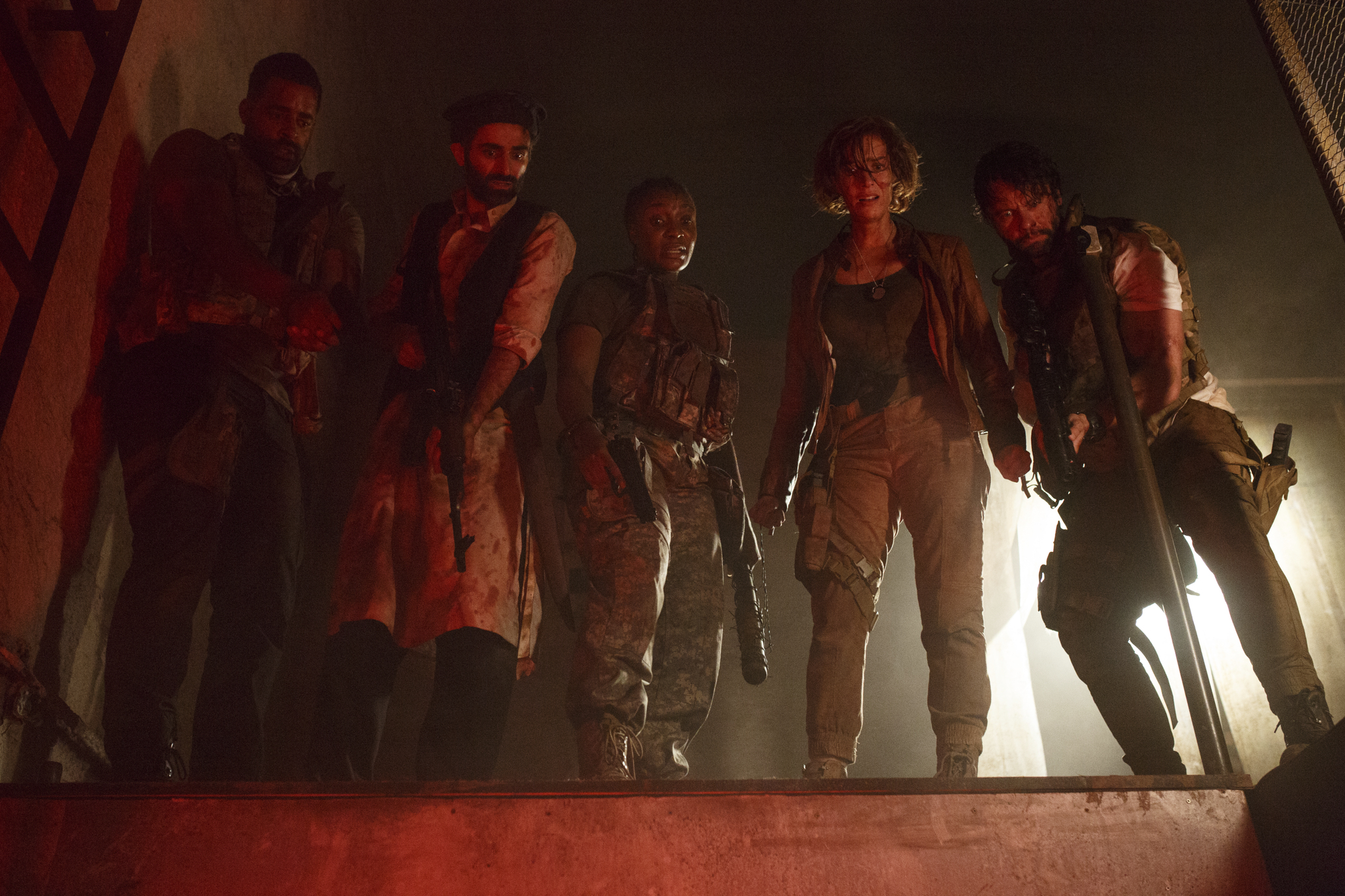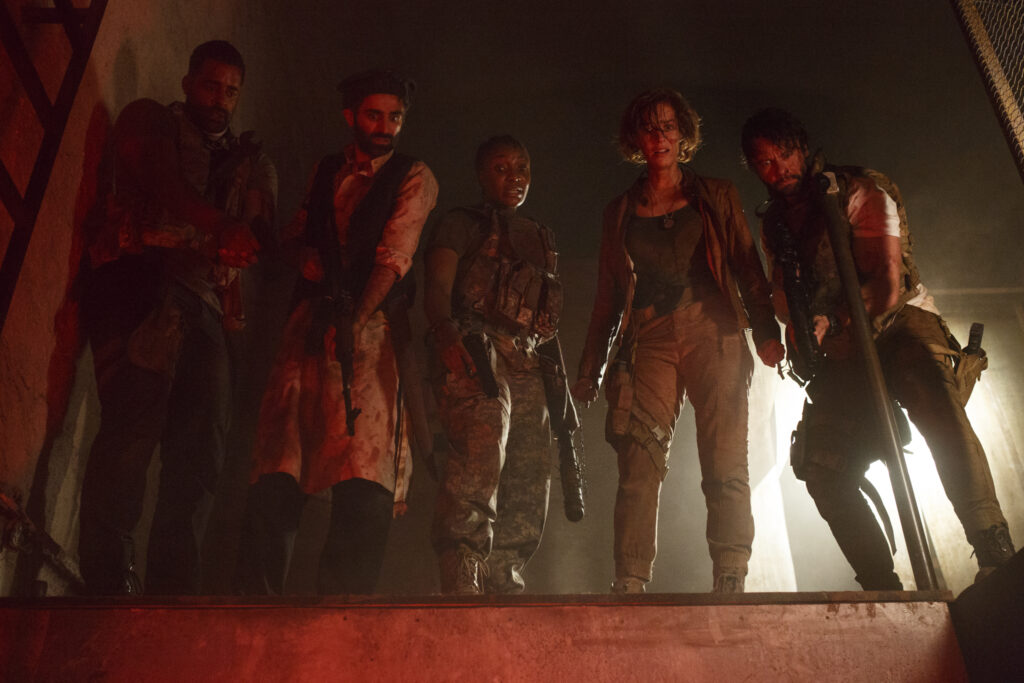 'The Lair' promises to deliver Marshall's signature claustrophobic, high-octane energy filled with plenty gory and masterfully crafted practical effects, including the films' creatures. Be sure to catch 'The Lair' premiering exclusively on Shudder Thursday, January 26th.
Fan favorites returning to Shudder in January
We continue our look at Shudder's January release schedule with a couple fan favorites returning for the month including the critically acclaimed first season of 'Chucky', by franchise creator Don Mancini and Andrzej Żuławski's controversial 1981 demonic horror film 'Possession'.
Possession (Premiers on Shudder January 5th)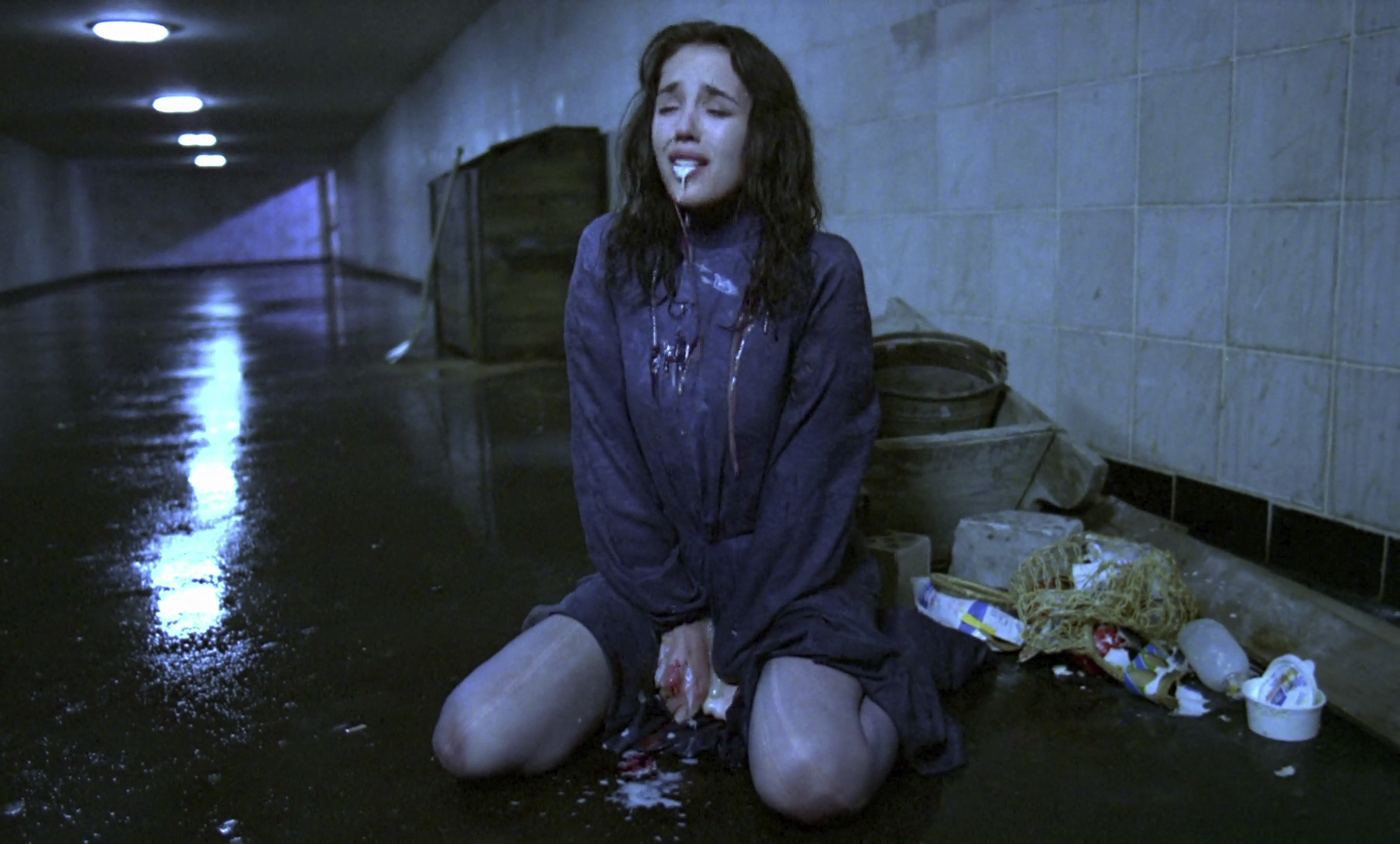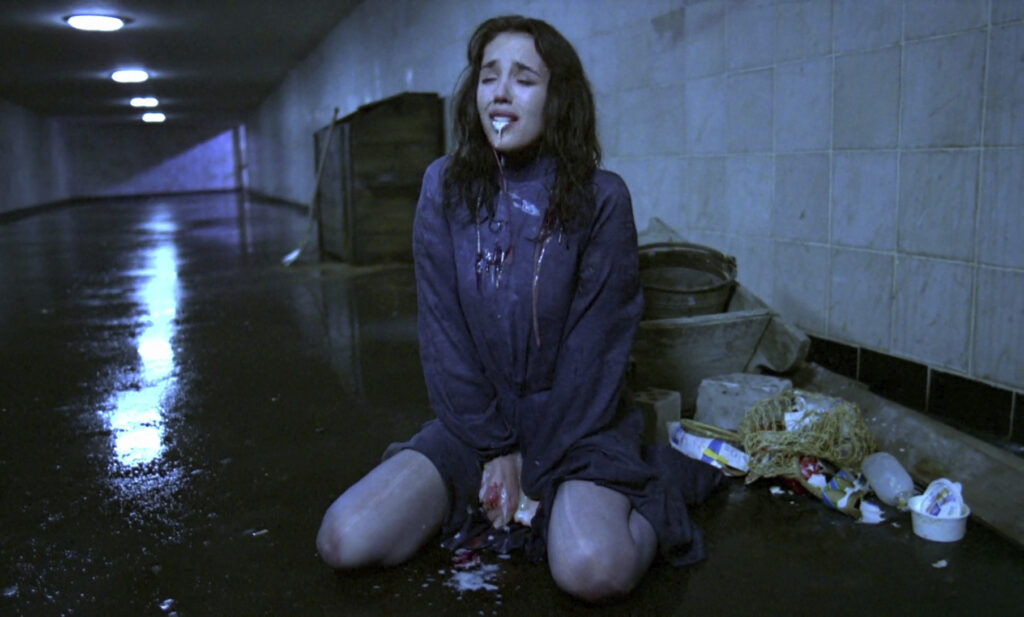 Back in 1981 when Andrzej Żuławski's film 'Possession' was originally released, it was met with critical backlash and banned in the UK being coined as a "video nasty". Throughout the years, Zulawski's disturbing masterpiece 'Possession' has since garnered massive praise amongst genre fans and is considered a nightmarish experience of demonic possession and crippling marriages.
'Possession' centers on professional spy Mark (Played by Sam Neil; 'Jurassic Park', 'Event Horizon') returns to his West Berlin home to find his wife Anna (Isabelle Adjani; 'Nosferatu the Vampyre') insistent on getting a divorce. As Anna's frenzied behavior becomes ever more alarming, Mark discovers a truth far more sinister than his wildest suspicions. With its pulsating score, visceral imagery, and some of the most haunting performances ever captured on screen; including Anna's possession serving as one the film's most memorable scenes, 'Possession' is cinematic delirium at its most intoxicating and one I highly recommend adding to your list on January 5th.
Chucky (Complete first season returns to Shudder January 12th)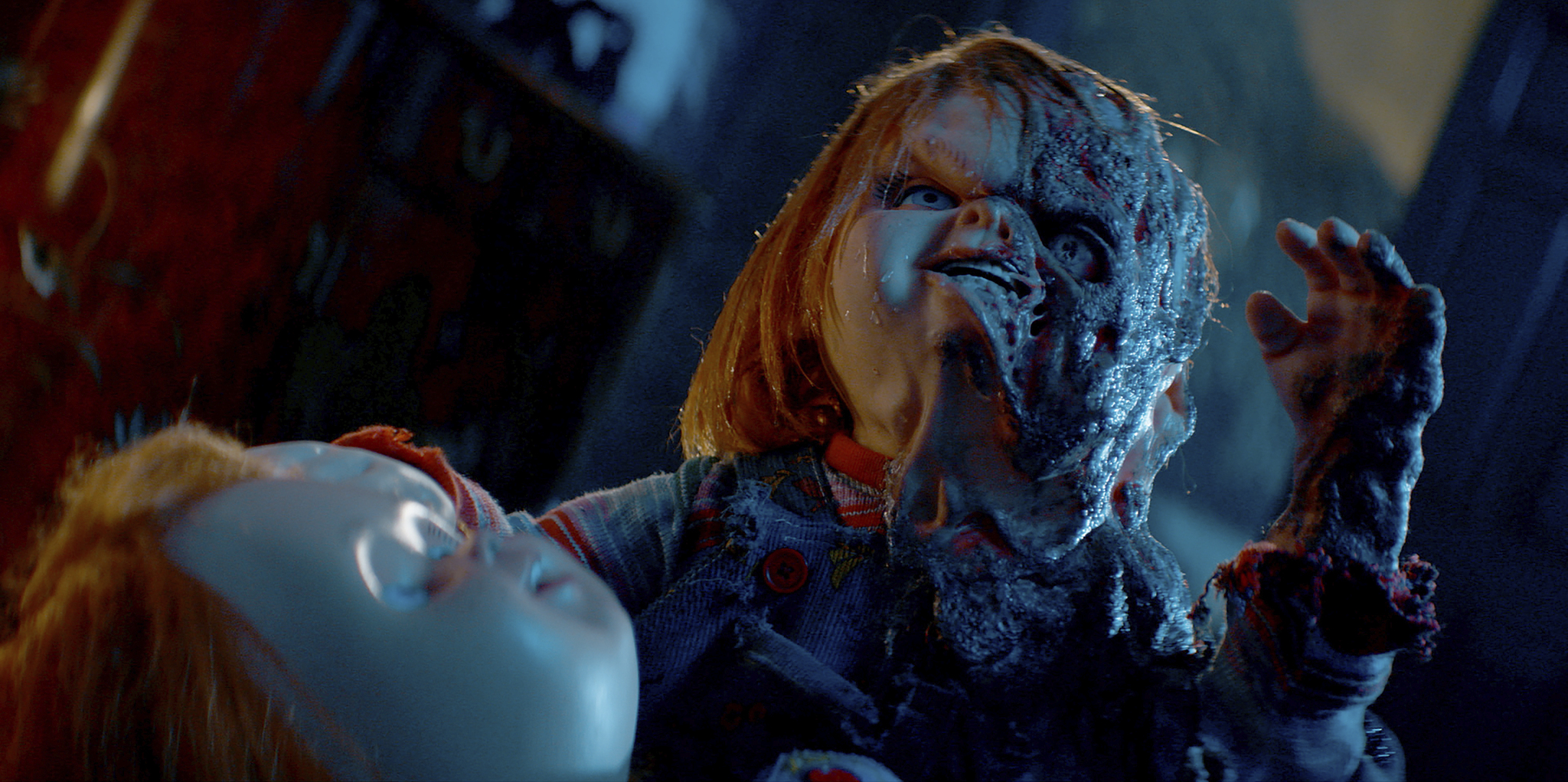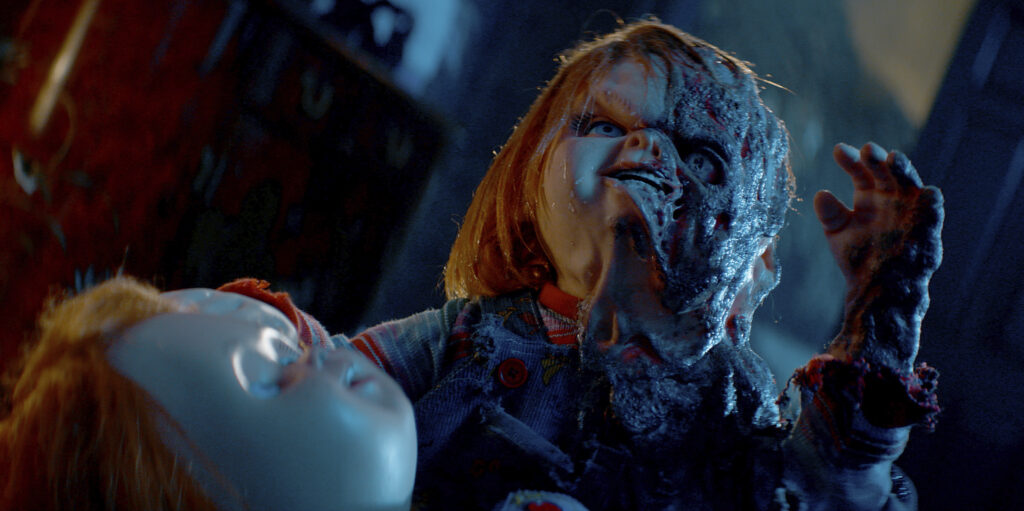 As a fan of the 'Child's Play' franchise for many years, when it was announced the iconic killer doll would be getting his own television series courtesy of SyFy and USA Network, I'll admit, I was skeptical. My main worry being a watered-down PG-13 version of a character synonymous with crude language, catchy one-liners, and a kill count that rivals the biggest of slasher icons. Thankfully I was wrong, as the first season of 'Chucky' proved to be a massive hit amongst fans and critics alike, enough so to greenlight a second season. Shudder brings back the hit first season of 'Chucky' for our binge worthy delights before season 2 drops for VOD and physical purchase.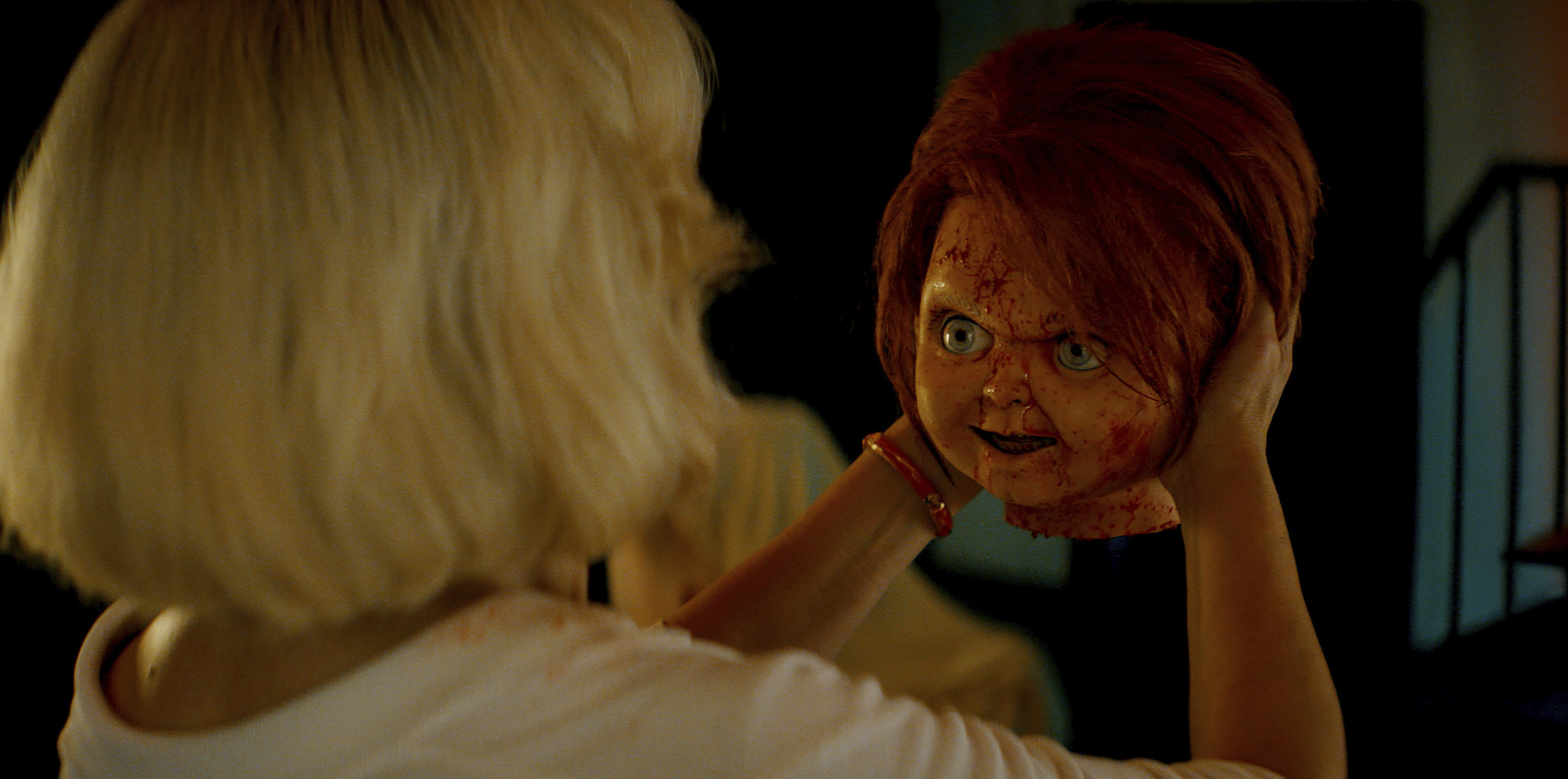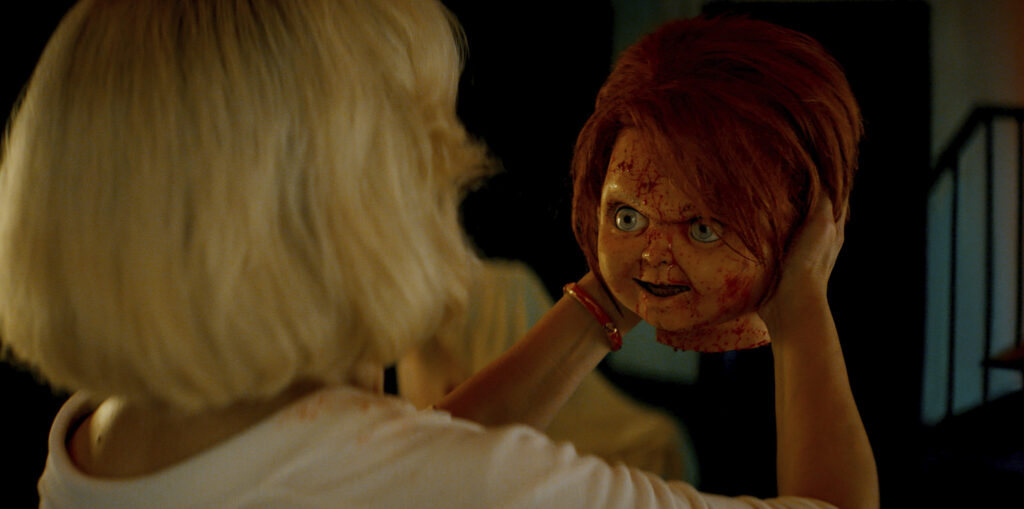 After a vintage Good-Guy doll turns up at a suburban yard sale, young Jake Wheeler (Zackary Arthur) purchases the doll at a steal and takes him home to use for parts on personal art project. Unbeknownst to Jake, this seemingly lifeless doll harbors the soul of serial killer Charles Lee Ray aka Chucky (reprised by Brad Dourif; The Exorcist III and Rob Zombie's Halloween). As the show progress, we see an idyllic American town thrown into chaos as a series of horrifying murders begin to expose the town's hypocrisies and secrets. Meanwhile, the arrival of enemies and allies from Chucky's past threatens to expose the truth behind the killings, as well as the demon doll's untold origins as a seemingly ordinary child who somehow became this notorious monster. It is up to Jake and his friends Devon (Bjorgvin Arnarson) and Lexy (Alyvia Alyn Lind) to put a stop to Chucky once and for all and end his reign of terror. 'Chucky' also stars returning franchise alums Jennifer Tilly (Bride of Chucky, Bound) as the killer dolls equally maniacal love interest Tiffany Valentine, Alex Vincent (Child's Play 1&2) and Christine Elise (Child's Play 2, Body Snatchers) as Chucky's old rivals Andy Barclay and Kyle, and of course Fiona Dourif (Curse of Chucky, Cult of Chucky) returns as fan favorite Nica Pierce. Be sure to binge the first season of 'Chucky' streaming on Shudder January 12th.
Additional titles Premiering on Shudder in January
For a full comprehensive list of all the titles being added to Shudder for the month of January, please refer to the graphic below. Though we are starting off the year mildly light, there are still plenty of spooky treats and surprises to look forward to throughout the year. 2023 is just getting started!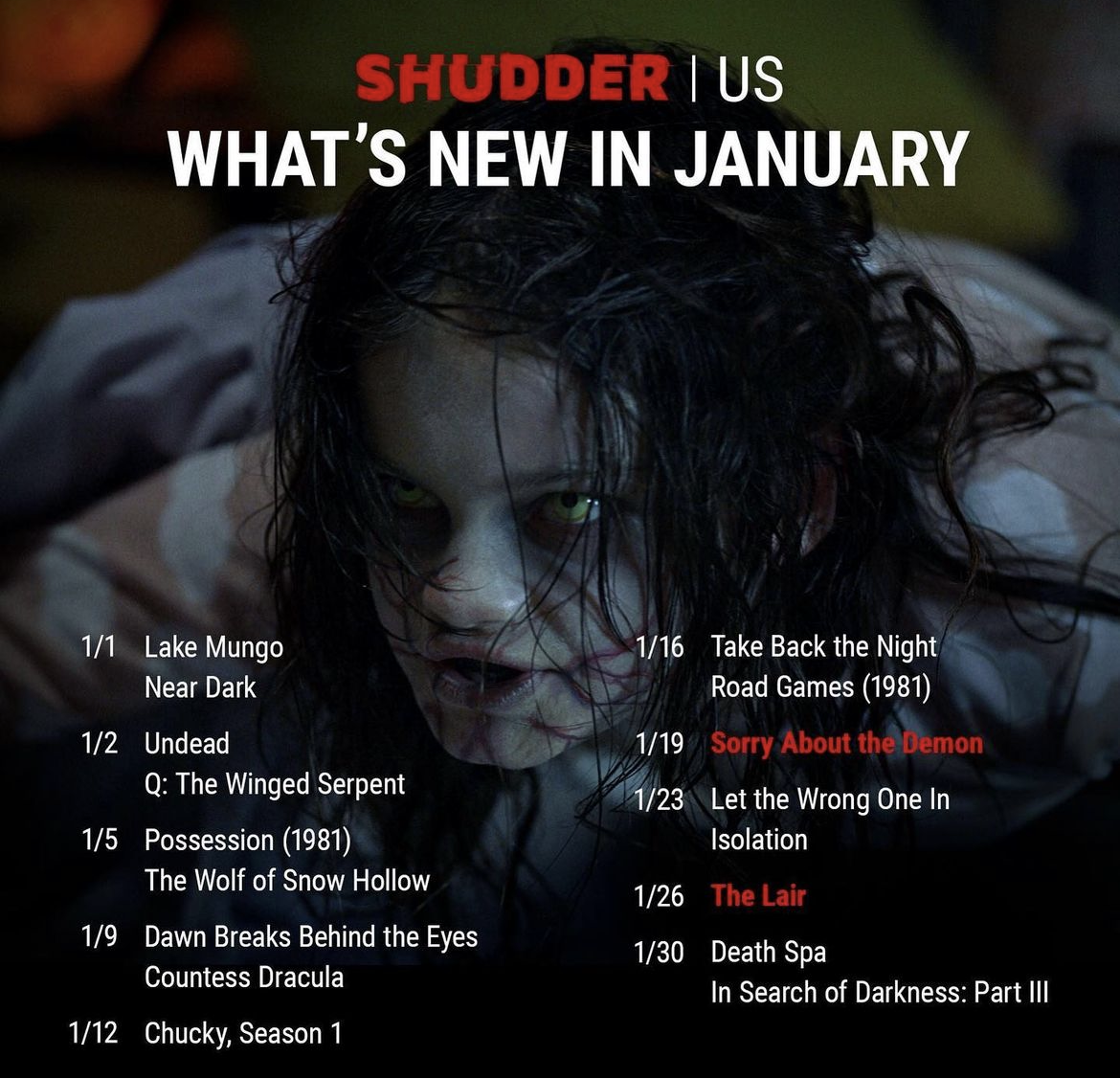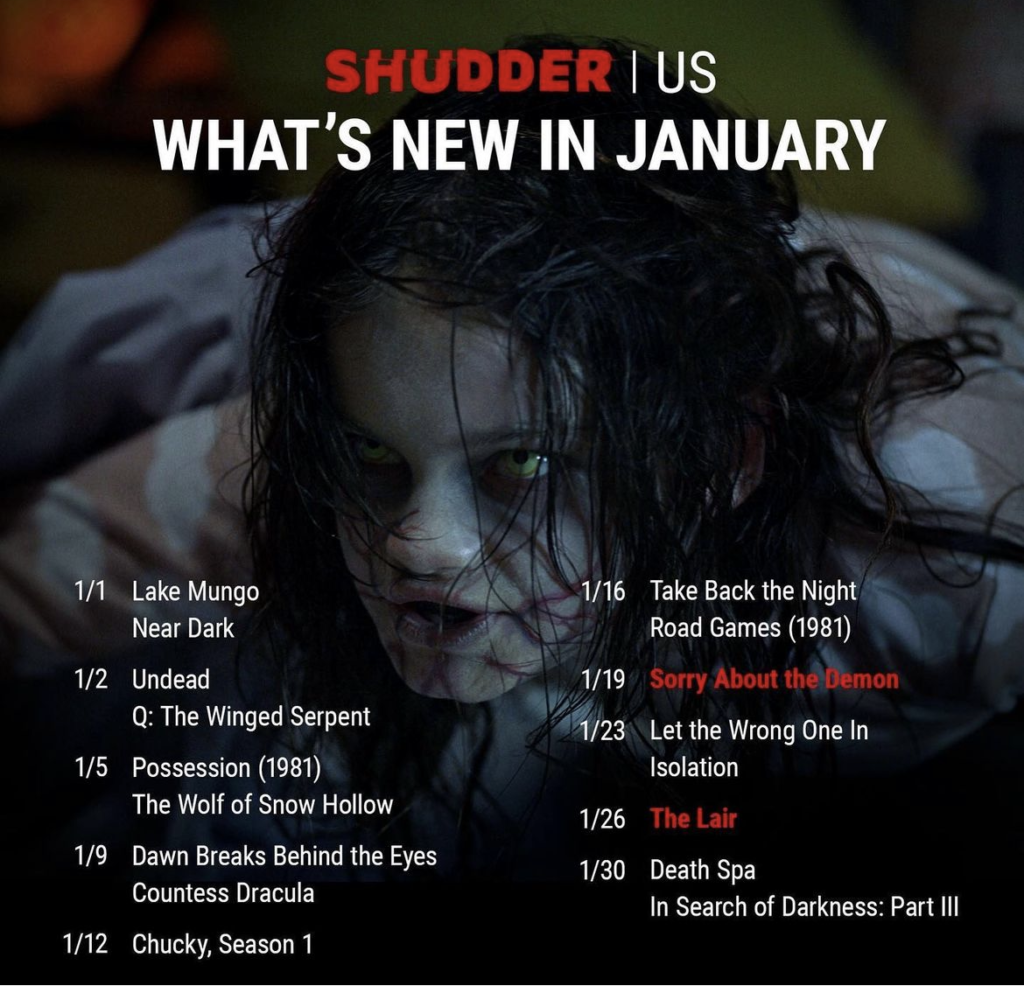 1/1:
Lake Mungo
Near Dark
1/2:
Undead
Q: The Winged Serpent
1/5:
Possession (1981)
The Wolf of Snow Hollow
1/9:
Dawn Breaks Behind the Eyes
Countess Dracula
1/12:
Chucky, Season 1
1/16:
Take Back the Night
Road Games (1981)
1/19:
Sorry About the Demon
1/23
Let the Wrong One In
Isolation
1/26:
The Lair
1/30:
Death Spa
In Search of Darkness: Part 3