Episode five of HBO's The Outsider didn't start with a bang. Instead, it crept into the mind of viewers and left one with a shaking feeling of uncertainty. 
We start with Jack, standing in the middle of the woods with a dead deer. He sees a lamp, broken on the ground. And he starts talking, to what we don't know. It's a funny scene that turns dark quickly.

This episode brings to light Jack's character. We see him shouting at something, and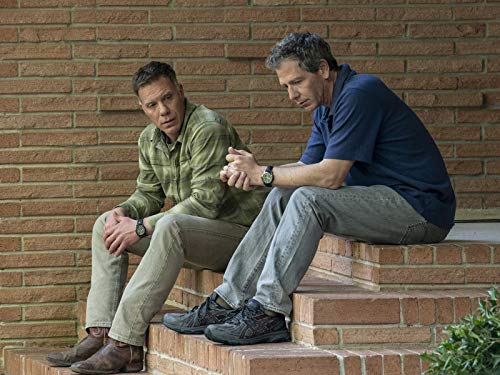 having a real heart to heart conversations with Ralph and Tamika. He's scared, conflicted. These are traits that he didn't show in the book.

I feel hands other than King's on this character. As much as I love his work, King doesn't do nuanced, sympathetic antagonists. Jack feels sympathetic in this so far.
Aside from Jack's odd behavior, we largely learn more about Holly's investigation. She's discovered that there are hiding places, almost nests near the graves of Terry and Heath. The barn where the clothes covered in a mysterious black substance were found a few episodes before is in plain view of Terry's grave.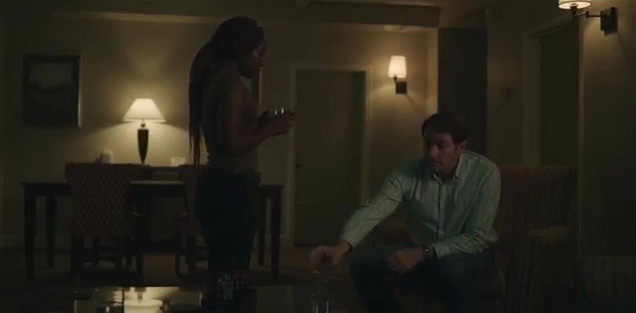 There were many enjoyable moments in this episode. I especially liked Tamika being menaced by bad dreams of her infant son vanishing. She didn't have such a large roll in the book, and I am loving her in this. 
The only problem I have with this episode is this weird, uncomfortable flashback near the middle of the episode. It depicted a darker moment of Ralph's marriage. When he and Jeannie were recovering from the death of their son. Ralph was drinking too much, and Jeannie was, um, sleeping? I guess that is a symptom of depression, but maybe we could have been a little more clear?

I'm still not sure what the point of having Ralph's son dead in the series. It just seems to give another level of drama to a story that was quite sad enough to start with.

(4 / 5)
Nicole is a spleculative fiction writer. That means she writes about dragons, ghosts and spaceships. Sometimes she writes about the ghosts of dragons on spaceships. Follow along on her writing adventure on Paperbeatsworld.com.
A Murder in Reverse: "Wrong Place Wrong Time"
The Plot
"A brilliantly genre-bending, mind-twisting answer to the question How far would you go to save your child?"  — Ruth Ware, #1 New York Times bestselling author
Jen watches her son murder a stranger. Stab him to death. She and her husband, Kelly, watch as their son Todd is taken into custody.
The next morning, Jen wakes up and it's yesterday. Jen knows that at the end of the night, her son kills someone. She is determined to stop it.
Jen goes further and further back in time trying to discover why Todd murdered a stranger and how to stop it.
The Verdict
This book is twisty. Right when you think you know the ending, something else is there to prove that the story is more multifaceted than that. While the premise of the novel is simple, Gillian McAllister elevates a simple concept with deep, dark twists.
It is best that you don't know too much going into this one. For fans of Blake Crouch, this is such a good thriller with time travelling vibes.
(4 / 5)
Woom: An Extreme Horror Novel
"That doesn't invalidate it," Angel said. "There's no statute of limitations on pain."
The Plot
Angel is a man who knows pain: physical, mental, sexual. The story begins with Angel visiting Room 6 at the Lonely Motel and ordering a plus-size sex worker to his room. What comes next is Angel's retellings of painful stories while performing sexual acts on the sex worker, Shyla.
The novel reads as a book of short stories, as Angel relays stories to Shyla and she tells him stories back. This is a novel of pain and disgust. Angel's stories are so dark and traumatic that Shyla can't believe they are true. As Angel bares his soul, we see a side of him that is melancholy and unable to process hurt in a natural way.
The Verdict
This novel is full of disgusting visuals and isn't afraid to get dirty. This truly is an extreme horror novel. As a warning, there is discussion of feces, blood, rape, sex, and body horror. This novel is not for the faint of heart. You'll close this short novel feeling dirty. Angel is a character that begs for sympathy while his stories narrate that he may not be as innocent as he perceives.
When the subtitle says this novel is extreme horror, believe it. Only the strong will survive Duncan Ralston's Woom. It is more splatterpunk than anything, but true literary quality lies beneath the filth.
(4 / 5)
Read it yourself by clicking below!
Did She Do It? Stacy Willingham's "All the Dangerous Things" Asks Us Just This
One year ago, Isabelle's life crumbled when her baby was abducted from her home. Her marriage to her husband, Ben, is destroyed as they try to navigate the fallout.
The Plot
Even one year after the abduction, Isabelle seeks answers. She is still doing appearances at true crime expos to get information on the attendees, thinking the abductor will be there one day. Abductors usually revisit their crime and Isabelle swaps her appearances for the event guest list, never taking any money for her talks.
Some think that Isabelle killed her own baby as evidence from the case says the perpetrator came from inside the house. Isabelle hasn't slept – not fully – since Mason was abducted. Her therapist is worried that she may be having hallucinations. Is Isabelle the killer or is she on a quest for true justice?
The Verdict
I absolutely loved the complication of not knowing whether Isabelle was a reliable or unreliable narrator. This was my favorite aspect of the novel. It made me question everything that Isabelle had to say and the actions she executed.
Isabelle is a character that, as a mother, I really felt for. I wanted to believe that Isabelle was innocent, but I was hanging on the edge of my seat waiting to find out. Stacy Willingham is the master of a story that winds all around, waiting for you to find the truth.
If you are interested in reading Willingham's first novel, A Flicker in the Dark, check out my review here.

(4.5 / 5)