Welcome to the seventh installment of the series where I rank the films scheduled during Shudder's 61 Days of Halloween event. What ghoulish delights were on offer on the penultimate week of the event?
Halloween won't officially be over for me (and my obligations) until I have watched every movie presented during Shudder's 61 Days of Halloween. Now, sometimes life and other obligations get in the way, but am I going to let that stop me? Never!
It's good to be back and covering the remaining films that Shudder provided.
#7 – The Boulet Brothers' Dragula: Resurrection
Contestants who lost out on previous seasons of The Boulet Brothers' Dragula are reunited in a socially-distanced remote horror drag completion.
This is a unique case in the rankings as it is not so much a movie, like virtually everything else in these recaps, but that is not to say it is a bad thing either. The Boulet Brothers' Dragula is a reality competition series, but in the extraordinary circumstances of COVID19 required some cleverness. This played like a combination of documentary and compressed season of the normal show. The special featured past contestants from previous seasons who were reunited for a new, three-round, socially distanced competition that featured documentary-style explorations of their lives, stories, and processes. The slower pace of the competition playing out as little intertwining documentary vignettes was a refreshing approach to the competition format and led to some very interesting storytelling.
But as a Halloween marathon inclusion did it work? Not really. Don't get me wrong, this was a lot of fun, and even pretty touching in spots, but as a film, especially in a Halloween marathon, it doesn't quite land. It is worth a watch, even if you haven't really watched any of Dragula before. It's like a spookier, gorier version of RuPaul's Drag Race.
#6 – 32 Malasaña Street
Another Spanish-language offering from Shudder, 32 Malasaña Street follows a rural, financially-struggling family who moves to an apartment in 1972 Madrid where they are quickly confronted by a vengeful spirit with a fixation on the youngest child.
The film features solid performances all around, especially the youngest actor, Iván Renedo, who plays a menaced and traumatized child quite well. The film is at its best when the pressures of living in a haunted apartment with nowhere to go drives the story; the pain of being unable to pack up and move, or even forcing oneself to go to work when your child is missing. The film presents some interesting, tense, and sometimes scary ideas and scenes.
The movie oozes some style and promise, at least initially, but by the end, most of the praise I could extend to it was squandered. The film went from being a stylish, period story about a haunted family and economic horror to having some very problematic and regressive ideas concerning gender identity and disability. Even if the film creates some generally creepy moments and has wonderful period-accurate stylings, those issues drag it down. It's a shame, too.
#5 – The Tomb of Ligeia
October was filled with an absolute abundance of Vincent Price and week to week his work has always satisfied. The Tomb of Ligeia also has him working with the legendary Roger Corman, again, adapting (loosely) more works of Edgar Allen Poe. The film follows a man, haunted by the death of his wife, who remarries only to find that his first wife has not given him up from the afterlife. Throw a black cat into the mix and you have a fun slice of 1960s British gothic horror.
This 1965 film was the last of what is known as the Corman-Poe cycle, a collection of eight films starting with 1960's House of Usher. All but one of these films starred Vincent Price. The Tomb of Ligeia is probably one of the more complicated of the films in regards to the story, yet the film definitely feels a bit like the spark of earlier films had faded a bit. The cinematography and visuals are not nearly as sumptuous as The Masque of the Red Death and most of the film feels fairly small in scale, featuring a cast working on a handful of sets. Despite this, the final 15 or so minutes, Ligeia's revenge, is hellish and exciting.
#4 – Metamorphosis
Metamorphosis follows a family who moves into a house where a mysterious neighbor may be influencing terrifying circumstances in their new home. Soon they must turn to their uncle, a priest with his own tragic history, to uncover the horror.
This film surprised me in how much I enjoyed it. I wasn't expecting the film to be bad, of course. I was very impressed by the story being told and how polished the production was. The film felt very much like a Hollywood horror film but from a distinctly Korean point-of-view. It was also interesting to get a film so heavily invested in Christian theology from a non-American/European perspective. There is a sizable Christian population in Korea, so this shouldn't be completely surprising, but it is a perspective not seen regularly in mainstream film, much less horror. It feels like a Korean extension of something like The Conjuring universe.
I am not exactly praising the film for skewing closer to western sensibilities, though. I was just shocked by how closely it executed certain conventions in a way that almost exceeded what I'd expect from a mainstream Hollywood possession film. Granted mainstream Hollywood isn't a guarantee of quality when it comes to horror, but in this case, I'd say Metamorphosis is an example of what the best western-style possession movies can offer.
#3 – Joe Bob's Halloween Hideaway
So, technically this was an additional two films with the Joe Bob Briggs dressing. I went ahead and did my usual review and recap of the festivities, so I'd direct you over to that at this point. While it was not my favorite installment of The Last Drive-In, it was still a ton of fun and definitely ranks among the highlights of the week. Go ahead and open the review in a new tap as you wrap up this week's list.
#2 – Ginger Snaps
Ginger Snaps is a classic horror film now in many ways and a highlight in Canadian horror. The film still holds up after 20 years and still presents one of the most unique spins on the werewolf genre around. The film follows a pair of gothy, death-obsessed Canadian teenagers who must deal with the fact that one of them has recently been bitten by a werewolf that has been menacing their community.
Ginger Snaps is a movie that uses the werewolf metaphor to explore issues of identity in teenage girls has a lot to say and not always subtly. The film features Emily Perkins and Katharine Isabelle as the sisters, and who turn out masterful performances. It's more of a cult film that most on the list this week but is probably pretty well known around horror fans, especially if you're a Canadian horror fan. There is not much else to say beyond the fact that it is a damn good choice to include in the marathon. It comes highly recommended.
#1 – Host
Host is a Shudder original. It is about friends who gather over a Zoom meeting for a socially-distanced séance that has deadly and terrifying consequences.
No horror film has seemed so suited to its time as Host since The Texas Chain Saw Massacre or Scream. Is Host a perfect film? Not really, nor was Scream (I contend the Chain Saw is, however), but as a sign of the times and tapping into the collective zeitgeist, Host has become an instant classic. It is one of the most highly-praised releases of 2020 and really stood out among Shudder's originals. It's a terrifying movie for a terrifying time in America and plays with a modern aspect of life and twists it in some fairly ingenious ways.
It helps that the film is legitimately good outside of the initial gimmick. The characters as a whole are reasonably well-drawn as individuals, and the fact that the events are all taking place across a group Zoom session does not strain credulity any further than most horror films. If you can handle a bunch of teens going to a camp known for yearly murders you should easily handle a virtual séance that goes terribly wrong.
---
Drop by Haunted MTL next week for the final installment of this series, covering the last batch of films of the event.
Crashin' in Roswell NM: Road Trippin' with Jennifer Weigel
So on my recent road trip to Miami AZ USA for my menstruation art installation, we decided to detour to Roswell NM en route home. To be honest, this was one of the best decisions of my life, up there with road trippin' from Arizona to San Francisco along CA-Highway 1, and I will go into the details of why here soon.

Roswell NM USA has totally embraced its alien history of the UFO crash in the late 1940s and subsequent government cover up. The whole town is alien-happy with beautiful hand carved wood totems, murals and statues everywhere celebrating otherworldly denizens of all types, though predominantly the gray aliens of the crash (and their green counterparts). Even the city logo features a flying saucer as the center of the letter "R". It really is kind of incredible.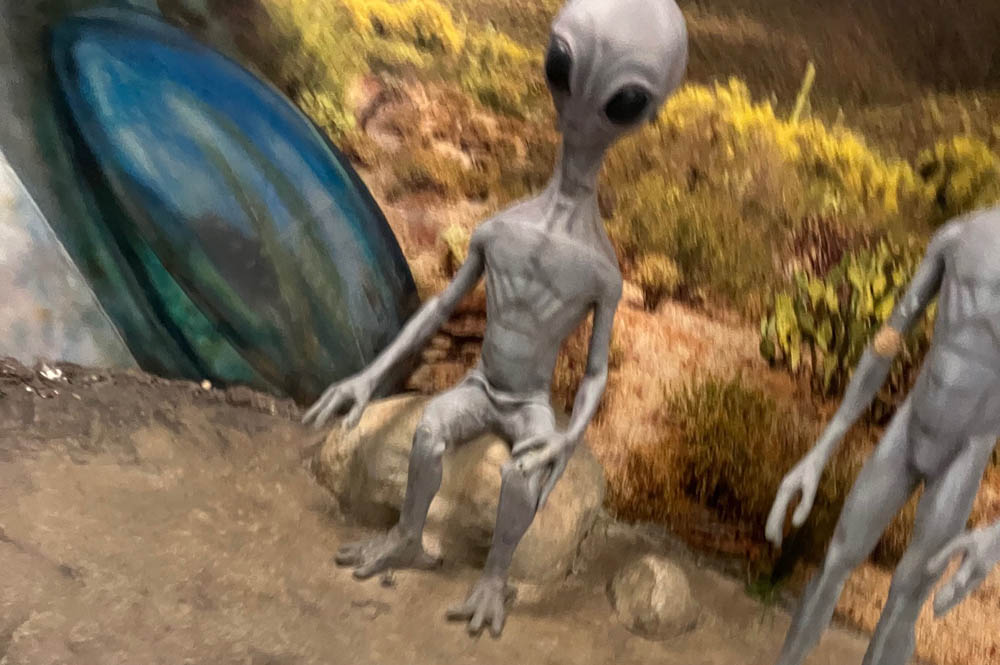 One of the biggest draws is the International UFO Museum and Research Center, housed in the wonderful old theater building. This museum details the crash history as well as celebrating aliens in movies and media and examining newer alien sightings and abductions. It is very thorough and includes maquettes, statues, written accounts and an extensive research library, as well as an interesting art collection of various items.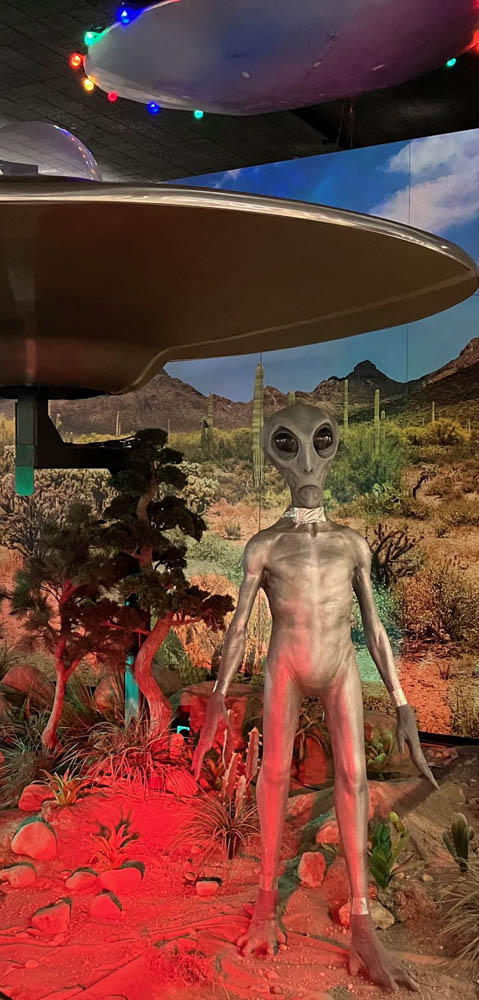 And there are TONS of fun alien themed curiosity shops. I will give a shout out to the newer Invasion Station north on Main Street where there had once been an old car dealership. I love the quirky nature of this particular store as well as their strong desire to promote local artists. Most of their wares are hand-painted in NM and feature designs by prominent local artists including one of the lead muralists in town (I bought a magnet of his). They also feature really alternative kitsch like KISS and Ace Frehley alien bobbleheads, marijuana and anal references, and such. All in all, our own Haunted MTL's kinda folks…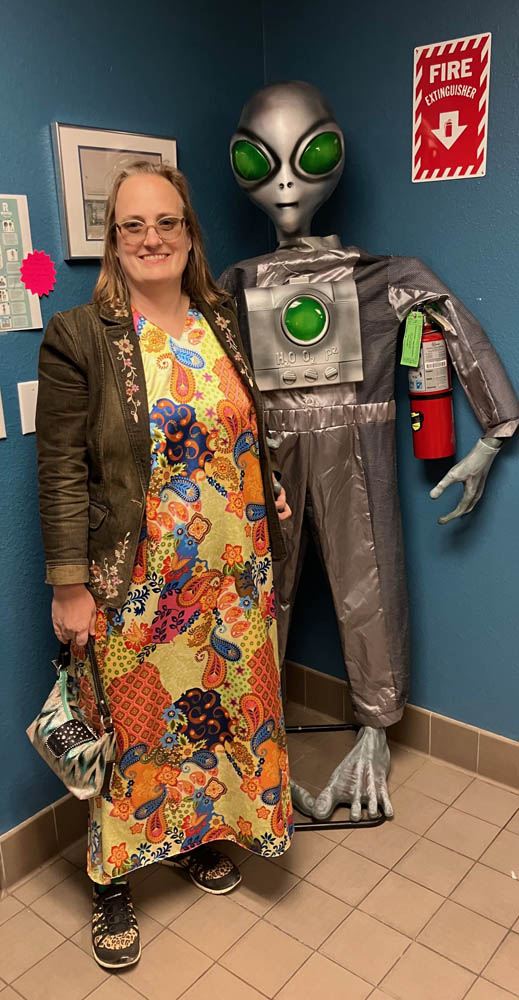 And the city is a huge tourist draw internationally, so you can meet some amazing and interesting folks from all walks of life who have caught the alien bug or at least want to check out all the hype. As a result of the tourism, the residents seem really laid back and accommodating (kind of like Hawaii but not quite as much) and there is a thriving art scene. And it's totally my kind of art – weird and a little creepy. Anyway, I feel like I've finally found my peeps and am eager to return someday.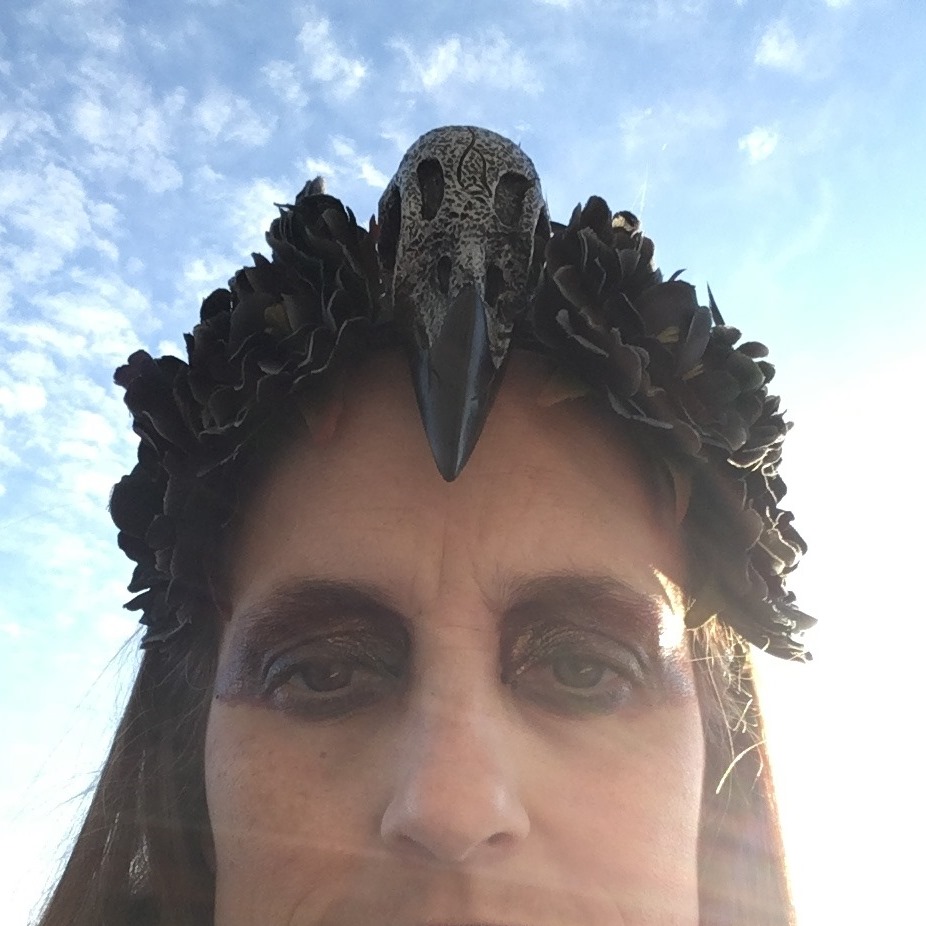 If you're feeling a bit extraterrestrial, I invite you to also check out some of my alien-themed stories here on Haunted MTL: LTD UFOs among us; my Drive-By short story; and LTD Abducted.
American Horror Story Season 12, Delicate
Killer Queens, I wasn't expecting to be back so soon with American Horror Story info. But yesterday we were blessed with a teaser for the intro of Season 12, which we believe will be titled Delicate.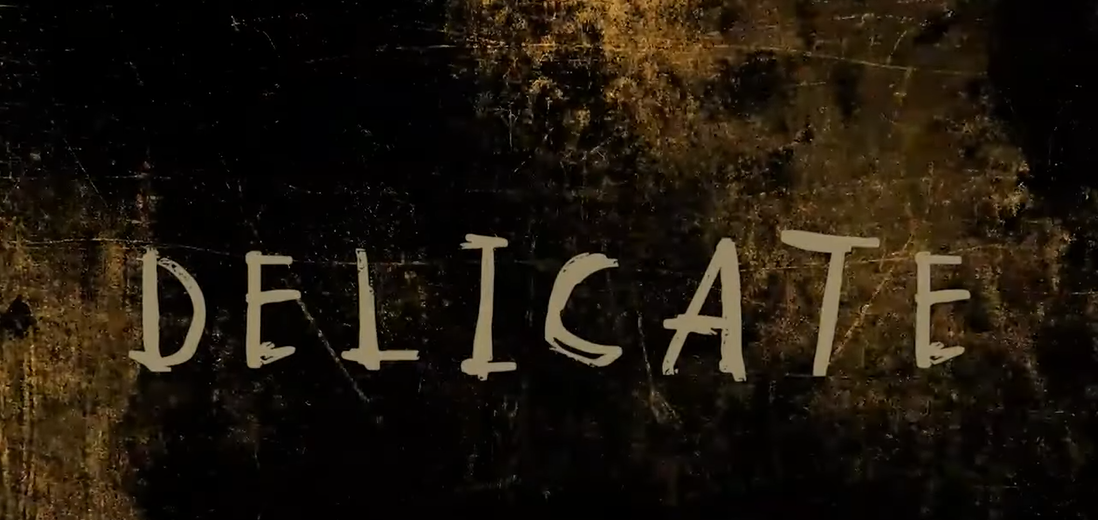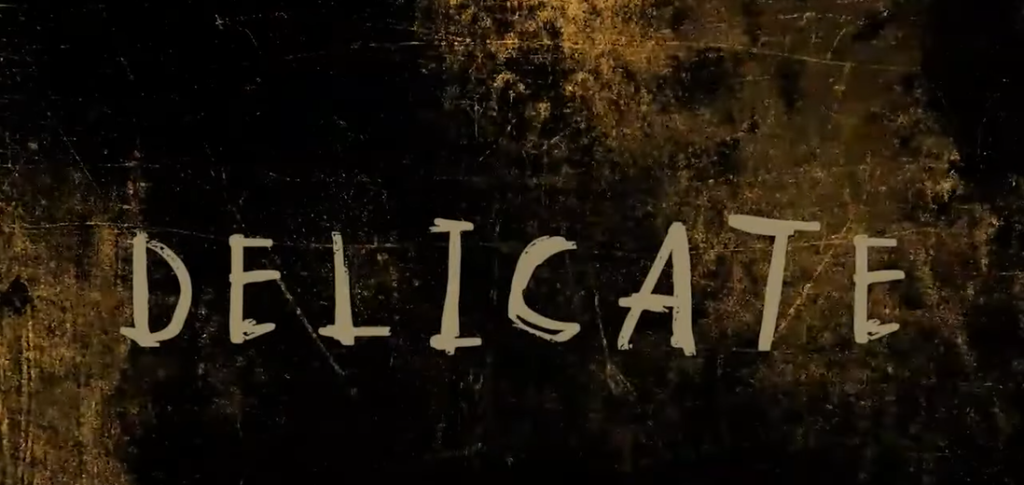 We are looking at a Summer release for season twelve, but won't know for sure until June, according to The Hollywood Reporter. Here's what we know right now. 
First, yes Kim Kardashian is starring alongside Emma Roberts in a role that was written specifically for her.
That's the bad news. The good news is that AHS favorites will also be involved. According to IMBD, Charlie Carver, Rebecca Dayan, Cody Fern, Leslie Grossman, Billie Lourd, and Denis O'Hare will be included this season.
AHS Delicate is different from other seasons in many other ways. It's the first season to ever be written by just one writer, Halley Feiffer. This isn't a writer most of us as horror fans will be familiar with. She's written episodes of shows like Kidding, SMILF, and American Crime Story. The last one can at least be seen as a sister show to AHS. 
As far as I have found, Feiffer has never written horror content. She is now the sole writer for an entire season of the most popular horror show in America. I'm not saying this is a bad thing. It's just not what I would have expected. Most AHS writers are staff writers, actors from the show, or at least people I've heard of. So as we don't have any former work to look at, we can only wait to see how she does.
We also know what the source material is for this season. It's a book called Delicate Condition, by Danielle Valentine. This book will be released in August of this year. Which also seemed strange to me. Normally a book would be, you know, published before it inspires additional work.
Even so, Delicate Condition seems like a fascinating story. According to Goodreads, it's the story of a woman named Anna. Anna is trying to get pregnant but starts to believe that something dark is working against her. Her doctors don't believe her. Her husband doesn't believe her. Is she losing her mind?
I'd be lying if I said I wasn't deeply interested in this book. And I have to assume that Feiffer and Murphy already have hands on it, to jump to this sort of decision.
By the way, Valentine at least is not an untested writer. Her first novel, How To Survive Your Murder, also made it right on my TBR pile. With a rating of 3.7 out of 4 on Goodreads, I think we can assume Valentine knows what she's doing with the written word.
This is all that we know about American Horror Story Delicate so far. What follows are my thoughts and opinions only.
My first thought is that this season is going to be dealing heavily with women's reproductive rights. This is a topic a lot of us are concerned about right now, as it feels like every day women lose more and more rights to our bodies.
(By the way, if you want to help fight the good fight for body autonomy and get some spooky stories, we have an anthology for that. I have a story in it, as does the horrifyingly talented Jennifer Weigel. All proceeds go to support organizations that help women make their own health decisions.) 
American Horror Story has handled important political issues before. Last season, AHS NYC discussed the AIDs epidemic that went largely ignored in the 80s and killed hundreds of young gay men. They did this in the best way possible, in what this critic believes to be the only way fiction should handle heavy topics. They rooted the issue in a good story. A story that was pure fiction, but also true.
However, this season has a lot of red flags. Never before have I seen the guest star be the main focus so early. Never have I seen any franchise bank so much faith in an all but untested writer, basing work on a book that isn't even published. And frankly, I've never been much of a fan of Kim K, or anyone else who's famous seemingly just for being famous.
I'm not rooting for this season to fail just because I don't like the guest star. If Kardashian is good at this, I'll be thrilled. I'll be the first one singing her praises. But when everything we know so far is added up, I'm a lot more concerned about AHS Delicate than I am excited.
The Last Drive-In Season 5 Premiering April 21st Exclusively on Shudder!
They say good things come to those who wait, and boy have we been patient. It has been close to a year since our eyes have indulged a full season of 'The Last Drive-In with Joe Bob Briggs', in fact, the season 4 finale premiered on Shudder July 1st, 2022. Since then, we have been able to satisfy our appetites with festive holiday specials sprinkled throughout the past year. Specials such as 'Joe Bob's Halloween Hangout' guest starring horror's favorite Mistress of the Dark, Elvira (played by the legendary Cassandra Peterson) and 'Joe Bob's Ghoultide Get-Together'. Last month was a treat in itself, as we were able to witness Joe Bob Briggs and co-host Darcy the Mail Girl (Diana Prince) marry one lucky couple for the first time on the show with 'Joe Bob's Vicious Vegas Valentine' special.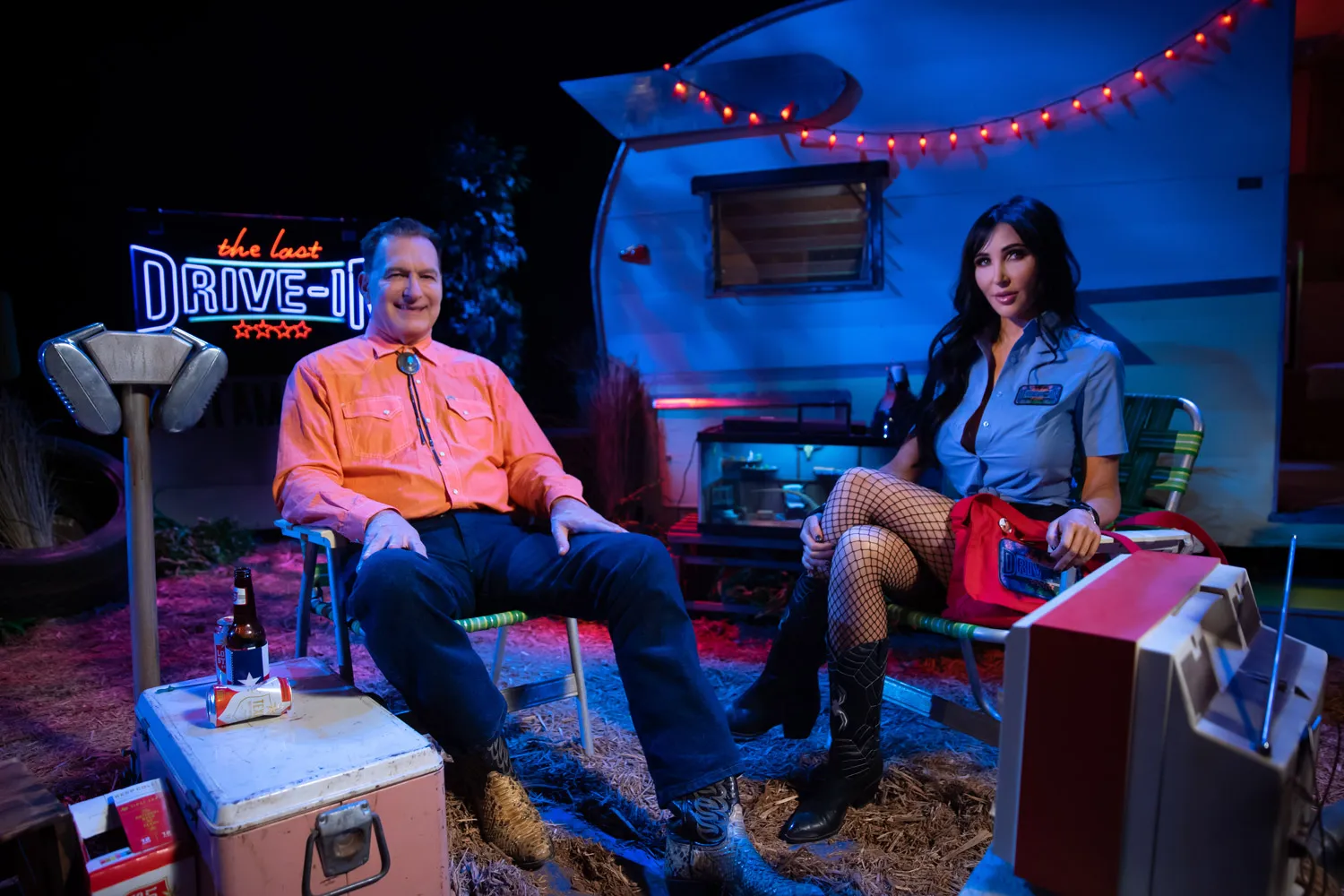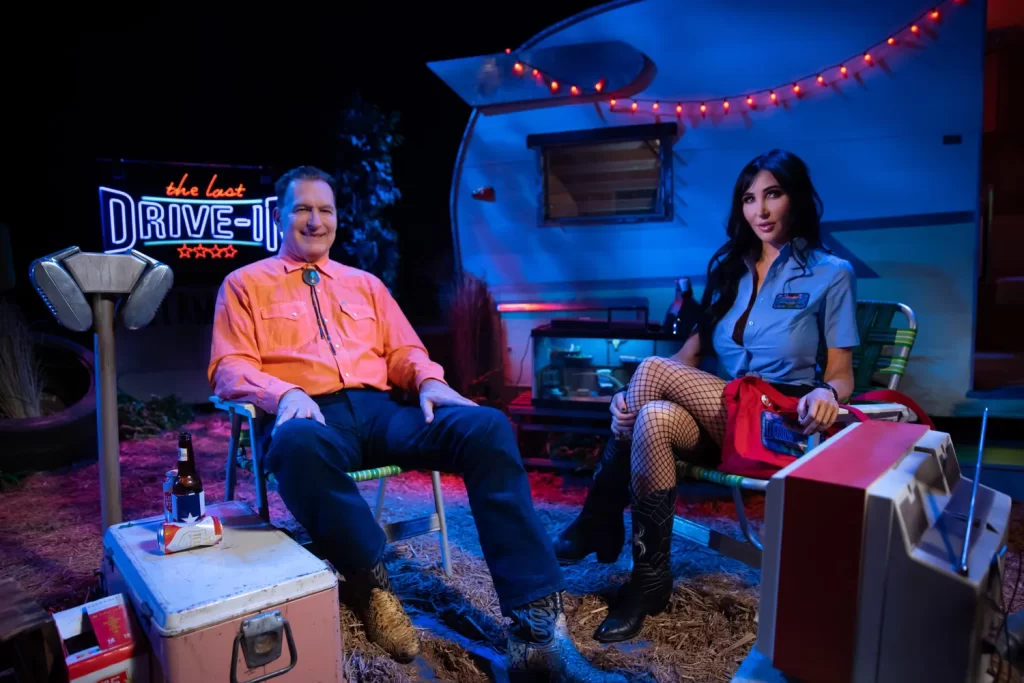 While the current changes in staff at Shudder have left fans questioning whether we will receive a new season of the popular series, I can happily say mutant family, we need not worry. In fact, to our wonderous surprise, Joe Bob Briggs has officially announced via Twitter, season 5 of 'The Last Drive-In' will be premiering April 21st, exclusively on Shudder! One thing that is noteworthy, is unlike previous seasons, it has been reported by 1428Elm that season 5 will be broken up into two parts of five double-feature blood-curdling episodes. Though we have not been provided the official release schedule for the second block of season 5, here is a sneak peek of what we can expect for the first half of the season:
April 21: Season 5 Launch Party!
April 28: Walpurgisnacht Part 2!
May 5: Cinco de Fucking Mayo!
May 12: Mama's Day!
May 19: Dysfunctional Family Jubilee!
Unfortunately, we do not have an official list of the brand-new double feature films for the first half of season 5 but, with amusing episode titles such as these, one can only imagine what grindhouse-classics will be joining 'The Last Drive-In's' already eclectic list of sloshy goodness. For those impatient mutants eagerly waiting for more hilarious Joe Bob rant-filled commentaries, or those newcomers who've yet to experience the magic that is 'The Last Drive-In', all previous four seasons, including past holiday specials are currently available to stream now on Shudder.
If you are just as big of fans of 'The Last Drive-In' as we here at HauntedMTL are, please be sure to follow us on Twitter @HauntedMTL and join us April 21st as we tweet along with Joe Bob and Darcy the Mail Girl for the season premier. As is tradition, we will be hosting live watch parties every Friday with each new episode, including fresh holiday specials. The road to season 5 is upon us…let the countdown begin!
April 21: Season 5 Launch Party!
April 28: Walpurgisnacht Part 2!
May 5: Cinco de Fucking Mayo!
May 12: Mama's Day!
May 19: Dysfunctional Family Jubilee!
. . . and that's only the beginning.#TheLastDriveIn pic.twitter.com/WfeTx0shNa— Joe Bob Briggs (@therealjoebob) March 16, 2023